This was another slow-paced episode of Ishq-e-Laa with some of the tracks going around in circles and yet another tragedy. Shanaya was one of the better-written characters in the play; Azlan and Azka both have weak personalities. This episode showed another major change in Azlan's track and Azka's track showed more of the proposal scenario which is now putting me to sleep. Ishq-e-Laa does not give you a lot to reflect upon even though it started off as a drama that would offer much more than a romance thriller. Shanaya's mother was always shown as an intelligent woman who raised a strong daughter yet she has not even tried to get her daughter justice. Watching the relatively likable characters exiting from the story one by one is not too promising.
Azka's Track
Azka's track opened with one of those repetitive conversations with her mother about her faith in Allah. These conversations are well-written but there is nothing new about them and they are not the least bit impactful since actions speak louder than words. Just yesterday, Azka was relying more on Abid than she was on Allah! Yes, this could have been a weak moment but then even in the latter part of this episode she was hopeless and was shown complaining about her fate. Someone who has so much faith in Allah would surely have more patience as well! Also, the way this character has been written makes me question whether Azka has a conscience or not. She has conveniently forgotten that she was the one who gave Shanaya the information that ultimately led to her murder. When she was praying to Allah, she forgot to ask Him to forgive her for banking on Abid more than Him! I don't find myself feeling for Azka at all since her character does not have any definite traits. Seemi Raheal's performance has impressed me more than that of Yumna Zaidi's throughout. Her character is also etched out more convincingly.
The Azka/Abid track is turning out to be the most repetitive of all! I am wondering if this track is actually headed somewhere and even if it is, was there a need to stretch it so much? Each one of these scenes has been more or less the same including Kanwal's reaction. These scenes are also overdramatic.
Azlan's Track
I am all for character development when such changes are shown gradually and convincingly. Azlan was introduced as a stubborn young man who knew what he wanted from life. While it is understandable that Shanaya's death impacted him more than any other, the fact that all of a sudden he has not once but twice taken some major decisions based on something his mother said out of anger, is not in line with his personality at all. He married Shanaya after his mother told him he could no longer see her if she got married to someone else. And now, he decided to pursue the case and alter his mindset altogether after his mother shouted at him! The writer is using similar scenarios to achieve multiple objectives which makes some of these scenes monotonous.
The scene covering Azlan's meeting with the therapist did not work for me at all. It gave no new information and did not add anything new to this track. The viewers were already quite aware of Azlan's state of mind and the therapist did not help him in any way! The writers should simply stop introducing therapists in these stories unless they offer something tangible.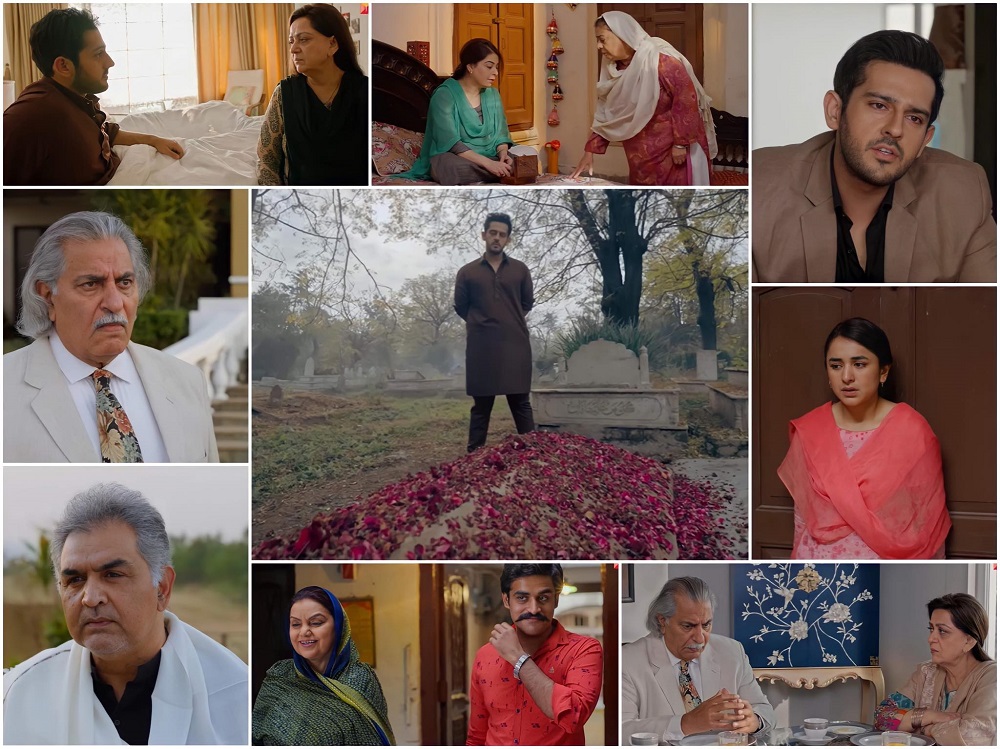 I must say that some of the supporting characters in this drama manage to impress you more than the leading characters, which is not always the best thing since it is of utmost importance that the leading characters leave an impact. Tonight, Azlan's father won me over more than Azlan! He felt guilty, unlike our holier-than-thou Azka, and did whatever was needed in order to pursue the case. Although, I must say that until last week it was not apparent that he had been trying so hard to get Shanaya's murderer punished. If he was trying so hard, these scenes should have been given more screen time. However, it was good to know that he tried so hard but ultimately what lead to the heart attack seemed more like a ghairat ka masla than anything else! It was also strange that he went to have that conversation with someone he was trying to get punished for her daughter-in-law's murder! Overall, however, the character definitely left a mark and Usman Peerzada did complete justice to it.
Final Remarks
Although I never expected anything grand from Ishq-e-Laa, the way the story is being taken forward is quite disappointing. However, I will be giving it two more weeks and if the story does not take off, I will no longer be reviewing it. The main plot is interesting but the characters and the situations are for the most part shallow and unconvincing.
Did you watch this latest episode of Ishq-e-Laa? Do share your thoughts about it.