We knew their paths would cross and they did in this episode. It was high on drama and overall okay. With the theme going on, it was meant to be a bit out of touch with the reality. The story wholly focused on Mirha in the episode. With all the failed communication trials she had with Mehrab, she was finally letting herself go with the flow and adorned the Jora she was given by Mehrab for "the nikkah".
Mehrab's character was very confusing in the episodes 8 and 9. He was shown as a guy who was super busy and had a lot of maturity but suddenly he is not only an abductor but also a teenage boy who cannot handle any situation rationally. He had nothing to say after he found out that he abducted the wrong girl. When Mirha was standing at her door and her chachi was kicking her out, he still stood behind and didn't try to clarify the situation. No introductions from his side about his identity or the whole situation. His immaturity touched another high when he asked Mirha to g with him and didn't try to clear her image.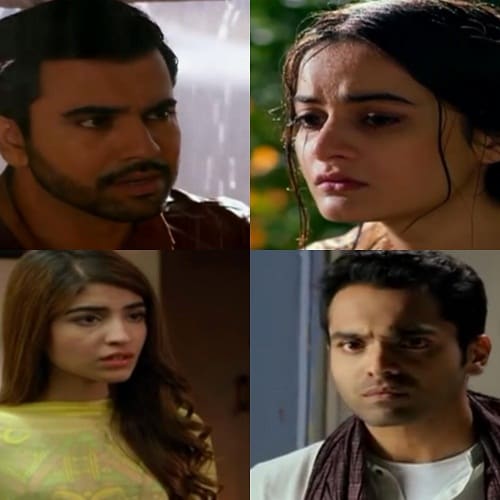 Mirha cried and then she cried some more. Her reaction was realistic enough to connect. She as we know is a weak person who does not really stand for herself but at least she made sure that Mehrab feels guilty for what he had done. Her fate is unclear though as she is not going back to her chachi's house anymore and any chance for a relationship between her and Wahaj is long gone.
Mister Original Immature! Yes, I am talking about Arham was also super strange in his reaction and behaviour. On finding out that he is not getting Rushna as his wife, all he did was walk away. Really? On finding out that your very nice brother who loves you more than anything has abducted an innocent girl because of you doesn't strike a chord with you. He should have done something at least shown a reaction. Plus since the love of his life didn't see his brother (again!), he is again going to get in trouble.
Things are not looking good for Mirha as Mehrab has a phupho who was immensely insulted by Mirha's relatives. Ishq Tamasha is getting interesting and the one good thing they are doing is leaving each episode with an end which wants the audience to tune in again!