Opening Thoughts – Superb:
Ohkay so, this was one of the most interesting episodes of Ishq Zahe Naseeb, probably because they took us deeper into Sameer's past & his life with his step mother Samiya. Ishq Zahe Naseeb happens to be one such drama which has some amazing & phenomenal performances to its credit. All the actors are performing brilliantly & are outdoing themselves. I love how subtly such strong emotions are conveyed that without even needing them to say a word, we are getting to understand the unheard feelings. Props to the director for bringing out such brilliant performances to our TV screens & dealing with such a subject in such an intricate yet clear manner. Superb!
Gauhar Is Curious:
Gauhar has made up her mind about Sameer. It is nice to see from Sameer's perspective that he has unconsciously earned himself a supporter in the form of Gauhar who thinks twice before doubting him or judging him based on the rumors spread about him. Sameer was just being nice to her in the beginning but then he started developing feelings for Gauhar, which she obviously doesn't know of yet. Gauhar on her own has observed Sameer closely, that is why she feels he is not what the world thinks he is & that is why she tries to dwell more into his past to actually understand him more. Gauhar's curious nature is one of my favorite aspects about her character. I also like how Gauhar is not afraid of losing anything, she is curious & she doesn't settle for mere stories till she herself uncovers what she wants to know. This is the reason why Gauhar has succeeded in learning more about Sameer even though she has been told a lot of times to mind her own business. Gauhar is not scared of the consequences, she knows she is just doing all of this out of goodwill for Sameer's sake that is why she continues to cross the boundaries!
Samiya's conversation with the doctor was interesting. The doctor ended the conversation by saying that Sameer will get to deal with this issue the day he will start acknowledging the fact that this is actually the issue & not something that he should be comfortable with. What I love the most about Ishq Zahe Naseeb & Sameer's track is that the writer has not shown Sameer as a villain or someone who is scary. In fact it has been shown that Sameer is someone who needs love & comfort. The way they have shown Sameer's character makes you warm up to him because despite dealing with multiple personality disorder, he on his own is a thorough gentleman who would go out of the way for the people he holds high regard of. I really like that the writer has shown different aspects of Sameer's life & all those reasons which resulted in Sameer developing multiple personality disorder.
In all those scenes where they introduced Shakira, they did show that she had that kind of personality which left a long-lasting impression on Sameer when he was a child. Shakira has been shown to the viewers as a twisted character but I really like how over the episodes & in this one especially, it was shown that Sameer sees her as sa figure of comfort from his past which was dark & horrid. Sameer, at that tender age could obviously not see or understand Shakira's twisted personality but why he has imbibed her personality in him is because for him, she was someone who comforted him when he was all alone after his mother left & step-mother stepped in. I loved watching how they untied this knot in this episode. Shakira on her own obviously was not the ideal person to be around any child but yes, she was good to Sameer, she didn't hurt him emotionally or physically, she spent time with him, that is why Sameer finds repose in her, he likes that time when he is with her, or her idea. I must say, the attention to detail in Ishq Zahe Naseeb is of some other level. Ever wonder why Shakira is always shown dressed in black & red when she comes to see Sameer? That is because she wore the same dress when Shakira actually bid goodbye to Sameer when Samiya told her to leave. Sameer captured that image of her in his mind & ever since, he sees or imagines her exactly like that. Beautiful!
Sameer's step-mother Samiya is obviously keeping tabs on Sameer. She is twisted & she obviously is obsessed with Sameer, probably because she knows she has nowhere to go or she has no one to call a family. Samiya doesn't want Sameer to ever escape her or the kind of life she has designed & dictated for him, that is why she has controlled him even through those strings which Sameer has no idea of. Sameer's secretary has also been appointed by Samiya so that she gets to know what Sameer does & how he runs the business. Samiya has so far been successful in controlling Sameer & keeping him entangled or burdened with his secrets. I feel she kinds of blackmails him as well because she knows about his multiple personality disorder & that is why Sameer just abides by her rules but I wish he finds out that she is also a part of the reason why he has been miserable.
Gauhar of all the people came across Sameer's biological mother & she immediately recognized her, well kind of. She could not take her out of her mind & she is obviously not going to let it slide. Gauhar is curious, we know that, so I am glad she will get to the root of this & find out more about Sameer's mother as well as Sameer. I think Samiya must've been responsible for Sameer's parents drifting apart, but its too early to say anything so let's see. I have a feeling the butler Akbar knows a lot more but he just is staying silent may be because he wants to protect Sameer or either he is too loyal to Samiya but yes, he knows a lot more. Let's see when he will speak up!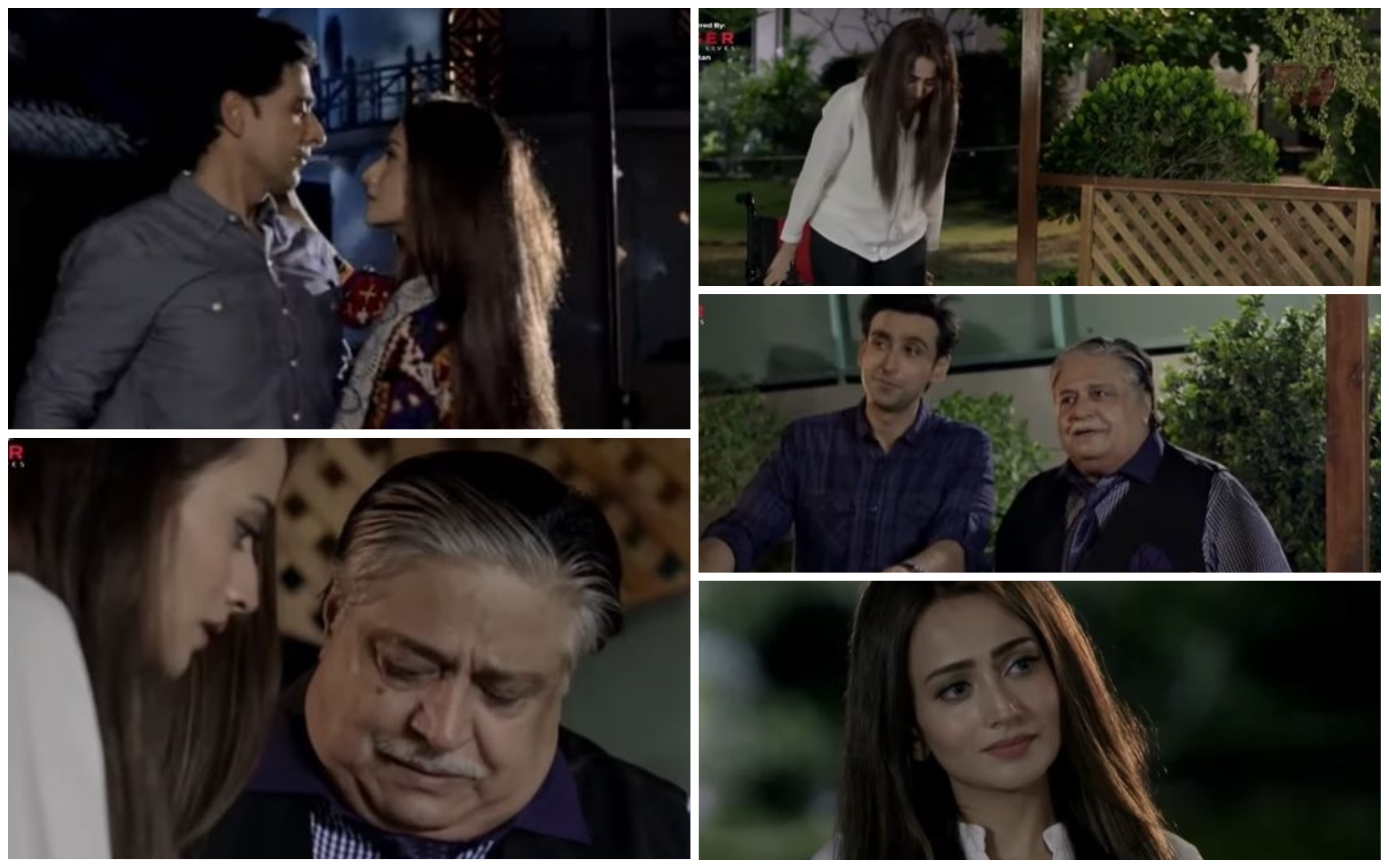 Dunia needed some motivation in her life to overcome her condition. I will say Sami Khan & Zarnish Khan's subtle expressions were beyond amazing in this episode. You could totally tell what was running through Dunia's mind & how Kashif was just trying to be nice to her so that he could motivate her to get back on her feet & guess what, he did help. That scene was done nicely when Dunia started walking on her feet, it was kind of quick & out of the blue but chalo, it was nicely done. It also depicted that Dunia has developed feelings for Kashif & she wants to be the best version of herself for him. It is understated but this is how Dunia feels for him because Kashif happens to be the only person who said he respected her for who she was & what she was capable of. This was enough for Dunia to see Kashif differently & the time she has spent with him has made her feel emotionally secure. After a long time Dunia experienced what it felt like relying on someone emotionally, that is why Kashif's presence & just the idea of him being around gave her a lot of courage & strength. This was another beautiful scenario that was covered in this episode & what made it far more special was Sami Khan & Zarnish Khan's acting!
Closing Thoughts – Well Directed & Well Acted Drama:
Overall, this episode of Ishq Zahe Naseeb was superb. I am so glad that they have started to finally reveal the secrets & the preview of the next episode looked promising too. It seems Gauhar & Kashif will finally cross paths & I can't wait to see what happens next. Sameer is trying hard to maintain a distance from Gauhar but he can't help himself. Another interesting aspect of this episode. Zahid Ahmed & Sonya Hussyn have been performing brilliantly but I feel this episode definitely belonged to Sami Khan & Zarnish Khan. I will say the supporting actors like Ismat Zaidi, Hajra Khan, Manzoor Qureshsi, Jinaan Hussain and others have acted brilliantly as well. Ishq Zahe Naseeb is a well-directed & well-performed script & drama. Props to the entire team. Please share your thoughts about this episode of Ishq Zahe Naseeb.
Keep Supporting,
Cheers,
Zahra Mirza.