Jo Bichar Gaye's last episode was beautifully penned down and perfectly executed. Each track in the story ended in a way that made these characters and tracks unforgettable. This had to be the most powerful ending to a Pakistani drama and definitely well-suited for a drama that set the bar really high.
Rumi's Revenge
This last episode of Jo Bichar Gaye opened with all those characters that played a major role in creating misunderstanding and hatred between the locals and the West Pakistanis celebrating their victory. Rumi's track which had been a mystery for the past few episodes also took an unexpected turn. There was apparent darkness in Rumi ever since Haroon was killed but it was difficult to tell why! This opening scene solved the mystery when Rumi decided to take revenge on all those people who had to mislead him. This character's evolution and its ending turned out to be more impactful than I was expecting it to be. Wahaj Ali showcased his acting skills like never before in the drama and most importantly in this final scene. The confidence and precision with which he translated so many different shades of this character at different stages was truly remarkable. I am extremely glad that he is finally being cast into roles that give him an opportunity to show his range as a performer. First in Dil Na Umeed Tu Nahin and now in Jo Bichar Gaye, he has given two solid performances back to back in roles that were completely different from each other.
Rumi's character was etched-out brilliantly as well since it represented the youth that was misled by people they trusted and considered as their mentors, effectively. His journey made you understand the sentiments of a large segment of the population at the time, people who were educated and sensible but fell for the propaganda. Rumi's track had a meaningful ending, especially because in the end, he used his madness to save others.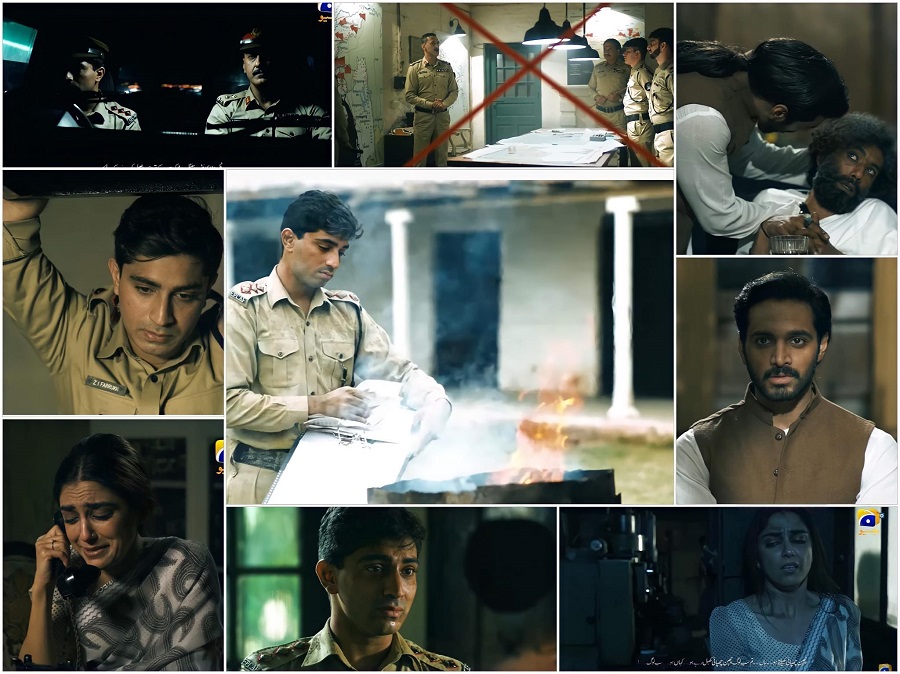 The Surrender
The most emotional element of this episode had to be Farrukh's track which has been such an apt representation of the sentiments of many such officers in the armed forces who were helpless yet determined to fight. Right from the beginning, Farrukh had the most realistic approach to this conflict. He picked up the signs of rebellion early on and also predicted where all of this was leading yet there was little he could do to change the situation. The chain of command at the time and the helplessness of those who were right in the middle of the conflict were shown in this drama with such clarity that it would have been easy for every viewer to understand the situation these soldiers were in. Many officers such as Farrukh fought right till the end and were not even willing to surrender yet they had to. Also, Sonia and Farrukh's track coupled with the main protagonist's sensitive nature added the human element to this conflict along with many other things.
In this episode as well Farrukh ran to save Sonia at a time when it was difficult for him to choose between his duty and his personal ordeals. This man fought multiple battles and it was pretty obvious that even though he was a dedicated officer, he was also a sensitive person who felt everything he went through. Since this track is based on a true story, you feel for this man even more. The writer's approach has also been unbiased, without which this entire track would not have been as powerful as it was throughout. Talha Chahour deserves tons of praise for enacting this character in such a faultless manner on screen that you couldn't help but feel every single thing Captain Farrukh went through. It is truly delightful to see young actors starting their acting careers with such challenging roles especially when they nail them completely. It will not be an exaggeration to say that Jo Bichar Gaye would not have been the same had Talha Chahour not been chosen to play this character.
The Human Cost
Sonia, Rumi, and even Farrukh's track were the actual representation of the human cost of war. We fell in love with these characters and through them, we got to witness the tragedies and losses people suffered during the war and in the aftermath. The human cost of war usually does not get the attention it deserves because most often historic books do not focus on that! I feel that one of the biggest strengths of this drama was to give a proper face/s to all those people who will perhaps never get the opportunity to speak for themselves. Sonia's track ended just as impactfully as all the other major ones. Even though she lost everyone she loved and even the cause she believed in, she still had the strength and determination to help others in need. Sonia was always shown as a strong and intelligent young lady therefore this ending went so well with the character. Maya Ali gave an outstanding performance in this episode and in the drama throughout. This character was a breath of fresh air right from the beginning and Maya Ali owned it right from the get-go.
Pure Genius
Jo Bichar Gaye overall was pure genius; an intelligent combination of history and emotions. This was not an easy script to handle since everyone has their own version and opinion about the separation of East Pakistan yet the writers of the drama did exceptionally well. The way they used international news reports to substantiate their stance was brilliant and intelligent. Apart from this, the characterizations were on point and most importantly the drama ended at the right time. The writer's vision was quite clear from the beginning till the end. The director Haissam Hussain's matchless direction definitely made all the difference; the locations he chose to shoot in were also perfect. This last episode in particular was directed so well that I could feel every single emotion of these characters especially the feeling of terror when Sonia was trying to save herself.
Jo Bichar Gaye's makers definitely took a risk because this was the first time ever that a Pakistani drama attempted to tackle with such a sensitive and controversial historical fact in an unusual way. This experiment was an ultimate success therefore we hope we will get to watch more such dramas in the future. Special shout out to H2 Films for producing Jo Bichar Gaye; we need more producers who are willing to experiment.
Overall, Jo Bichar Gaye had a brilliant cast chosen to play roles which were well-suited for them. Every single actor gave the roles they were performing their best which made all these characters stand out irrespective of how much screen time they got. I especially loved Nadia Jamil in the role she played, what a brilliant comeback this was! The only reason Jo Bichar Gaye did not get the attention and viewership it deserved was bad or no marketing! This was truly unfortunate; I really hope that this does not stop the producers and actors from being part of such projects.
Jo Bichar Gaye will always be remembered as a masterpiece even though it did not get millions of views or ratings! Did you watch this last episode? Share your views.