Right. So the cat is out of the bag, except this cat brought two kittens along with it too! As we all suspected, Saima was also Hassan's wife. This episode was about Mehr slowly returning to life after Hassan's death and then like a treasure hunt, stumbling upon clue after clue which finally landed her at Saima's doorstep. Ouch!
The episode begins with Alia and Haider (and the annoying crickets that seem to accompany Haider everywhere!) chatting in their bedroom. Alia really wants to go on a honeymoon and feels Haider has immersed himself too deep into the office affairs and should take a break. It was nice to see Haider concerned about his mother for in the earlier episodes I was given the impression that he was quite short with Mehr. In the scene where Alia tells Minahil off in front of Mehr, I did think Minahil was a bit out of order by saying it is too soon for Alia and Haider to go anywhere as she is not really a part of their family. But then Alia is also all about making changes in her susraal and her life the way she deems fit and is not willing to accept any changes to accommodate them.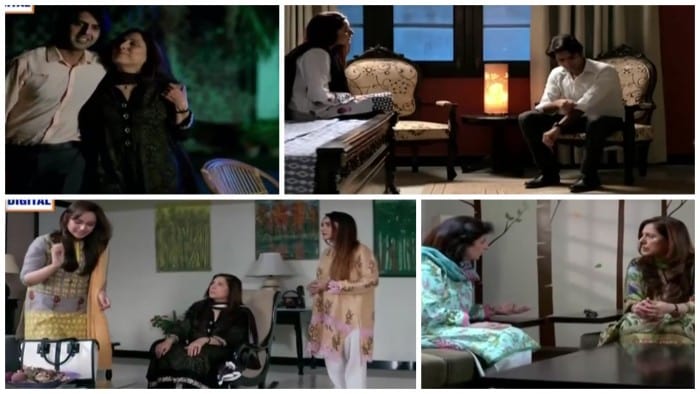 I liked the scene between Haider and Mehr in the garden. It was nice to see Mehr as the level headed woman she is and not create a saas bahu issue out of Alia wanting to go on a honeymoon. I mentioned earlier as well that I feel bad for Mehr since it seems the only two 'friends' she has are Saman and Alia's mum (if you don't count Minahil). Whether I feel Alia and Haider should have left for their honeymoon now or not is a separate issue but I really did not care for how Saman was going on about it to Mehr. I really do not like Saman's character – there is nothing positive about her!
So I know Alia said Mehr needed to keep herself busy and have a hobby but I am pretty sure super sleuthing is not what she had in mind! When Mehr eyes the letters addressed to Hasan it was obvious that she was about to open Pandora's box. The expressions of curiosity, confusion, distress were all portrayed by Samina Peerzada so well! I loved how there was no wailing, no collapsing and oh my God no throwing things around. I don't know why but that always bothers me- the throwing and breaking of things in dramas and movies. I keep thinking, ab itna tor phor kar kay khud he saaf karna ho ga but here I had to remind myself keh I am sure maasi hai! However, back to Samina Peerzada, I loved how she portrayed a dignified woman who knew her world was collapsing around her and the confusion on her face when she went to Junaid's house and spoke to Saman showed how she was barely just holding on to her composure.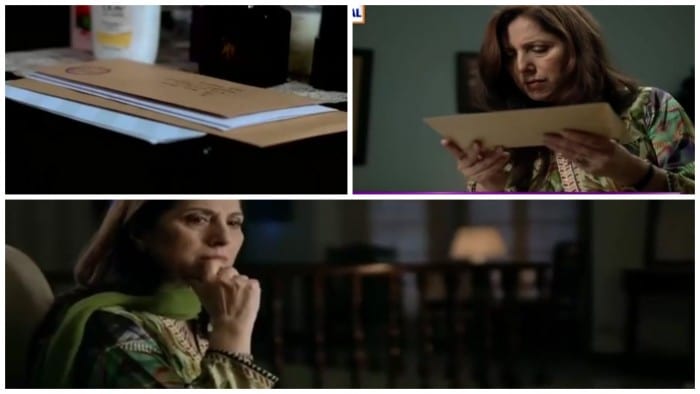 I found it odd how she zeroed in on the files in Junaid's house and knew to go through them unless she had bionic eyes and saw 'Hassan' from afar. But I suppose in her quest to know more and since it was paper that was doing all the talking (Hasan and Junaid surely hadn't!) maybe she thought she would find some clue. Apparently she did as she ends up at Saima's doorstep. I have to admit I was waiting for that scene and I was not disappointed. I know Saima is all filmy and I have never watched any of her films but I watched her in Kaneez and Rang Laaga and although a bit dramatic I do think she is a good actress. Having said that, I understand she is portraying a woman here who is not quite herself but the messy hair was a bit distracting especially as I was trying to find Saima's face behind all the strands hanging in front of it! And Samina Peerzada is easily one of my favourite actresses. From being a woman struggling to come back to life, to a woman making a shocking discovery and then to the indignant woman who confronts Saima – she was flawless.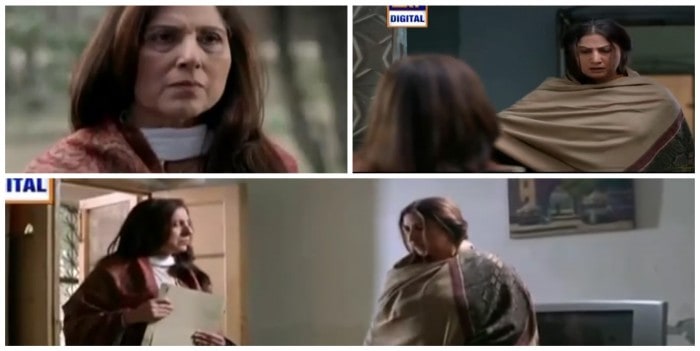 I never thought I would say this but I actually liked Faryal Mehmood today. I find her acting very annoying in the other dramas I have seen her in and even earlier in Judai when she was smiling dreamingly at Hamza but today I liked how she actually seemed 'normal'! I also liked the chemistry between her and Samina Peerzada, something I did not think I would notice. Hamza and Zaina were absent from today's episode – probably a big exam coming up for which Zaina was tutoring Hamza (tongue in cheek). I can not say I missed them and am actually glad that they were not thrown in just for the sake of it as today was all about Mehr's final discovery of Saima for I would have also lost my mind if the episode had ended without telling us how exactly Saima is related to Hasan!
I can not believe how Junaid had left Hasan's private file so easily on the table knowing what a super nosy woman his wife is. Actually, I noticed that everyone in today's episode was super attentive and sleuth-ish. Haider with his 'did Alia say something to you' line to his mother when she mentioned the honeymoon and then when he asked Alia if something had happened between her and Minahil. Mehr's super sleuthing where she discovers a box on top of the wardrobe of their bedroom which she had surprisingly never come across in all those years of marriage, how she zeroes in on the file on Junaid's table and ends up in Lahore! I felt like I was being left behind in this group of sleuths and needed to hone up my detective skills too and not miss anything and almost jumped up and exclaimed 'I knew it!' even before Saima finished uttering her 'woh meray shohar hain'. There!
Jokes aside, I quite liked today's episode. I know they dragged out the whole Hasan secret in the earlier ones and I would have preferred to find out aaj he how Saima became his wife but watching Mehr make the discovery – I was not bored. Next week's preview showed Saima sharing her story with Mehr. How did you find today's episode? Would love to hear your thoughts!
Kunwal Javid