Ohkay so, this was another interesting episode of Kashf like all the previous ones that have been aired so far. The story is building up & the progress is evident. Every single episode of Kashf has so much to offer & there's a different tone to each set of issues that Kashf is shown to be facing. This time around, it was all about the pressures that Kashf was forced to succumb to from all the sides, especially after she saw her mother shattered & helpless.
Exploitation
The way writer Imran Nazeer has drawn a thin line between exploitation that women go through at the hands of dominating men as to the things they do out of their desire was phenomenal & well explained by the director Danish Nawaz. In the beginning of the episode, all the things Matiullah expected Ashi to do were shown to be such that any wife would expect from her husband like telling her to change into nice clothes or do makeup for him, but men like Matiullah make these sweet gestures filthy only because of their narcissistic approach towards their marital relationships & the urge to control their wives in the ugliest manner. They have already established the fact that Ashi & Matiullah's relationship was bitter & unhealthy, therefore it was natural for her to not feel like needing to do anything that pleased him because she already knew it was not going to change anything – her husband was still going to mistreat & disrespect her.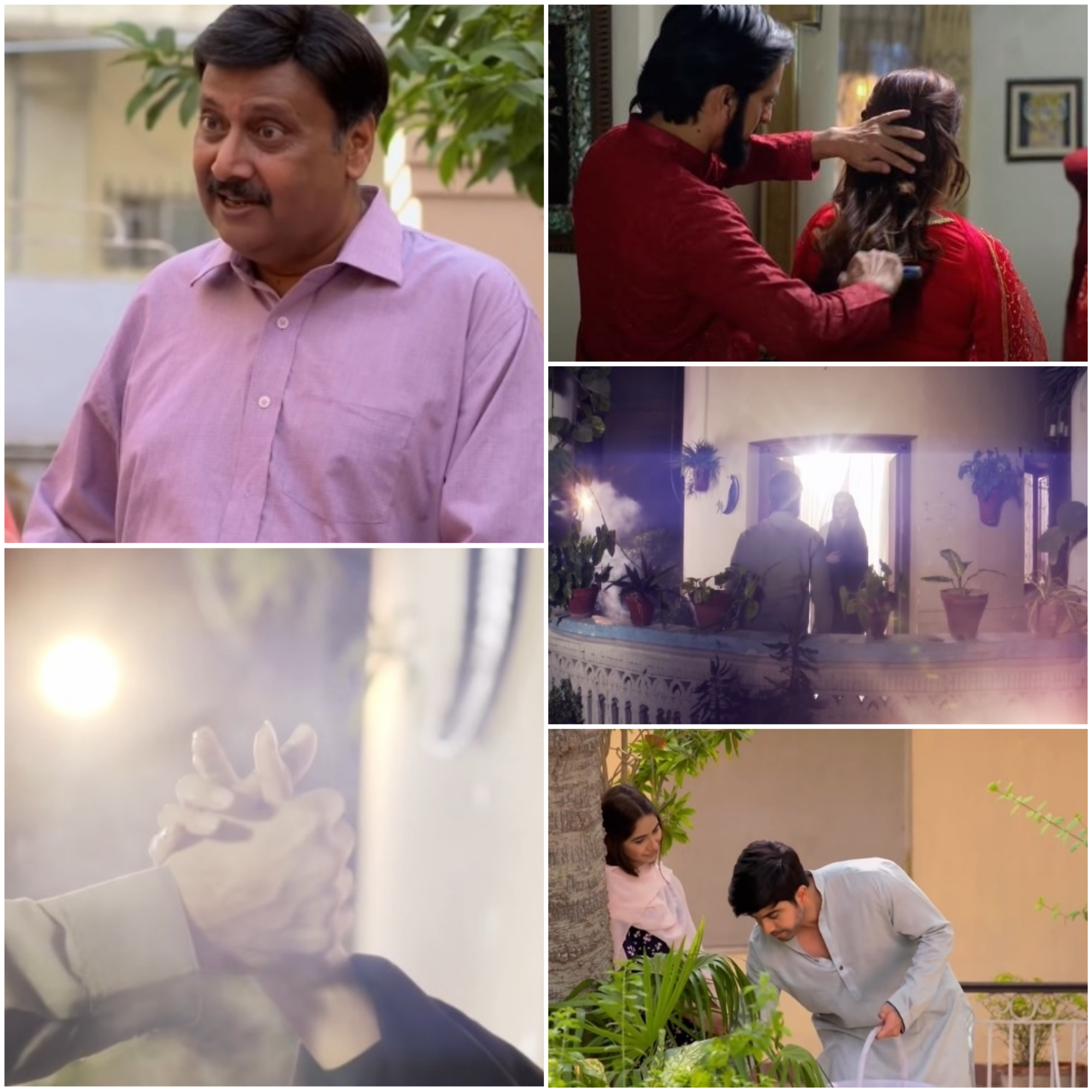 The similar scenario was presented by showing Dilshad going to work to earn some money. There are strong women who do all of that single handedly for the sake of their children, but then again, this case was different because Dilshad had a husband who should've taken the responsibility but he chose not to. Therefore when Dilshad decided to do the heavy lifting, it made me feel for her a lot because it showed that despite being weak and vulnerable, she was at least trying & not giving up. All of this was enough for Kashf to assess that she too had to do something, if not for her father then at least for her mother, phupho as well as her sisters.
The Business Deal
The rest of the episode covered how Kashf agreed to be at Matiullah's asthana because she had her version & perspective of how she was going to deal with the people who would come looking for the solutions to their problems. However, things turned out to be quite different because she was told that this is not how the things work. Throughout this episode, I couldn't help but appreciate how honestly the writer has exposed how such asthanas are nothing but a business venture for those involved. It is a lucrative business & this is the reason, people go to any lengths to make the most of the vulnerabilities of the helpless. This drama has also exposed the fraction of the society who put their trust in people more than The One who has created them. It is a two-way thing & because there's a demand for such solutions, people end up coming with their ways of supply!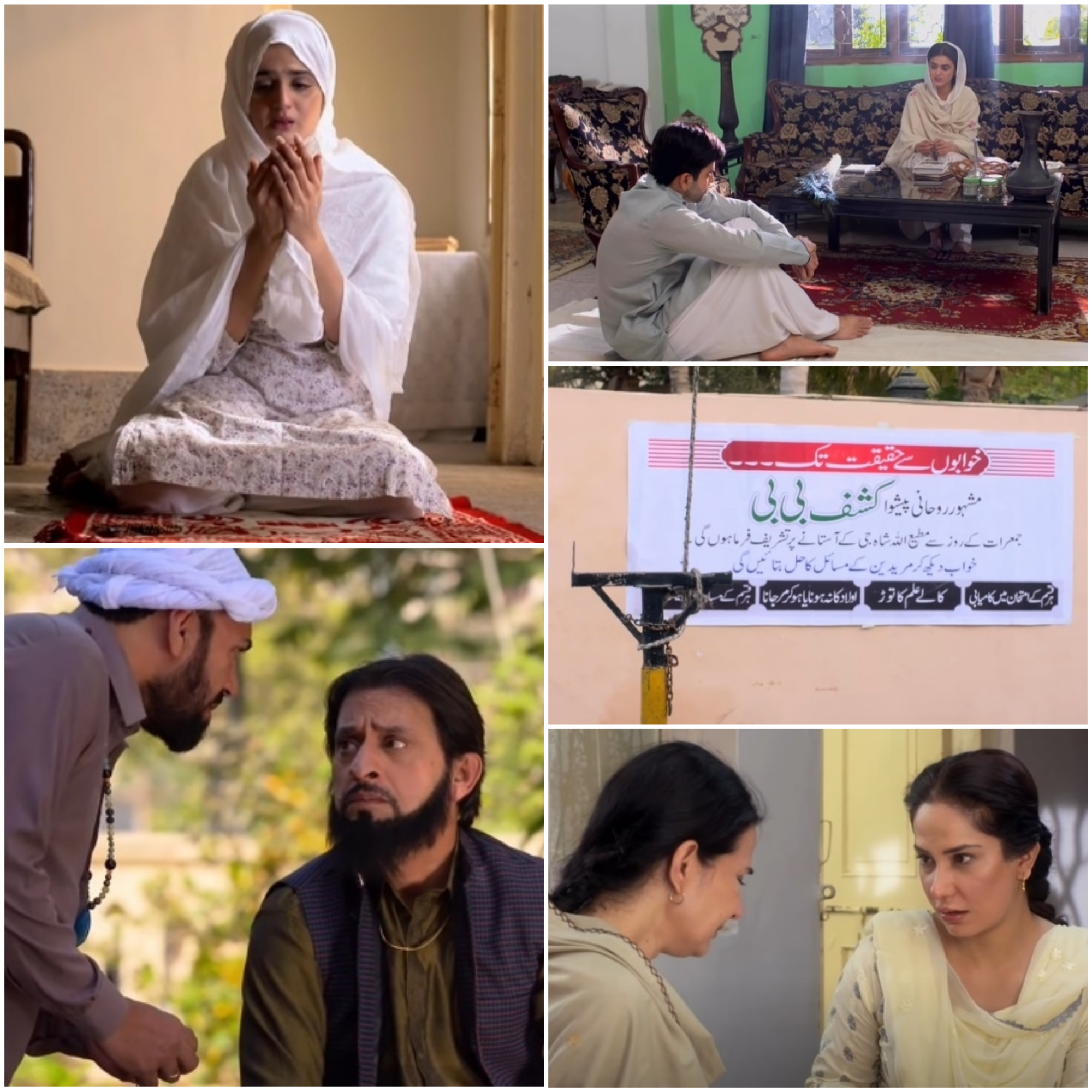 Imtiyaz has already envisioning his dreams being materialized. He thinks he has hit the jackpot but eventually he will also learn that things are not going to be as smooth as Matiullah promised initially. Wajdan decided to meet Kashf at the asthana, I actually felt this will become a routine which will eventually be some kind of support for Kashf but after Matiullah inquired about Wajdan, it was obvious that he is going to prevent him from coming. Wajdan & Kashf's only interaction in this episode was definitely my favorite. It showed how eager he was & also how clear Kashf was in her decisions too.
The dream that Kashf saw probably was enough to figure out that Wajdan was going to be around her, he might not be with her but they will still be connected. Unfortunately, at this stage, it is obvious that the dream that Kashf saw about Zoya & Wajdan will come true, this is why she has backtracked but there's definitely more to this aspect of their lives. At this point, it is however nice to see Wajdan's mother Rashida doing everything to make things right & get him married to Kashf. At least, she has realized her mistake & also acknowledges as well as accepts the love Wajdan has for Kashf.
The dialogues in particular in this episode were some of the best that I have heard in a while. The conversation that Wajdan & Zoya had with him indirectly seeing her as a Shaitaan & then in general speaking about how Satan keeps on whispering but it is upto the believer to not give up hope was brilliantly penned down by the writer. Another one of my favorite conversations was how Matiullah explained the rules of business to Kashf, which were enough to shake her. Last but definitely not the least, the conversation Kashf had with Allah when she prayed, acknowledging that all the powers belonged to Allah & it was only Him who could take care of the affairs of all those people who were putting their faith & trust in her. The way Kashf defined how weak & helpless she was was definitely my favorite moment of this episode.
Flawless Execution
Overall, this episode of Kashf was very convincing & strong. Although the drama has been directed phenomenally but I couldn't help but notice the minute details which added so much more depth & dimension into every scene, such as Wajdan walking out of the kitchen with his back towards Zoya, in order to show that he was not too impressed with how she was trying to woo him. Another one was how Imtiyaz walked in his room hiding the packet of snacks that he grabbed on his way back from Asthana after he got some money from Matiullah in the morning. The scene of Ashi where she looked at Dilshad's hands was very sweet & heartbreaking too. It is so refreshing to see all these women supporting one another. Dilshad will also eventually cave in after she will taste some financial ease but then it is Kashf who is ready to do what it takes to comfort her mother.
I hope the writer has written something good for Kashf in the end because a daughter like her deserves more than she could ever imagine. Direction of Kashf is spot on, this kind of script actually needed a specific sort of treatment & Danish Nawaz has taken it to another level with his vision. The actors are playing their part well & each one of them fits well into the roles assigned to them. My favorite performance definitely is of Waseem Abbas & then comes Hira Mani, who has been phenomenal as Kashf. This character seems to have been written with Hira Mani in mind & she has done complete justice to Kashf. Please share your thoughts about this episode of Kashf.
Keep Supporting,
Cheers,
Zahra Mirza.