Ohkay so, this episode of Kashf did not take the story forward but elaborated what was happening in Kashf's life at the moment. There was also a lot of focus on her family members & the viewers were given an insight into what they all were going through & how they were dealing with the new 'job' that Kashf was doing. This episode was laden with emotional scenes which were actually quite overwhelming. The finesse with which the writer has captured the emotions & the director has elaborated them is commendable.
An Emotional Ride
Kashf is not settling for what Matiullah expects from her. It is good to see that in such dire circumstances where everything is against her, Kashf has put her footdown & is not budging. She has devised a plan in her head how she is going to approach all those people who are now putting their trust in her to find them the solution to their problems. Kashf has sorted one thing & that is she is not going to do anything wrong, she will always stick to the truth without worrying about the consequences, which is one of the strongest aspects of her personality. The way she speaks her version of the truth with so much confidence knows that no matter what happens, it won't allow anyone to have control over her. This is the reason Matiullah was getting frustrated as he could see that he was unable to mend her ways & was failing at convincing her to do what he wanted her to.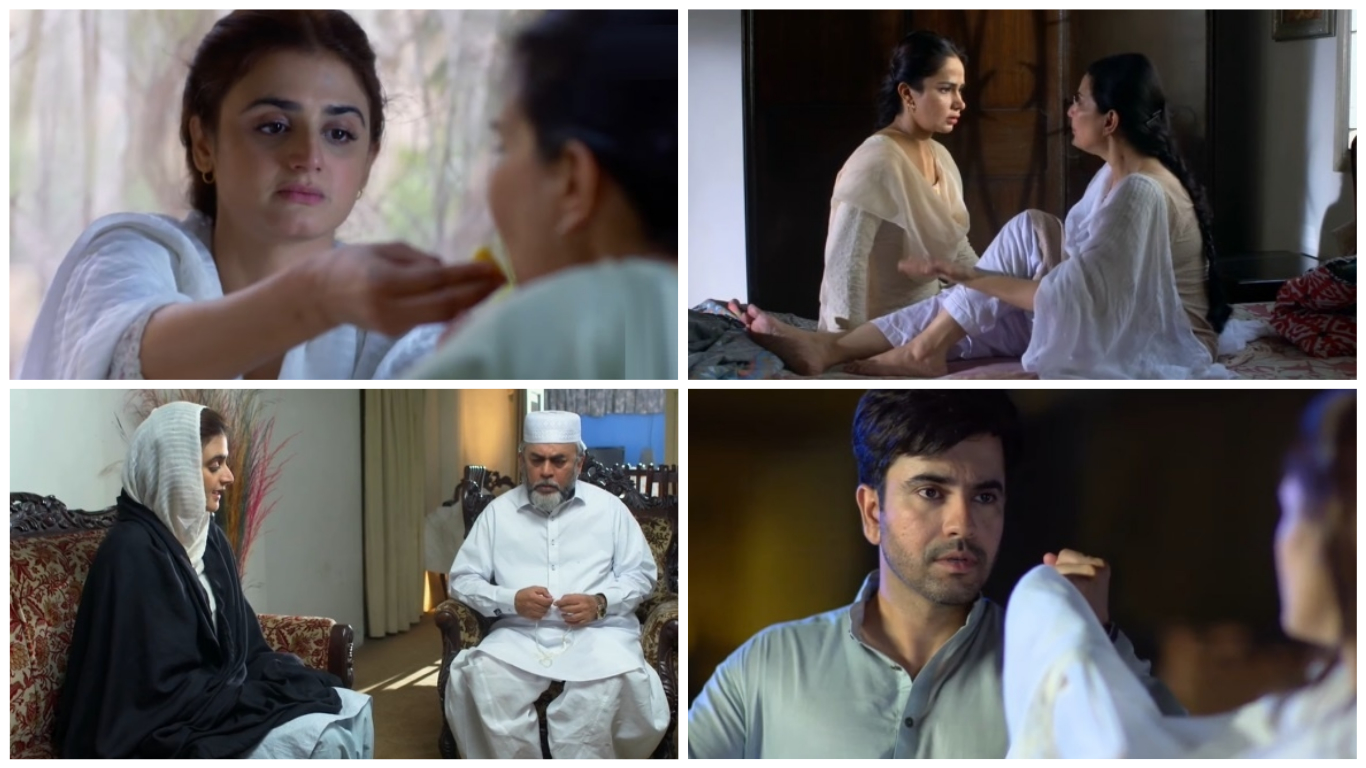 In Kashf's family, her father was over the moon & still has not given up on any hope because he knows this is just the beginning. Dilshad was doing her part & Ashi is just taking a break, just filling the shoes of Dilshad by staying at home & looking after everyone. Irum's character has started to get more coverage & it is nice to see her being similar to Kashf in values & morality. Irum feels for her sister & the way she explained what Kashf is going through in order to earn the food that the entire family is eating showed how compassionate & considerate she is.
In the beginning of this episode, the way Fayyaz explained Imtiyaz's character helped a great deal in understanding his ways with life & attitude towards his family in general. Imtiyaz has always scurried away from responsibilities & has always looked for shortcuts, this is why it didn't take him long to commit to Matiullah & agree with what he wanted Kashf to do for him. Right after that conversation was over, my mind was taken to Zoya, it also made it very easy to draw a connection between Imtiyaz & Zoya because she definitely takes after her father; in selfishness & inconsideration. The overall change in Rashida's attitude towards Wajdan as well as her acceptance for the love he has for Kashf is good to witness. Rashida's character had a bitter start & not an ideal introduction but after she has realized her mistake, she is actually showing it to her son as well as the entire family that she is being sincere & is not putting up an act to please others. She genuinely realizes how wrong she was, therefore she has let go of her ego to accept her mistakes.
This episode of Kashf definitely had some of the best conversations heard in a drama in recent times. The conversation that Ashi & Dilshad had thinking about the future of the daughters was so emotional & heart-wrenching. These two women are battling the toughest circumstances, but instead of complaining, they have done their part in bringing a change in their lives. Yes, they do speak about how difficult life is but that's their way of catharsis because being in the same boat, they not only feel for each other but understand the struggles as a team as well. Also, the moment that Kashf & Dilshad shared, having a meal & talking to each other about their routine, this time with a daughter feeding her mother the food with her hands, it was simply beautiful & showed how their hearts were connected.
Beautiful Conversations
Another beautiful conversation that left me in awe of Kashf's character was the one she had with Qari Sahab, explaining the religiosity of her father with minute details & observations. It showed that although Imtiyaz has not been an ideal father to any of his daughters; Kashf still succeeded in picking up the good bits about him & because of that, he feels he deserves to be respected. The amount of love & kindness she had while speaking about Imtiyaz was beautiful. Another intricate detail that I noticed was how Qari Sahab did not pass any judgments on Matiullah's 'business', in fact he defined what it was & agreed that Matiullah had all the right to label it as a business that he was doing. Amidst all that Kashf is facing, it is definitely nice to see how Qari Sahab is there to show her some guidance & help her out in these situations where she feels something is not right.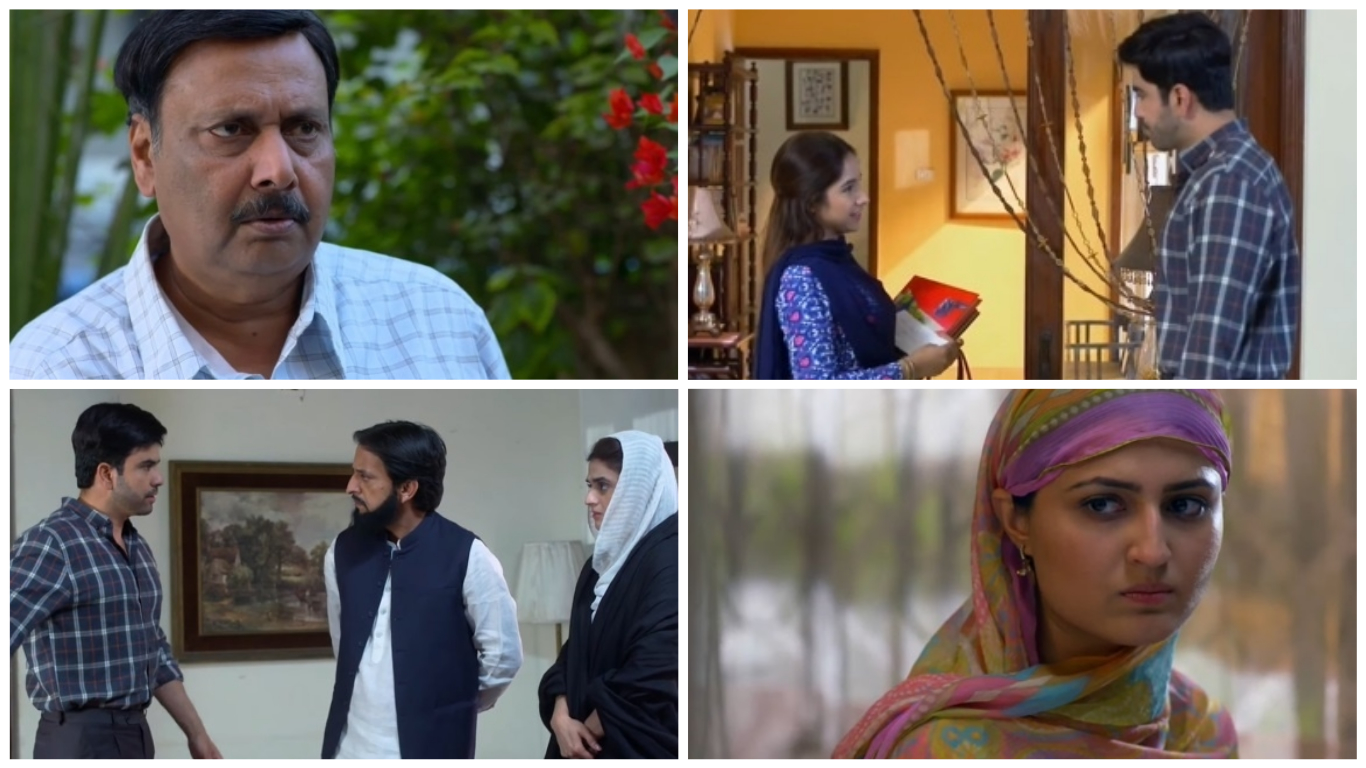 Waseem Abbas actually for a second made me feel for Imtiyaz. When Matiullah misbehaved with Imtiyaz, the change in his expressions went to show that he understood where Matiullah was coming from & because he was looking at the bigger picture, he understood this was not the time to go on bad terms with him. It did make me feel that Imtiyaz was a coward & because of that, he failed to project himself as someone who was worthy of respect. That sympathy did not last long because he knew he had to settle a score with Wajdan & he was the reason behind Matiullah's poor behavior. Wajdan tried to help Kashf, obviously what she goes through is not of Imtiyaz's concerns, this is why he failed to understand why Wajdan had to intervene & be there for Kashf.
It is definitely a big relief that Kashf is not misguiding people & in fact trying her best to make everyone come to terms with the fact that trials & tribulations are a part of life & serve a bigger purpose such as establishing a closeness to Allah. Kashf also continues to see the dreams related to Wajdan & Zoya, although she has pretty much accepted the fate but because she still has the love for Wajdan in her heart & whatever is related to him happens to be an important part of her life, she continues to see the dreams related to him only. Probably when she will move on & get an emotional closure, then she will have the space in her mind & heart to see the dreams not related to her, her sister Zoya or her fiance Wajdan.
So Far So Good
This episode of Kashf was definitely an emotional ride. It makes you feel for all the characters so much & the way they have been humanized, with all their strengths & weaknesses goes to show how much effort the writer has put in making their personalities complete. They all have their fair share of struggles but some deal with it selflessly whereas others are being openly selfish about it. Danish Nawaz definitely has been the best thing that has happened to this project because it is his direction that has elevated the level of this drama. Hira Mani, Junaid Khan, Hajra Khan, Munazzah Arif, Saleem Mairaj, Tania Hussain & Sabeena Farooq – all of them have played their part well. Waseem Abbas is a whole different story – his performance is definitely one of the best performances seen in a long time. So far so good. Please share your thoughts about this episode of Kashf.
Keep Supporting,
Cheers,
Zahra Mirza.