Ohkay so, the last episode of Kashf belonged to Junaid Khan. This episode was basically a materialization of all the dreams that Kashf saw in the past few days, therefore all that happened was already pretty much expected, however seeing it in actual was emotionally overwhelming & heart-wrenching. This drama has been nothing short of an amazing journey that imparted amazing lessons along the way.
As much as it also showed how Kashf was made to use the vulnerabilities of people to her family's benefits, she too was exploited exactly because of that. This was basically a chain reaction that was started off by Imtiyaz & then others started following his lead & they all contributed towards Kashf's young death. This episode was gripping & didn't allow me to look away for a second because of the way it was directed & how the lead actors acted. Team Kashf should actually be proud of the efforts they have put in & for doing complete justice to such a uniquely themed drama.
Minute Details
The highlight of this episode for me was the moment when Wajdan was having breakfast in the beginning. It was right at that moment, without uttering a word Junaid Khan made it clear that Wajdan was not in his senses anymore. Then this episode became all about minute details, such as Wajdan holding a hot saucepan with his hands, the petals on Zoya's face which showed that although this was the beginning of what she had always wanted, the actual picture was daunting & not as beautiful as she had imagined it to be.
I also liked the fact that there were a lot of changes in Kashf's body language like it was pretty obvious that she was in emotional turmoil & on top of that her dreams were making her restless but it showed that her mental, as well as physical health, was deteriorating. The last time she saw the dream, it was almost as if she realized what it was indicating. Another detail was Kashf taking a bath, wearing Ittar & then getting to drink Aab-e-Zamzam. It was almost as if the plot was being set for her & she was doing everything that was getting her prepared for her eternal journey ahead.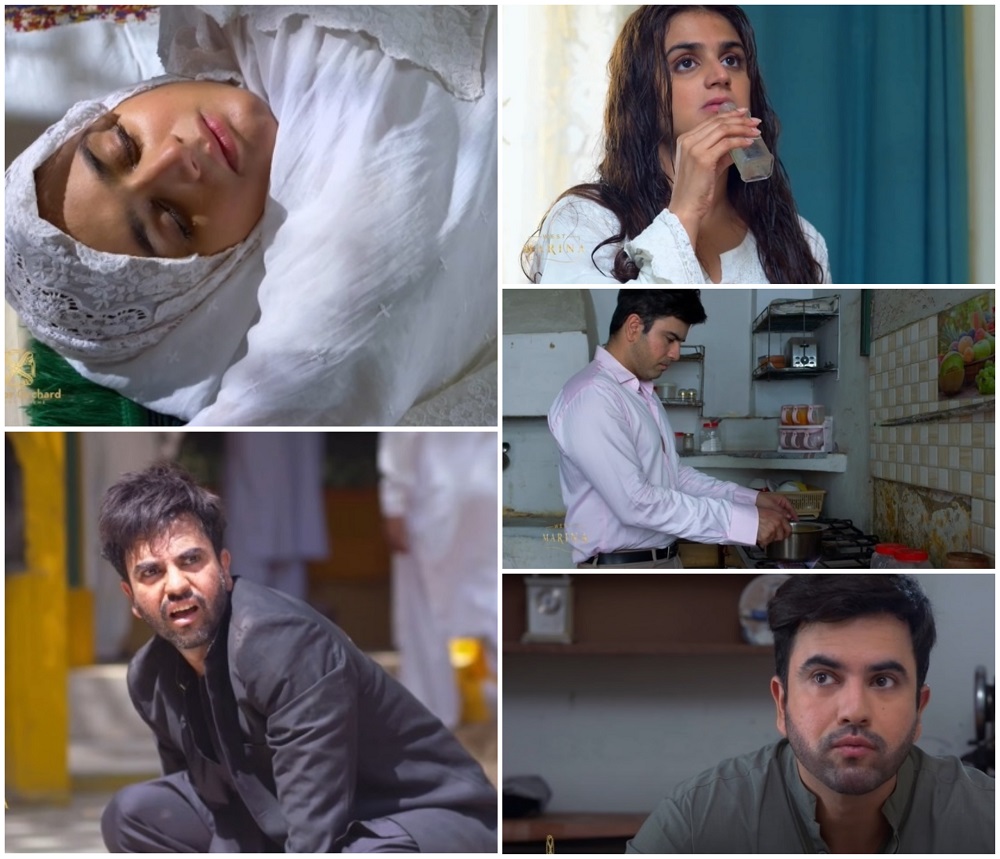 The director Danish Nawaz as well as the writer Imran Nazeer should take a bow for adding these minute & intricate details which actually made it easy to grasp what was yet to come. The way Kashf had absolutely no expression in her eyes while drinking Aab e Zamzam suggested that she was already in a state of trance. The things she said to her mother as well as others yet again suggested that she firmly believed in speaking the truth. Hira Mani should also take a bow for giving Kashf's character such a realistic treatment, the way she laid there, motionless, with tears glistening on her eyelashes, that moment is going to stay ingrained in the minds of those viewers who were emotionally invested in Kashf's character & her journey.
I did find the ending to be a bit abrupt. I am sure the director didn't want to take away the attention from Kashf but actually, it did look like a badly edited last scene where they just ended it like that. Although in the previous episode, it was already suggested that Kashf's family will suffer & her father will be left begging on the streets but at least, a few scenes following Kashf's death were necessary I feel to actually make the ending complete & not leaving the viewers asking for more.
The way scenes covering Kashf's last moments & Wajdan's state of mind were merged was another favorite part of this episode. I couldn't help but feel for Wajdan because he too lost track of his life & was now going to suffer for the rest of his life. Junaid Khan's expressions throughout the episode were beyond impressive. It showed that he had lived through Wajdan's character & now it all boiled down to this point because of which he had so much clarity in portraying what Wajdan was going through. The way he kept on looking at the ceiling while having breakfast showed that he had already lost coordination & wanted to just be left on his own, in his own imaginary world where he was still with Kashf.
I do wish we had gotten to see Ashi, Dilshad, Imtiyaz, Zoya as well as Rashida's sufferings a bit more. However, it is understandable that the two main people who were the center of attention; Kashf & Wajdan's tragic ending would already bring a lot of misery upon them. I was disappointed when I figured out the ending last week, I still feel sad because even after doing so much Kashf had to die to find peace otherwise her family would've never changed. A few more details such as her father forcing her to focus on her dreams, her mother explaining to Kashf how much Zoya loves Wajdan showcased how emotionally absent they were. They did have empathy but it was selective & not meant for Kashf, whereas she was the one who needed it the most. It was like her family had grown aloof to her feelings & for them, she was just a puppet they were happy to control.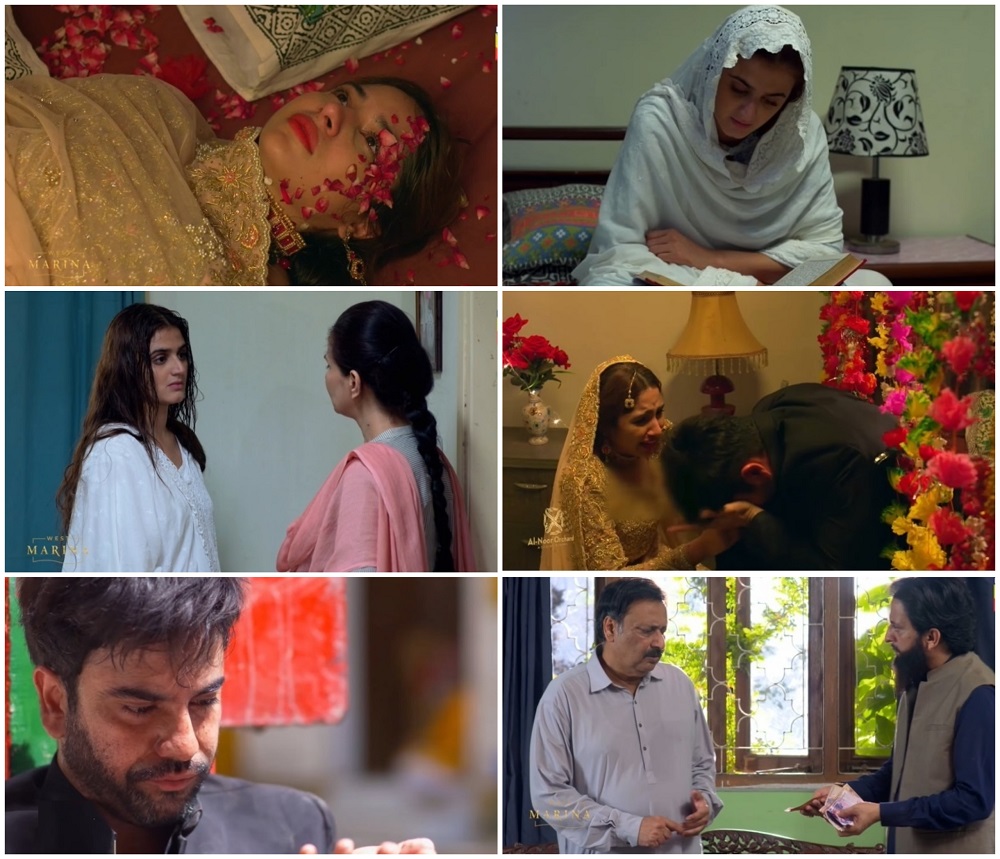 Kashf had a sad ending but it does make sense. I still feel the abrupt ending partly took away the impact it would've made. Seeing Imtiyaz as well as Matiullah in a bad state would've been cathartic because the viewers got to see them putting Kashf through so much, therefore the visuals of them suffering were necessary. The same goes for Zoya, Dilshad & Ashi too because we all got to see their selfishness, I think as viewers we deserved to see them suffering too.
Award-Winning Performances
Hira Mani & Junaid Khan should be super proud of themselves for portraying Kashf & Wajdan's characters to perfection. I am absolutely sure that no one other than Hira Mani would do justice to Kashf's character. Her realness & overall approach towards this character made it what it was. Junaid Khan did justice to all the shades of Wajdan's character as well. Danish Nawaz deserves full credit for directing Kashf phenomenally. All these little details that he added made this drama a lot more meaningful. Waseem Abbas; I don't think anything said about his performance as Imtiyaz would be enough because the way he approached this character & showcased all the emotions was sheer excellence. It shows what a phenomenal performer he is.
Munazzah Arif as Dilshad, Hajra Khan as Ashi, Samina Ahmed as Daadi, Lubna Aslam as Rashida, Sabeena Farooq as Zoya, Maryam Noor as Shumaila, Saleem Mairaj as Matiullah & Tania Hussain as Irum were all brilliant. Sabeena Farooq in particular has shown her caliber as an actor & performer, she really made us all hate Zoya's character. Writer Imran Nazeer definitely deserves an award for bringing such a unique script & brilliantly written characters – it is a rarity where Pakistani drama viewers come across such dramas, therefore it also gives hope to viewers like us that we still have such skillful writers who can wow us with their creativity & imagination & bring us an award-winning content such as Kashf. Kashf will be remembered for a long long time for the story, characters, direction & most importantly award-winning performances. The entire team of this drama should be super proud of what they have achieved. Please share your thoughts about the last episode of Kashf.
Keep Supporting,
Cheers,
Zahra Mirza.
I would love to thank all of the beautiful readers who contributed to the discussions & kept the comment section happening & alive. I had a lot of fun reading your take on this drama & discussing it with you all. Until next time. :)