Kathputli – Episode 08!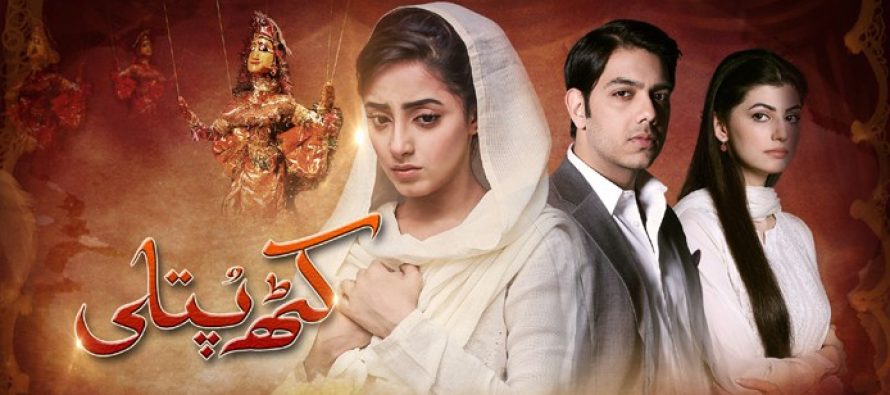 Ohkay so, this episode of Kathputli was good because it took the story forward in that direction which we didn't expect. I know things are going to get difficult between Mehru & Ahad but for now, the way they both tried to make themselves understand the importance of this relationship was refreshing to see.
Mehru's mother found out that her daughter has died & as expected, she couldn't cope up with the news but she is fortunate enough to have a companion like Saira in that house who not only feels for her & Mehru, but also told her the truth to bring herself out of the misery. Zeenat knew this was going to be a tougher challenge where despite knowing that her daughter is alive, she'll have to live like she doesn't anymore only because of Ehtasham & Hassam. I actually want to see what punishment the writer has reserved for Ehtasham & Hassam because they both deserve the worst for putting their mother & sister through this!
Finally, Mehru & Ahad moved to Islamabad, but I wish they had shown an apartment being allotted to them because for 2 individuals, they didn't need such a huge villa. Anyways, they moved & things were hard for Mehru at first because she didn't know what to do & what to expect but it was good to see Ahad breaking the ice & trying to make things as normal as he could. He knows that Mehru has been through a lot & for that reason he puts his problems aside & considers what she must be feeling.
Mehru hasn't come out of what she has been through that is why she is not mentally ready to understand what she should do in the situation that she's in, where all of a sudden a stranger is expecting things from her & she doesn't know how to react. I really liked how Ahad didn't turn everything into an ego issue & tried to make her understand how they both need to work together to shape their lives up. Ahad knows that Mehru has lived a very difficult & different life, that is why her inconsideration didn't bother him much & he turned it into an opportunity to make things a bit more clearer to Mehru by having a conversation with her. I also must say that I like how both Ahad & Mehru despite going through so much are curbing their worries & are enthusiastic about shaping their future, which is a rarity these days & we hardly get to see such characters in our dramas.
The entire scenario where Mehru didn't eat anything followed by Ahad's reaction was really done nicely. It was something that made Ahad realize that Mehru is dependent on him & on humanitarian grounds he needs to take care of smallest of the things that she might need. It is good that Ahad understands how important this entire opportunity is for both him & Mehru, that is why he wants to make the most of it & in that process, he didn't mind encouraging & empowering Mehru too. To my surprise, I really liked Ahad's approach that he adapted towards Mehru & the appreciation that he had towards the ease that came with this relationship.
Overall, this episode was great & I am glad that they are taking things forward. I still had a feeling that Mehru seemed a little immature but there was something admirable about her immaturity too. She is not used to such things & she is making it very clear which was actually funny. Looks like Ahad will take a trip to Karachi to meet his mother but will find out that she is no more & while he'll be away, Mehru will realize that she is getting used to Ahad's presence. I must say, to my surprise, I am actually looking forward to the next episode. Please share your thoughts about this episode of Kathputli.
Keep Supporting,
Cheers,
Zahra Mirza.
Zahra Mirza
The one who starts her reviews with 'Ohkay so'. ;)
---