Kathputli Episode 11 – Party Poopers in the House!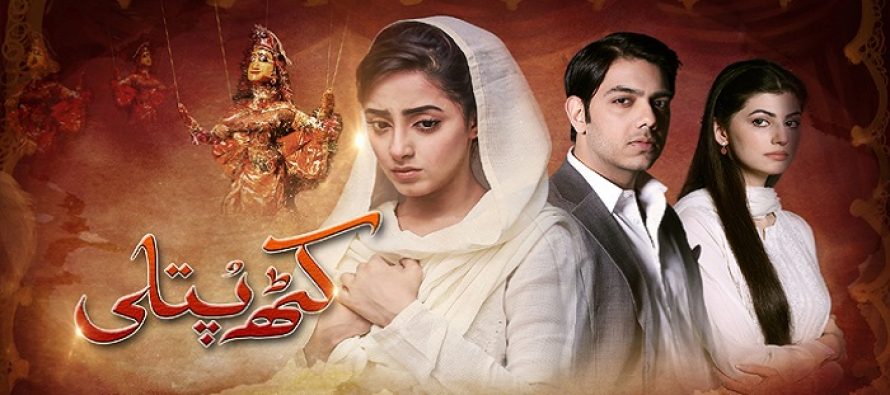 Ohkay so, it is good to see that things are moving forward in Kathputli. Even though in the initial stages of the drama, it looked like it was going to be a typical story but I like how every episode takes the story in such a direction which we couldn't predict beforehand.
Ahad finally brought his father to his & Mehru's home. At least, Ahad wasn't oblivious of how his father was going to treat Mehru & what he was capable of doing & that is why it was good to see him being extra cautious & worried about what could potentially happen. Ahad's father has become quite bitter after what he has gone through with his wife passing away & his son abandoning him, but at least it is good that he now has Ahad & Mehru who're there to look after him. It didn't take him long to change his perspective about Mehru, which was a surprise & definitely pleasant at that. I thought he was actually going to give Mehru a very very hard time but that didn't happen. I liked how he reflected on the past & realized how different sharing a space with Ahad & Mehru was. It is good to know that Ahad has finally gotten a chance to take care of his father; who himself is guilt stricken for how harshly he treated his wife her entire life. Sadly, Ahad couldn't do much for his mother but it is good to see that he is doing everything for his father & not only that, he also has Mehru's support & understanding too.
What I liked the most about Mehru's approach was that she didn't try to push herself in the matters concerning Ahad & his father. She did what she could do to help her father in law but didn't go hard on herself where she put everything aside, curbed every other responsibility that she had in a hope to impress her father in law. I liked how she continued doing her chores like a routine without worrying much about what Ahad's father must be thinking about her. The thing that I liked the most was that it was Mehru's attitude & her conduct that automatically drew Ahad's father towards her & forced him to realize that she was definitely different & better than Mehwish & that is why he immediately accepted her & told Ahad to be comfortable as well.
I most certainly believe that Saira's sisterly brother was so not needed in this drama. The way they both spoke on the phone made me believe that Umair will only talk about their past & they will discuss how they used to have a great time in their childhood but the way he kept on prying into Saira's personal life & interrogated her like an agony aunt was so unpleasant. If Umair feels Saira's not happy with Ehtashaam then he has all the more reasons to stay away from her life because he should be mature enough to know that he can cause more problems between Saira & her husband with such a nosy attitude & also, what was he trying to imply or instigate by telling Saira's mother that she was unhappy, like does he want her to leave her husband's home or what? I would actually hate to see Saira suffering because of Umair, even though Ehtashaam is no exception but at least, she is trying her level best to keep her husband happy so Sister Umair should let her be. Umair's concerns for Saira were so not needed & I would hate to see him getting more coverage than required.
I so want to feel Zeenat's pain but she makes sure to say such a thing every single time that makes me dislike her character even more. I know she misses Mehru & feels for her but I have never heard her pray for her daughter's safety. This time around Zeenat wished that Mehru had died so that Zeenat could live in peace, like what sort of a mother is she? I think she should be ashamed of herself for not being strong enough to protect Mehru herself & also for the fact that she gave Ehtashaam & Hassam all the right to run the course of Mehru's life. Every time I find myself cringing from hearing Zeenat's thoughts, Saira comes in like a breath of fresh air who is not only hopeful but optimistic about the fact that Mehru must be doing something amazing with her life. Also, Zeenat is waiting for the day when Ehtshaam will forgive Mehru so that she'd be able to meet her daughter, whereas Zeenat should take a stand for her only daughter, show Ehtshaam his right place & order him to bring his sister home. Zeenat is also completely responsible for what Ehtashaam has done with Mehru & it is actually bizarre of her to be completely alright with the fact that her only daughter is fighting her battles alone, in a hope that someday Ehtashaam will forgive her & then Mehru will be allowed to come back!!! I feel Zeenat on her own has turned herself into a bechari whereas being a mother she definitely can take charge of how things roll in her household & can easily deprive Ehtashaam of the power he has attained!!!
Overall, this episode was good too. Once again, I enjoyed the interaction between Mehru & Ahad. I really like how Mehru speaks with Ahad in an accusatory tone, there's something quite amusing about it & makes their scenes fun to watch. I loved how Mehru taunted Ahad about obligatory prayers & Ahad ended up listening to her despite getting annoyed. I must say, Umair is giving quite a complex to all the girls out there who have sparse eyebrows, I mean seriously, I couldn't concentrate on anything else when he was on the screen, lol! Anyways, the preview of the next episode suggested that Saira will be forced to leave Ehtashaam & things won't be smooth between Mehru & her father in law as well. I just hope that Ahad's father stops being a party-pooper & respects & appreciates the fact that in this day & age, he has a son who is taking care of him & has a daughter-in-law who is so rooted & decent. Please share your thoughts about this episode of Kathputli.
Keep Supporting,
Cheers,
Zahra Mirza.
Zahra Mirza
The one who starts her reviews with 'Ohkay so'. ;)
---