One thing I want to say first, Arsala is one lucky girl as far as her professional life is concerned. She just keeps getting good jobs one after the other; well the Haseena one was horrible in the start later it got better and her next stint was slightly sloppy but still, she keeps getting to good places. That said, watching today's episode was like watching the very first episodes of the drama. All the director focused on today was to show that how shallow and annoying Arsala's family can be like we did not notice that in the last 17 episodes. This drama has so much repetition in everything that despite being a good story; one gets annoyed at some point.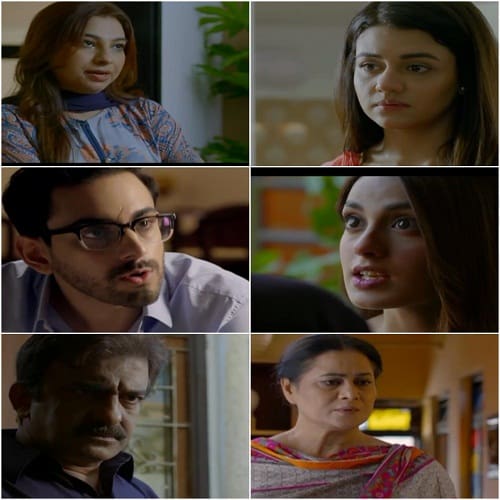 Naima was again being her evil self and her mother is the same too. One good thing Khamoshi has highlighted that Yes! parents do exploit their children. Parents do partiality and favour some of their children wrongly. Though this happens in every single household, it never gets talked about because how can one blame their parents. Shehnaz is the real culprit for Arsala's tragic life because the way she stood for Naima she could have stepped up for Arsala but she is the one greedier than Sabir. She is the one like her younger daughter. The point was highlighted nicely by the visit of Shehnaz to Naima's house that how partial she is, she is subtly insulting her sister for the sake of Naima and does not even care when Arsala goes missing.
Shahram has reached Arsala and is helping her in every way he can! Again! But our Arsala will wait to realize how wonderful that man is because the makers want more episodes and just cannot wrap the story up even if there is nothing new or substantial left in it. Sabir's change of heart is a good thing to watch, at least someone in Arsala's family is trying to not be annoying but the development is not of any help to Arsala.
Bee Jaan has become the Arsala of her house. Her son is not supporting her and the way Nasreen and Zubiya think of Shahram as their property is not understandable because the boy has clearly told them his choice.
Khamoshi is getting extremely dragged which is making the story lose its charm. They should wrap it up in an episode or two now. What do you guys think?
P.S: Did anyone notice Bee Jaan said the wrong name while talking to Shahram? She called Haseena Naima.