It was a good episode to summarise it in few words. Since Khamoshi has started, we are watching Arsala getting exploited by her family. The only thing that keeps getting repeated is the awfulness of Arsala's family. Today's episode though showed how awful that family is (Again!) but it was not the focus of the episode. Things got better for Arsala in every aspect. She has got a permanent job with a lot of respect. Her living situation is settled and she is focusing on her studies. Arsala's reaction towards Shahram is still very confusing. He was rash and wrong in some things but why is she hating one person in the whole world who is not after her money and is trying to help her. Shahram is literally going out of his way in everything to make Arsala's life better. From financing the NGO to getting her a laptop, he is leaving no stone unturned to assure that Arsala never experiences the sharp edge of circumstances again.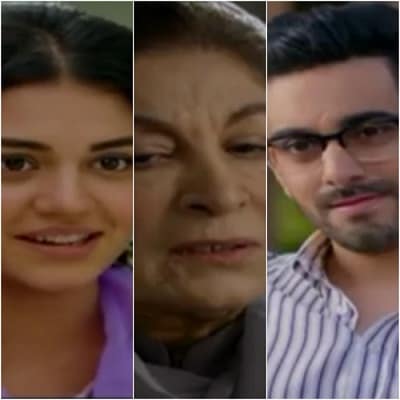 Bee Jaan was Arsala today. Her family is against her, her son is totally under his wife's influence. They have gone petty to an extent where they are not even letting her having a cup of tea. Nasreen's claim over Shahram is just too annoying. They have not shown any bachpan ki mangni nor did Shahram's character ever showed any interest in Zubiya, the claim is therefore very uncalled for. Moreover, Zubiya's parents are still whining over Shahram and not trying to fix their daughter somewhere else. Shahram has made it clear that he is not interested in your daughter then go and find some acha rishta instead of bullying Bee Jaan. But seems like this track is not getting wound up anytime soon.
Sabir's change of heart has turned into a complete tale of regrets. He wants the other people in the family to feel the same way too. The way he semi-insulted Atif was a good one too. Shehnaz, on the other hand, is just interested in the money and is using that money to have more celebrations for Naima. She does not care about Sabir, her only son Guddu or Arsala, her only focus is Naima aur uski shaadi. Naima is getting more annoying and Atif is still acting like a confused bechara so nothing new in that track.
The episode ended on a good note. Let's see how Arsala will have a change of heart for Shahram!