Okay so let's start is with something this episode deserves for its description. BLAH! There was so much screeching involve in this episode, my ears are still sensitive and near the edge of bleeding. We have seen girls fighting like mean cats over heroes in our dramas. There has been sister rivalry which we saw in Khamoshi too. Then we have seen the same stuff happening to a group of friends and yes, of course, the cousins. But Khamoshi now has a mother who screeches and fights over the boy she wanted to have for her daughter. The whole episode revolved around Nasreen's antics and it was a misery to witness it.
The way Bee Jaan's track has gone sour is a headache. She has become the orphaned child whom all the relatives mistreat. She was crying for FOOD! That scene was downright despicable. She was shown in the beginning as a woman with a lot of authority and composure. She was not getting any family time even before Arsala came into the picture but she was fine with it. But now she just keeps shouting for either the staff or Nasreen and Zubiya. Nasreen is making her life miserable and on the other hand, she is making sure that Zubiya becomes a complete obsessive psychopath. Zubiya's Main Khobsuart Nahin Hoon is also very annoying because the track has not been covered at all in the drama that why she is having complexes and the girl they have cast is quite well made up and pretty which is not serving their story well.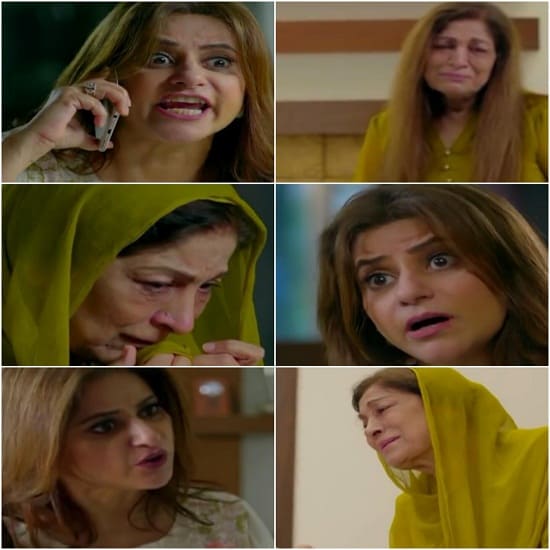 Arsala's blame games towards Shahram proved that at some level she has the Shehnazness and Naimaness in her. The way she blamed ke mere adhay maslay unki wajah se hain was downright absurd. Shahram has turned into a total damsel in distress who just does not know how to cope with any situation and consequently, everyone is insulting him which honestly speaking he deserves.
Guddu's familiarity with Shahram was also sudden and seems like Sabir will be the person who will make Arsala agree to marry Shahram after all.
One thing I want to commend is the makers' talent for making everyone a mazloom bahu regardless of their genders!