Ohkay so, this episode covered the days right after Taimoor's death. In all honesty, he was one such character whose death should be mourned & the way it was conveyed seemed perfectly justified. All the emotions, all the reactions, the performances breathed life into what the characters were feeling after losing Taimoor. His family as well as Mahi's family were deeply affected & they all had a very different approach to it but the underlying emotion was the same; sadness & grief.
Flawless Performances
Hina Bayat deserves special mention for doing complete justice to her role as Taimoor's mother. Each & every frame that captured her emotion was heart-wrenching & that was only possible because of the sincerity she poured into her performance. I felt connected to her pain, her depression & the void in her soul that she was feeling after losing her son. She knows that Mahi is not responsible for what has happened but it is a bitter truth that every time she looks at Mahi, she is reminded of the reasons why Taimoor was taken away from her, that is why she can't help but feel a bit of resentment towards her daughter in law as well. Although Mahi has not given her any reason to feel that way but the way she reacted went to show that Taimoor's mother herself was not in the right state of mind. She can not be blamed for behaving this way because she is incapacitated & doesn't know how to react.
Mahi has lost it all, she has lost her husband, the man she felt would protect & secure her. The man whose idea of being her life partner made her happy, therefore she knew there was absolutely nothing that would change if she stays here or goes back. She decided to stay at Taimoor's house because she understands that this is what life has chosen for her & there is no turning back so there is absolutely no reason for her to turn a blind eye to it thinking it will change something if she goes back with her family. Mahi realizes this is her pain, this is punishment & she has to bear the burden of it.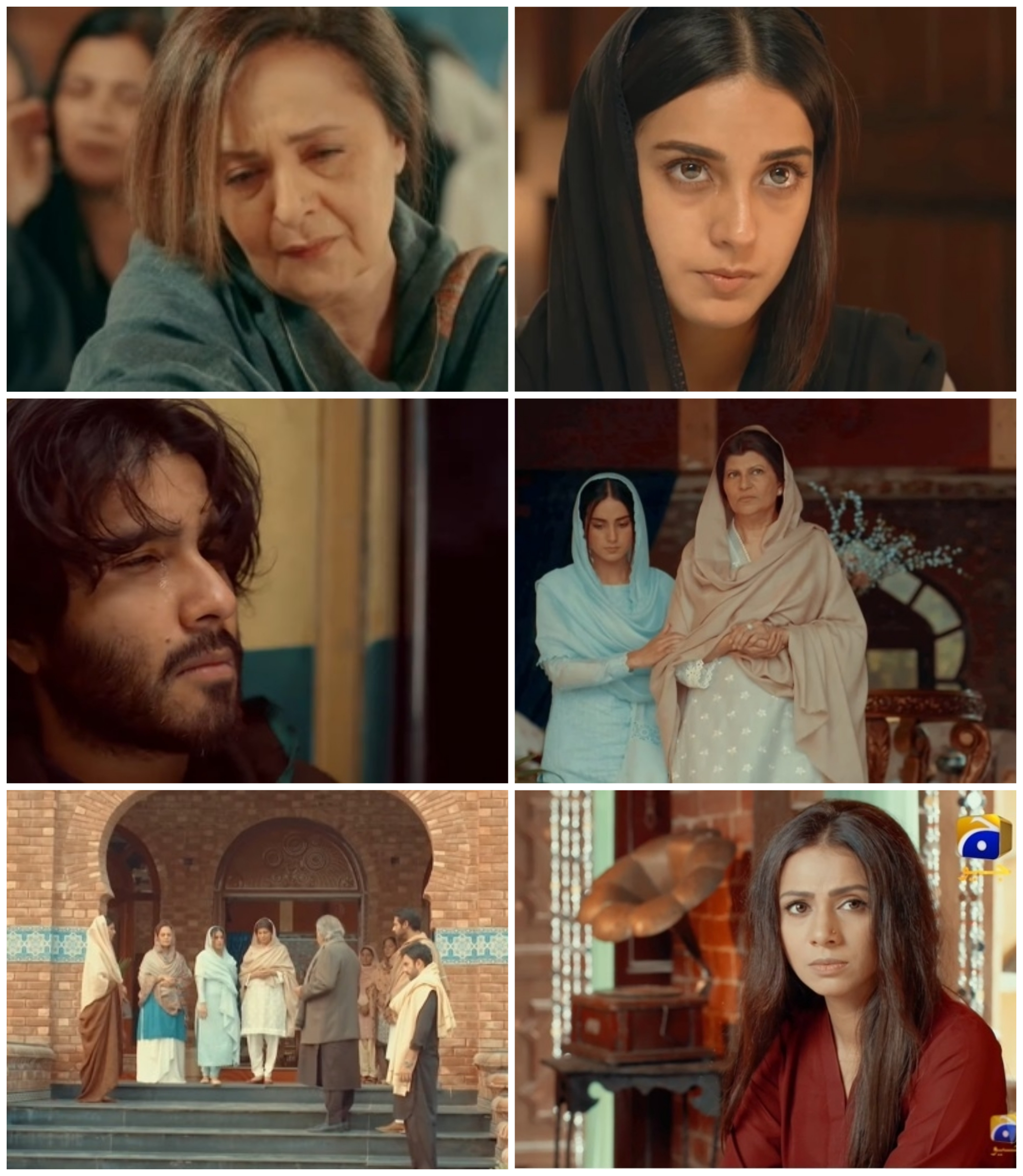 Farhad reappeared & guess what, no surprises there, in a spur of a moment, he earned himself yet another female fan; yes you guessed it right – Romana. The setting in which Farhad came across Romana was unusual, still, she found something special & different in him. As much as I would like to believe that incidents like these do happen, the fact that everyone around Farhad falls in love with him seems a bit too stretched now. It wouldn't have changed anything if Romana hadn't reacted the way she did, where she couldn't take Farhad out of her mind. The entire misunderstanding & the way it was directed made it a tad bit prolonged & unrealistic, maybe Munazzah Arif didn't act the way she should have in order to make her ordeal look believable.
This is just the beginning of the toughest phase of Mahi's life & right from this moment, she has started to hear all sorts of things. As much as Mahi might not pay heed to what the people around her are going to say, there is no guarantee that Taimoor's mother will not notice & start finding her reasoning in these insinuations. In this entire episode, I will once again say that the highlight was Hina Bayat & her flawless performance. Iqra Aziz was phenomenal as well & each & every emotion was conveyed with so much clarity that it actually made me feel for Mahi a lot.
Convincing Direction
There is no denying the fact that Khuda Aur Mohabbat is a well-directed drama. This episode was perfectly executed too & with such strong direction, I don't think the editors need to rely so much on the background music & never-ending alaaps. In this episode, it got to the point where instead of adding more depth to the scene, the alaaps were being a major distraction – so much so that I had to lower the volume. I am strictly against the 'rabbaaaaa' & the 'aaaaaaa' alaaps especially in Rahat Fateh Ali Khan's voice because it just gets to me. I really hope in the episodes to come when the story will shift from the grief, I won't get to hear these awfully repetitive alaaps. Apart from that, a few scenes sounded fakely dubbed, especially the ones shot on the train & the one where Mahi tells her mother-in-law that she is not going anywhere. It seems in Khuda Aur Mohabbat 3, the uniform for traveling on the train is Abaya & Hijab – I know the director was callous in tackling this aspect of the story but the way Hijab & Abaya has been used in this drama is quite negligent of what the true essence of parda is. It seems only when the females have to travel via train, they pick Abayas thinking this is the suitable attire for it.
Anyways, the last scene of this episode was my favorite. The way Mahi thoroughly goes through Taimoor's belongings, with his entire wardrobe still having the feel to if as if all of it is still is in his use. At that moment I felt she will now get to know him through his absence, with stories that she will get to hear about him from his family. That scene was actually quite moving & then, in the end, Mahi figuring out what this relationship meant to Taimoor, what she meant to him – it was definitely conveyed beautifully. The star of this episode was definitely Hina Bayat & Iqra Aziz gave a convincing performance as well. Please share your thoughts about this episode of Khuda Aur Mohabbat.
Keep Supporting,
Cheers,
Zahra Mirza.