Ohkay so, this episode of Khuda Aur Mohabbat did not really take the story forward because all that happened was very much related to one particular situation. However, it further gave us an insight into the kind of people both Mahi & Farhad were. Where Mahi was a go-getter, Farhad was emotional. It also established the fact that Mahi was someone who when puts her mind to something knows how to get it whereas Farhad kind of has an easy-going approach because he is more emotionally driven at this stage of life. Mahi & Farhad are two different people but one thing common between them is that they have not really had life-changing experiences so far in their lives. They both have lived a one-dimensional life and their journeys have been pretty simple but now things are going to change & they both have no idea.
Mahi & Farhad's Friendship
Mahi was adamant that she has to do what it takes so that Rida can meet Faris. Mahi kind of realized that out of all the people, it was Farhad who could help her & then the rest of the episode focused on pretty much that. It also showed that for Farhad, this was more than just a friendship & he looked like a very simple-minded guy who was now mistaking Mahi's boisterous nature & her frankness with something else. However, it was also clear that Farhad didn't really pay much heed to what Mahi was feeling because on his own he was sorted about what his feelings were. Farhad has pretty much fallen for Mahi & at the moment, it can be termed as an infatuation. I liked that it was very much clear & nothing else was being established. All of this definitely has started as something harmless & unintentional but it is obviously understood that both Mahi & Farhad are definitely going to be at the suffering end only because of these feelings & the emotions they'd had towards each other.
Farhad definitely has scored brownie points in front of his father & it seems he is very happy with how Farhad is taking his job seriously. All the conversations related to Farhad's keenness towards his job were interesting because everyone was finding it hard to understand what it was that changed in a guy like him who was always laid back & wasn't much into the idea of hard work. This definitely is going to be a misunderstanding on Farhad's part but for now, to see him just being happy with the idea of Mahi present at Nisar Sahab's place was kind of sweet.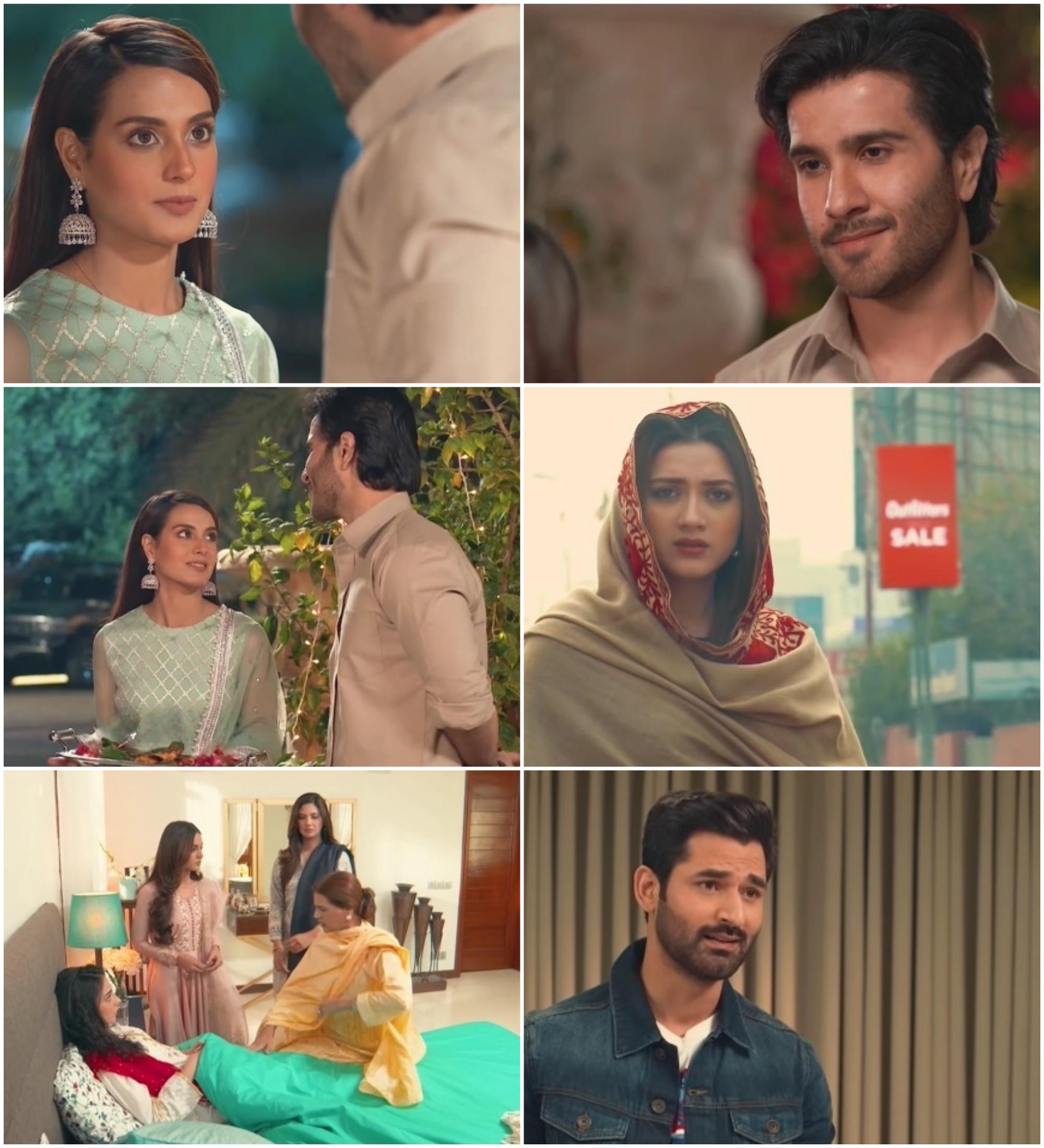 Naheed (Momina Iqbal) seems to be quite serious about Farhad too. Although Farhad doesn't take her seriously, she has made it very clear that she has genuine feelings for him, this is why she found it hard to take him out of his mind. Also because she happens to be a next-door neighbor for so long, none of Farhad's siblings find it awkward that she talks about him all the time. She was obviously very disturbed with the changes she saw in him because she could sense that he was getting invested somewhere else. I am really interested to see how this track will develop & how Naheed's character will evolve because this episode, in particular, showed that there was definitely more to her, I really hope that happens to be the case & she has more to offer than just being a girl madly in love with Farhad.
Mahi finally came up with a plan & Farhad helped her. Rida got what she wanted & everyone was pretty happy. This entire adventure gave Mahi & Farhad a chance to have a conversation with each other. For Mahi, this is just a regular friendship & nothing else but Farhad definitely is getting emotionally invested in her. On the other hand, Taimoor also got some information about Mahi & he figured out that just like him, she too comes from an affluent background, which obviously makes Taimoor assume that it might be easy for his family to approach hers.
Great Production Value
Although the drama is in the initial stages, it won't be wrong to say that this was more or less a filler episode but because the viewers are still getting to know about the characters, this one didn't really seem unnecessary or purposeless. However, the situation of Rida's fiance demanding to not cut the cake without her seemed a little forced but it once again was used to show what Mahi & Farhad can do when they put their mind to something. The production value of this drama is superb, I must say, each & every frame has a story to tell. All the actors look amazing. Iqra Aziz & Sunita Marshal looked gorgeous in this episode & their outfits, hair & makeup were stunning too. I wish I could say that about Rida/Meherbano, the bride but she just looks unkempt, maybe this was the 'look' she was going for but while sharing the screen with Sunita & Iqra, it did feel like the stylists should've paid a bit more attention to her considering she was the 'bride' after all. Iqra Aziz hasn't offered something new so far whereas Feroze Khan is definitely impressing with each passing episode.
In this episode, Momina Iqbal also stood out due to her performance & she also looks absolutely beautiful. She has done justice to all the emotions that Naheed has been feeling & is perplexed about. As much as the drama has had a great start, I really wish the commercial touch doesn't overpower the essence of the story & compromises the impact it should make, especially when I as a viewer know exactly what Khuda Aur Mohabbat has been all about in the past. A lot of effort & hard work has gone into creating this season but I really wish they over-simplify the situations when it calls for it because this is what is going to help the viewers connect with the characters better. The direction so far seems to be great & the supporting actors too are performing flawlessly. I must say I am loving all the aerial shots of Lahore, they are just stunning. Please share your thoughts about this episode of Khuda Aur Mohabbat.
Keep Supporting,
Cheers,
Zahra Mirza.