Ohkay so, this episode of Khuda Aur Mohabbat 3 was quite happening. However, it doesn't necessarily mean that whatever they are showing is convincing or makes sense. It is disappointing and the fact is, with each passing episode, one thing gets clear that the story of Khuda Aur Mohabbat 3 is mediocre along with very shallow characters. It won't be wrong to say that it is mediocrity at its best that has been packaged in such a manner that makes it look grand, which it isn't.
The Secret Is Out
In the previous review, I deliberately didn't discuss Romana's fever considering she was quite irrelevant but it seems she still has some purpose left & a score to settle. However, I won't mince my words that seeing her character is off-putting. I remember when she was introduced, I wanted to know more about her but her story & character have stopped adding value to the story, so she still seems quite irrelevant. Sikandar was seen talking about Romana after weeks – this is actually what makes things look quite choppy in Khuda Aur Mohabbat 3 that all of a sudden a character is seen interested in something which he or she was least bothered about. This approach makes it look like the director forgets about a certain situation & then as soon as he is reminded of the unfinished business, he gets back to it. There is no flow in the direction, which makes it all look very choppy & out of the blue!
Mahi wanted to meet Farhad & although she insists that she wants to send him back that is why she wants to see him – she is still in denial that it is only because she yearns for it. However, she is lucky to have Sahiba's support because she happens to be the first one ready to serve this single purpose that she is here for the first place. I will however say that Mahi & Farhad's meeting was definitely my favorite part of this episode, I wish they hadn't really prolonged Mahi's forlorn/crying face & stretched it so much. The audio seemed a bit too off with it being obvious that Mahi's dialogues were later dubbed & added to the scene, which kind of ended up being quite distracting. However, props to both Iqra & Feroze for performing brilliantly in that scene. Farhad's recitation of Punjabi poem was beautiful as well. I still found some of the dialogues problematic in this episode & the first one was Mahi wishing to be with Farhad in 'agla jahan'. As far as they want to glorify the kind of love Farhad has for Mahi for the sake of drama, they have the right to do that but to literally play along such insinuations is definitely uncalled for. Anyhow, this was the first time Farhad found out that Mahi also loves him but unfortunately, he wasn't the only one to witness this moment – the spy as well as Romana were around as well to ruin this moment for them.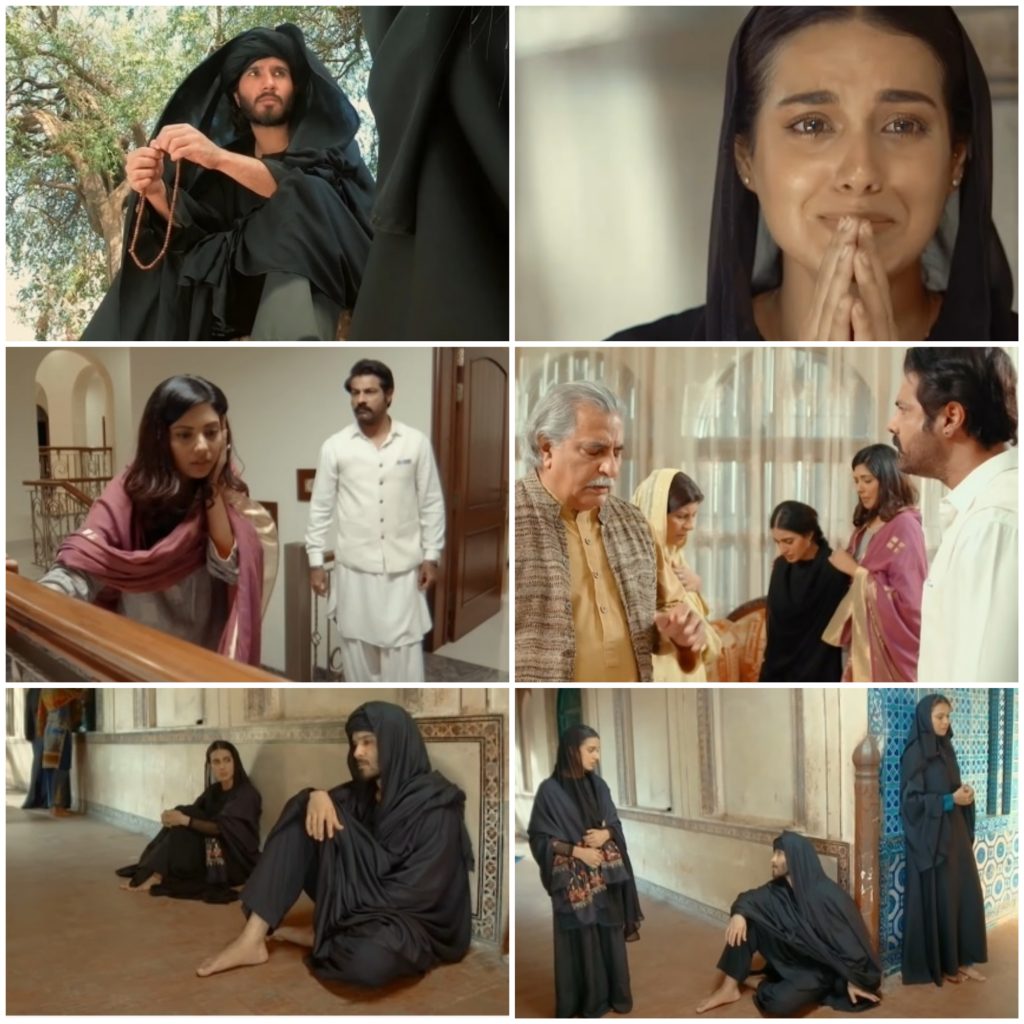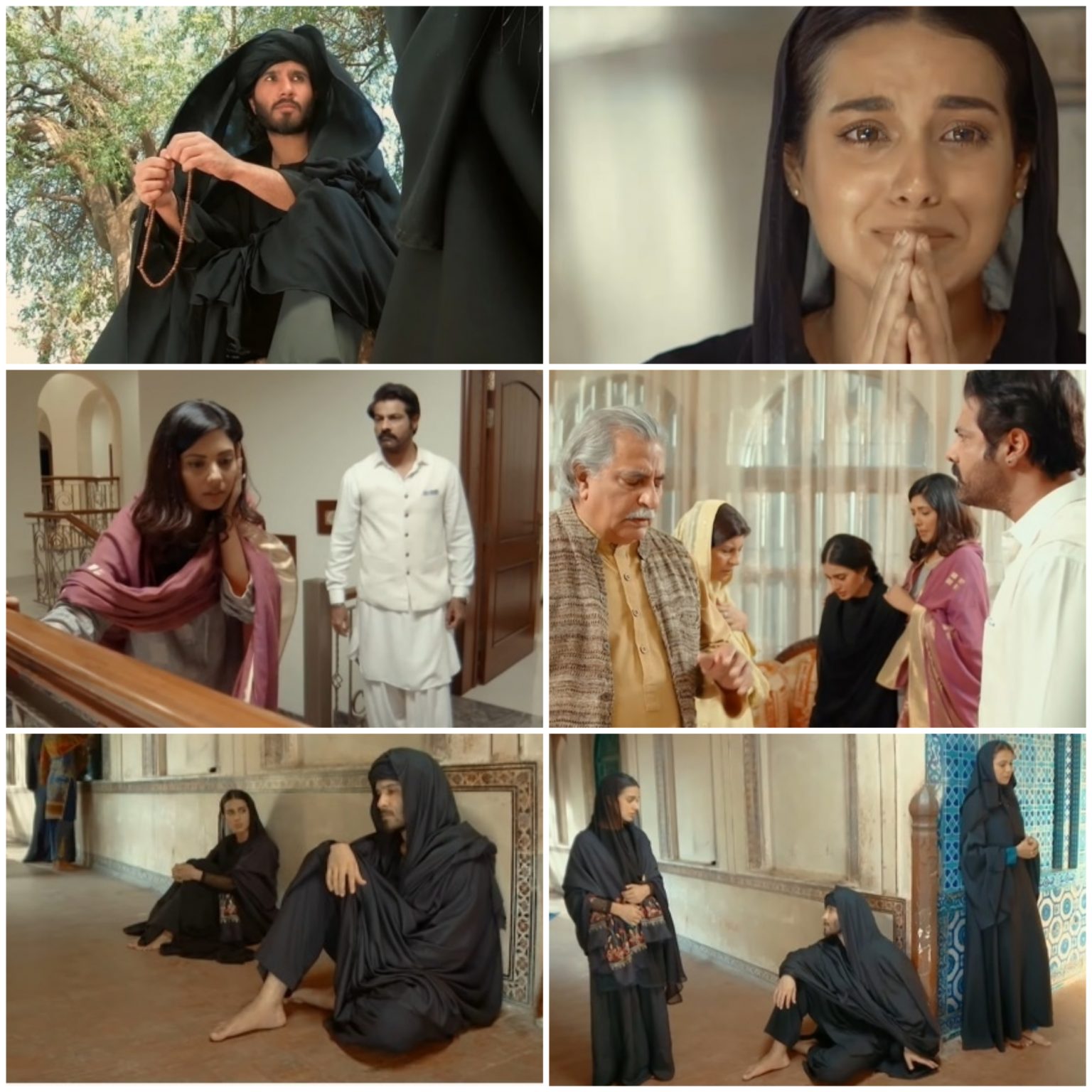 Romana's bitterness can be understood because all this while she saw Mahi as someone completely selfless for what she was doing & how she told Romana to walk out of Sikandar's life. However, she couldn't wrap her head around the fact that a 'shurafa' as she calls them, one of them could actually be deceptive to this extent that while being in love with Farhad, she ended up marrying someone else. I really thought for Farhad's sake, Romana will once again keep this secret buried in her heart because this is all that she has been doing for so long but not anymore. Once again, her character will be used so that Mahi's truth can be exposed in front of Jageerdarni but somehow it just doesn't click as much as it should have.
Well well well, talking about everything that was wrong in this episode was the way Nazim Shah behaved. The slap on Sahiba's face was just not needed & I can not believe why both the actors involved thought this was the right thing to do. Nazim's aggression could've been channeled out in another way & there was strictly no need for him to slap his wife. I really don't understand why Nazim was turning this into such a huge issue? Even if they have figured out everything, they need to analyze the entire situation before reacting to it so aggressively. Farhad fell in love with Mahi, he came to Bahawalpur for her, Mahi also fell in love with him but didn't really realize it, she happily accepted Taimoor's proposal knowing this is the kind of man her family wanted her to get married to, Taimoor got killed & Mahi became a widow – thanks to Nazim Shah. She completed her Iddat whereas Farhad went missing & never returned? How & why does it have to turn into such a huge 'ghairat & izzat' issue when even they as a family didn't know about it for so so long with Mahi & Farhad keeping their feelings to themselves? It was actually amusing when Nazim started speaking about people finding out? Like seriously!
Another problematic dialogue came from Kazim Shah who blamed his 'Peerni' wife for not being able to take care of 'aik beti', whereas he himself has raised a son like Nazim Shah who easily gets people killed, slaps his wife & walks on the Earth arrogantly. Also, there is absolutely nothing 'peer-like' about this entire family, so not sure why were they introduced as such – probably to malign the reputation of such households who hold this title close to their hearts generation after generation & wear it as a badge of honor. Once again, I am sure it's a forgotten aspect of the drama now but the peer gharana has not been observing 'parda' for weeks now. It is absolutely saddening that they used 'hijab' only for the show & reduced its meaning to nothing!
What's Next
The preview of the next episode was definitely quite interesting. I am glad that after weeks of slow episodes, there is a lot happening in the drama now. I am wondering when W&D Dervish is going to make a comeback or will he ever return in order to save Farhad & turn all the hardships away from him. Or maybe they have sent him away to show that these are Farhad's personal battles that he has to fight on his own. Iqra Aziz & Feroze Khan definitely deserve a round of applause for their phenomenal performances as Mahi & Farhad. I am glad there was a lot of normalcy in Mahi & Farhad's conversation, it was as if they were still very much comfortable with each other & still spoke to one another like they did when they first met, as friends. As much as I am not a fan of Sahiba's character, I still believe she did not deserve a slap merely because she knew about the feelings Mahi had for Farhad. I think seeing Romana's courage, Sikandar will hide behind her dupatta & tell her to convince Jageerdarni for their marriage as well because he on his own can not do it. Go Romana! Also, I wonder how Jageerdarni is going to react now that a Majawar from her favorite & revered Mazaar is responsible for this entire situation, let's see if her biases will allow Farhad to be with Mahi? Please share your thoughts about this episode of Khuda Aur Mohabbat 3.
Keep Supporting,
Cheers,
Zahra Mirza.