Ohkay so, this was yet another slow episode of Khuda Aur Mohabbat 3 with a few conversations that suggested the development in the story. It is unfortunate that every single episode of Khuda Aur Mohabbat 3 looks like an elaboration of the promos because only the scenes that are highlighted in the promos are the ones that actually make sense, with the rest of the episode filled with fillers. I really think this drama has reached the stage where it is tiring me out & sadly the slow pace doesn't help either. The actors have surely played their part well but there's all that they could contribute to the drama in general!
The Proposal
The amusing thing in this entire episode was how the director tried really hard to show that Romana & Chanda Jee were still relevant. Romana showed up at Mazaar out of the blue with a never-ending falsafa. One thing is for sure that Romana is very much in the same city, therefore it shouldn't take long for Sikandar to find her out if he decides to do that. Chanda & Romana are still being harassed & they are still getting the dialogues revolving around such experiences. While watching the two, I was actually wondering about their contribution to this stage of the story. I think just like Sajal & Naheed exited from the drama, it wouldn't have made much of a difference if the director had used the same strategy with these characters too because seems like Sikandar is pretty much done with her too so not sure why she is still important to be getting some screen-time!
Farhad was given the responsibility by W&D Dervish to keep things running smoothly in his absence. This is going to serve as one big transition for Farhad where he will be able to test his abilities & see how he can fill Dervish's shoes. This is something that is going to help Farhad understand & realize his true potential too because so far he was under Dervish's shadow & didn't really understand the purpose of his existence. It is interesting to note that Farhad has always gotten such opportunities where he excelled without having much confidence in himself. When he took charge of Rida's wedding, he impressed everyone around him whereas he never thought of it much. Similarly, he has lost the will to do anything but Dervish still sees the potential in him & knows that he can manage things really well. This opportunity will help Farhad take the steps towards the journey of self-discovery that he hasn't really understood how to approach so far.
Mahi was presented with yet another proposal & this time around, her family also made her realize how important her decision was & now it was going to affect their lives. Before Mahi's father spoke to her, I really liked how he voiced his concerns & made it all about Mahi. He knew that they were asking & expecting a lot from Mahi but was again mindful of the fact that he didn't want to burden her. I am glad such kindness was shown coming from a father who realized how tough things have been for his daughter. Mahi's mother & sister in law sat there like spectators knowing that the decision has been made & now Mahi was being asked out of courtesy.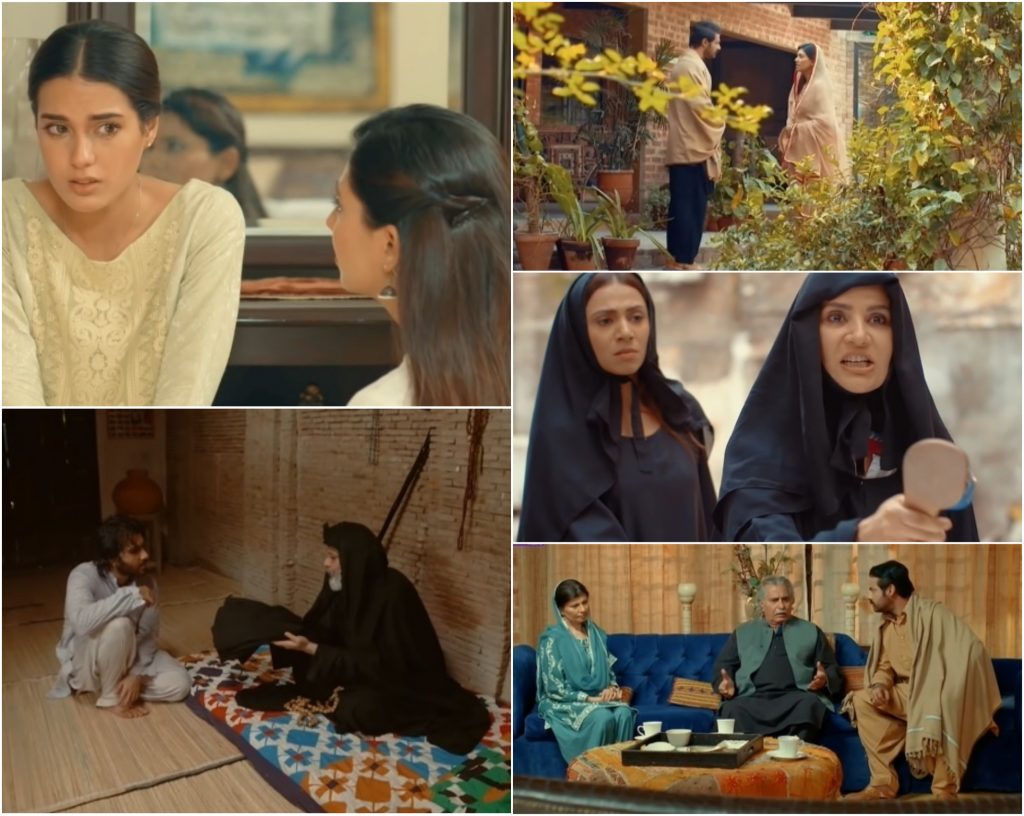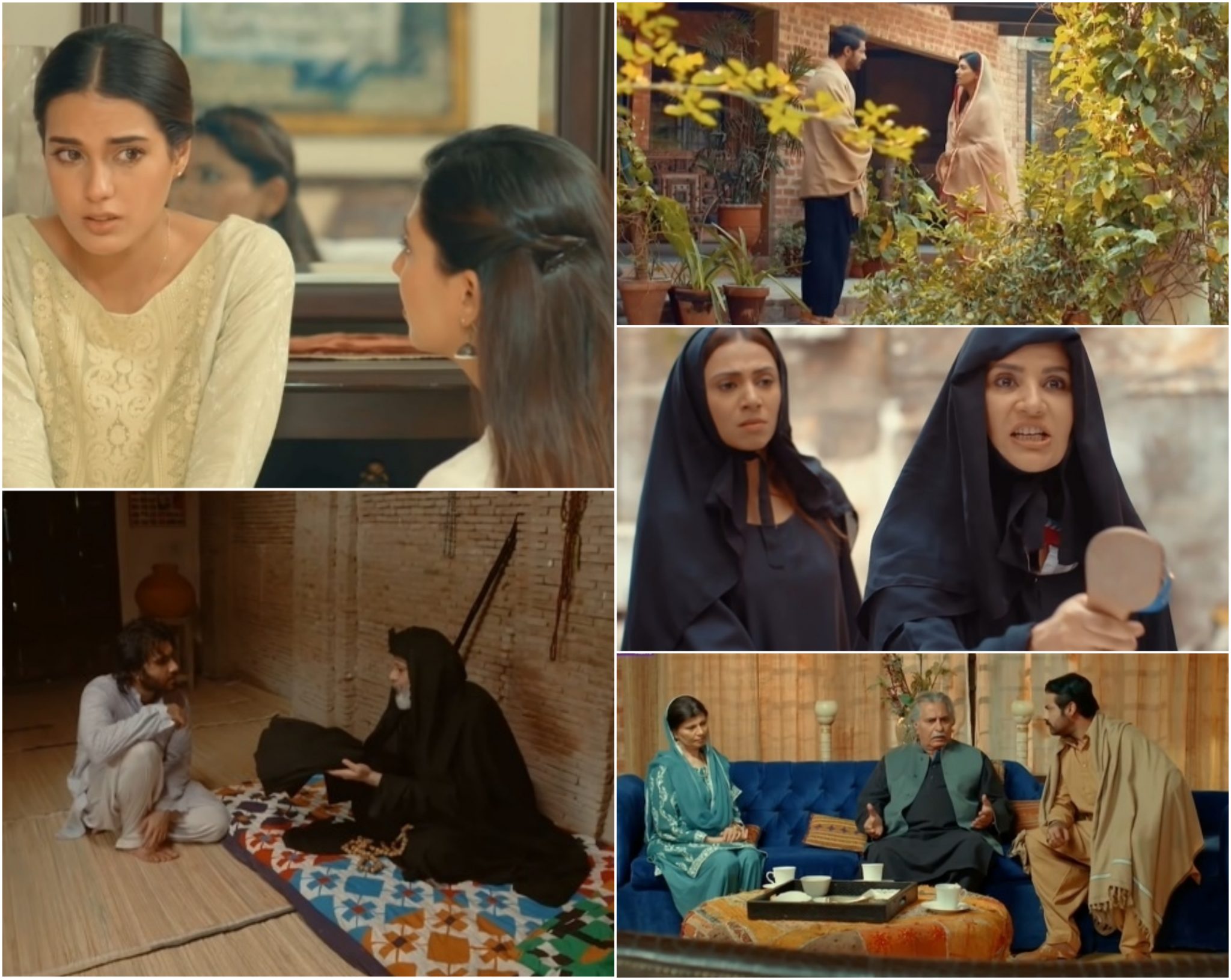 I was never really a fan of Mahi's brother, I mean I never truly understood his character or his purpose & now seeing him pressurizing Mahi for his political gains was disturbing, to say the least. An emotionally absent brother whose rivalries have already cost Taimoor his life & once again, he was trying to convince his sister to accept the proposal which is going to bring a lot of advantages with it. It is unfortunate that even after so many weeks, these characters just seem like characters without offering any emotional connectivity. Sahiba tried to reason with her husband, probably the 2nd conversation she has had with him in 30 weeks & she was shunned away. At least Sahiba knows what she has done, where she has convinced Mahi that she is in love with Farhad, therefore she knows how hard it is going to be for Mahi.
The 'new' flashback scene of Mahi & Farhad showed that they must've shot it in the later stages of the drama because both Iqra & Feroze didn't seem themselves like Mahi & Farhad. Their interaction seemed forced & they weren't on the same emotional level as they were at the beginning of the drama. They both did look superb in stunning outfits & glam touch up, but the overall vibe of the scene was just off where Iqra acted exactly how she does at this stage, after going through so much.
Superficial
This episode of Khuda Aur Mohabbat 3 was strictly alright. The slow pace has definitely taken away the charm of this drama & just when I have started looking forward to its ending, I barely see it in sight. The director has done the best he could but I really think that beneath the layers of commercialism, he failed to pour soul into this project & this is why it just looks like some actors performing on screen, without an ounce of realism to it. The actors surely have performed well, the execution with all the artiness is also nice but it all seems superficial. Khuda Aur Mohabbat 3 has turned out to be such a drama that I won't take much longer to forget when it ends which is unfortunate. Anyhow, please share your thoughts about this episode of Khuda Aur Mohabbat 3.
Keep Supporting,
Cheers,
Zahra Mirza.