There were quite a few scenes in this episode which were intense and Noor/Sania track was wrapped up intelligently. Noor's emotional outburst and later on showing him admit his mistake not just in front of his mother and Mikael but also Sania was the most endearing part of this episode. The fact that he realized his mistake although this wasn't entirely his fault went to show that Mahi and Mikael had raised him well. I did feel however that Mikael and Mahi were being too harsh with him but Mahi's reaction was definitely more spontaneous than anything else. This was a big step forward for Noor because with this latest development he faced another huge shortcoming in his life and decided that he could still make the most of the situation by ensuring that Sania stayed in his life as a friend. Noor's character is a very difficult one to translate on screen. The scene in tonight's episode which covered Noor's reaction to everything that happened required tons of confidence and Furqan Qureshi definitely did complete justice to this scene. Although his voice keeps on fluctuating but otherwise he has breathed life into Noor's character which is why I have always been able to connect to his character. The actress playing Sania's character is also nice looking and she acts well too, I am certain we will be watching her in more dramas soon.
Mahi and Zain's chance meeting suggested that even today they had feelings for each other. While it is easy to understand why Zain was never able to move on, I can't relate to Mahi's feelings for him. Zain wronged Mahi in more ways than one therefore deep inside he must feel guilty but Zain gave Mahi tons of reasons to get over him and move on. In my opinion the writer and the director still want viewers to think that Zain might come back to Mahi. I would love to see Zain apologizing to Mahi and accepting Noor but Mikael deserves to be with Mahi more than Zain. In this episode Zain finally realized that his mother never wanted his happiness but she only wanted to control his life. For the first time the viewers also watched Arshi accepting her mistakes and realizing that she did not deserve to be loved! Better late than never! I have to admit that I am not too impressed with Irsa Ghazal's acting in this drama because there are times when it seems like she is trying too hard. I absolutely love Hassan sb's character, it is refreshing watching a man stand by his woman even though she has so many flaws. He loves his wife unconditionally and has always been there for her.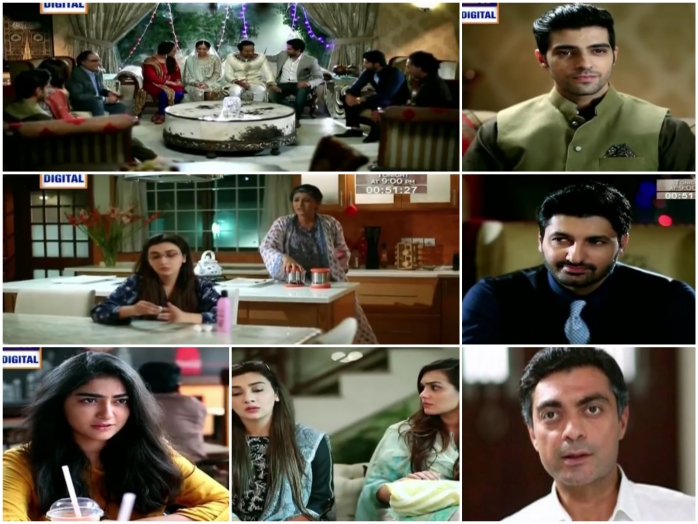 I am not sure how the latest developments in Sona's track are going to effect the story but the drama should end next week because even though this was a much better episode Of Khuda Mera Bhi Hai but none of the tracks have anything new to offer at this point. Mahi and Mikael's nikkah should be the perfect ending to Mahi's track and Zain should accept Noor, this is something which will give him even more confidence.
The preview of the next episode showed Zain thinking about ending his marriage with Kashmala and he will try to get in touch with Mahi which means that the next episode might not be the last one!
How many of you watched this latest episode? Do share your thoughts about it.