There was a time, not very long ago, when I used to wait for this drama to go on air mainly because of the fact that I never had any trouble connecting to all the characters in this drama. Another reason why Khuda Mera Bhi Hai was one of my most favorite plays for a long time was that it had a lot of characters which defied stereotypes. It was also one of those very few dramas in which working women were not shown as heartless women! For the past few weeks however the story has been stagnant. The pace of the drama has slowed down and a lot of what we have been seeing is more repetitive than anything else. Mikael and Mahgul's track is being dragged to the limit and Noor's success story doesn't have the same impact now which it had before. A lot of scenes in every episode are choppy as well, that was always the case but now that the story lacks substance and has slowed down these flaws are standing out more than ever.
Arshi and Zain are also taking their sweet time admitting that they were wrong and they haven't accepted Noor yet. I am sure it is something which will eventually happen and I have a feeling that it will happen when Mahi is either dying or dead! I would hate to see Mahi's character dying in the end because that would most certainly not be a gratifying ending. The writer laid down the foundations of all the tracks flawlessly but the way these tracks are being handled now is not impressive at all. In Zain's house everyone who hurt Mahgul in any way is paying the price but their remorse has no value at all since no one has apologized to Mahi or accepted Noor. It would have been better if Zain met Mahi tonight and apologized to her. Kashmala's state of mind makes absolutely no sense since technically Zain and Kashmala have been married for more than 10 years (at least) now! In all these years they did not have a kid yet it had no effect on their marriage and now after so many years Kashmala feels Arshi will not accept her because she can never give Zain a child! The timeline in this drama is very confusing!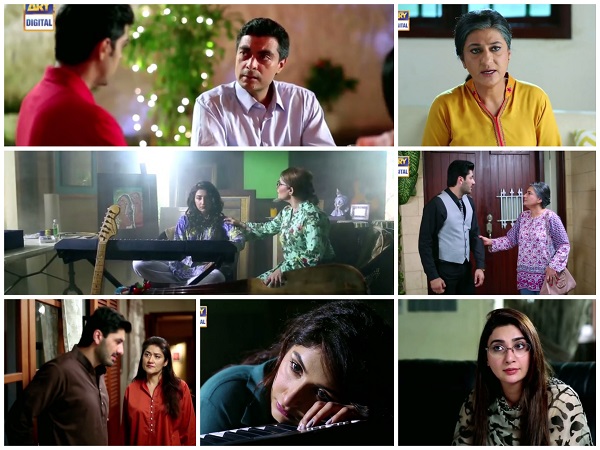 Khuda Mera Bhi Hai has a strong message but this message has been repeated so many times that it no longer has the kind of impact which it did before. In every episode Noor is shown facing and fighting with the same issues and every time he is equally disturbed. I think it is about time that Noor was shown as someone who had learned to deal with these issues in a more mature manner.
The preview of the next episode showed more of the same! All the tracks in the story have been dragged so much that right now I am looking forward to the last episode more than anything else! I must say that I am sorely disappointed in this drama because it has been stretched beyond limit.
How many of you watched this latest installment? Do share your thoughts about it.