This was an amazing episode of Khuda Mera Bhi Hai; extremely emotional, somewhat upsetting and brilliantly directed. It was the kind of episode which keeps you glued to your television screen and every single scene takes your breath away mainly because of the way the narrative is being handled and the manner in which the director kept all the scenes from being over-dramatic yet they were extremely effective. Tonight's episode belonged to Aisha Khan right from the get-go; she nailed every single scene and made even those scenes which weren't easy to translate on screen look effortlessly effective.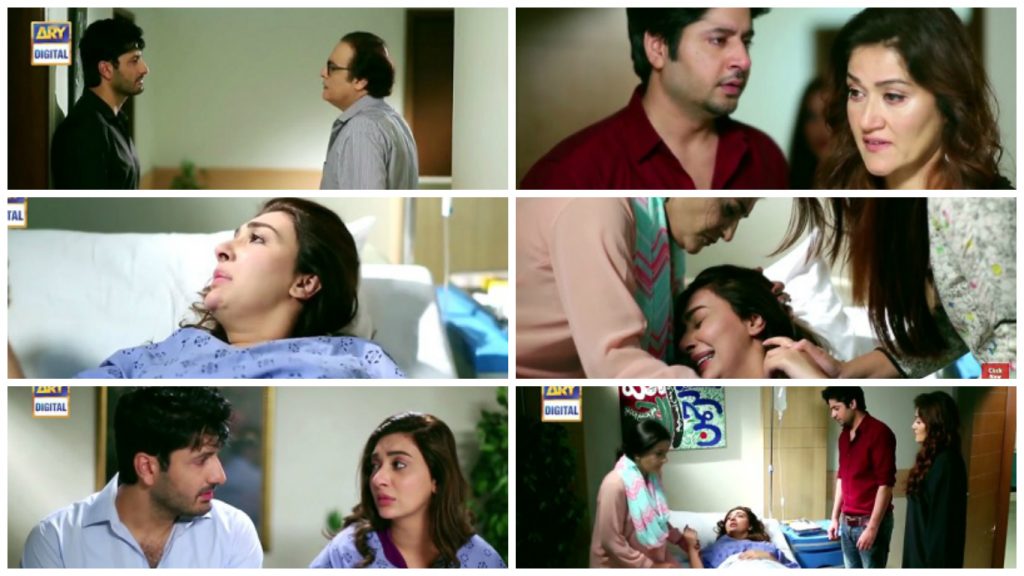 The birth of the first child in particular is the happiest moment for any married couple and for their families as well but unfortunately sometimes even this happiness is not guaranteed. Tonight's episode was a rude reminder of the fact that having a child who is neither male nor female can turn this happy moment into one of the most difficult and painful moments for the parents because a mother has to face the kind of challenge which Mahgul faced tonight and a father might make decisions which a father just should not think about making. In my opinion Zain's reaction was portrayed on screen realistically, no father should do what he did – no matter what, a father should never give his child away like this – having said that, usually men develop their bond with their babies after they are born therefore sometimes it is relatively less difficult for them to take such steps instead of facing the situation. Mothers on the other hand are connected to their children even before they are born and therefore this attachment does not start but it grows when the child comes into this world. We saw a strong woman like Mahgul giving her child away not because she isn't strong any more but because she has not come into terms with what has happened just yet. Mahgul was shown as someone who would even take a stand for people who weren't even related to her, she has won many battles but this is one situation she was not ready for and I am waiting for the time when she will realize that she cannot give away her child like that. I hope that Mahi takes a stand for her child and it isn't just her condition that persuades Zain to bring his child back.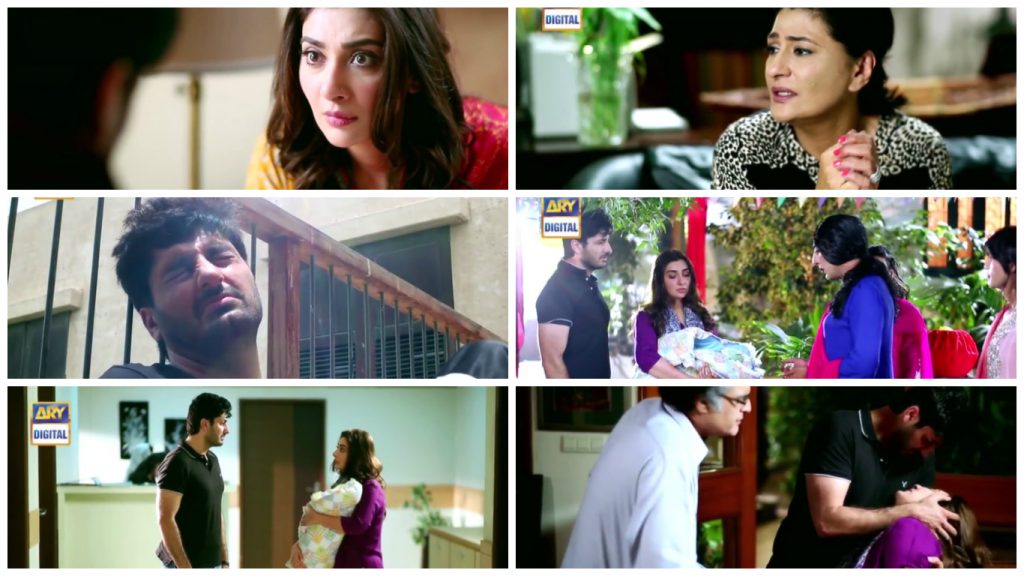 While Savera took her time coming out of the shock and was unable to be there for her daughter because of her state of mind, Mahi was surrounded by people who did not exactly support her in any way. Arshi's character was so dark for a reason; she was the one who persuaded his son to give his child away. If her character was not so negative and her hatred for Mahgul wouldn't have been so strong, it would have been difficult to relate to her reaction in this entire scenario. Only a person like her could suggest someone like this but watching Zain go along with the idea was truly shocking. The fact that Arshi's character is detestable is a proof that Irsa Ghazal is doing complete justice to her character.
While Syed Jibran's look after the child was born went well with the entire situation, Ayesha Khan's loud make-up did not quite fit in except for the scene in which they pick the child from the hospital. Ayesha Khan's acting however in this entire episode was compelling and credible. She made the most of her expressive face and her body language was highly impressive especially in the scene in which Mahgul tries to hand over the baby to Zain and also the last scene in which she faints. The director did complete justice to all those scenes in which Mahgul struggled and also those scenes in which she was unsure and willing to go with whatever Zain suggested to her. Although I really appreciate Syed Jibran's versatility and acting but in this particular episode he did not have the screen presence and wasn't half as impressive as Aisha Khan. Aisha Khan made it very easy for the viewers to relate to what Mahi was going through.
The preview of the next episode showed the aftermath of the developments in tonight's episode and its effect on Mahi and the relationship between Mahi and Zain. I am waiting to see how long it will take for Mahi to realize that she needs to get her child back.
How many of you watched this latest installment? Do share your thoughts about it.