Khuda Mera Bhi Hai gets better with every passing episode. It has given the viewers characters which are easy to relate to and are not black and white with the exception of Arshi of course! Zain's character in particular is extremely well-balanced. Although he is disillusioned and cannot seem to accept his child but he knows that he cannot completely disown this child, he has not moved on but is still trying and most importantly he still loves his wife. The relationship between Zain and Mahi too is far more realistic than what we see in many other dramas in which the love most often just evaporates and then the story is taken forward by showing one misunderstanding after another which makes the situation worse. The writer has not banked on misunderstandings or major flaws in characters to take the story forward.
This drama also breaks many stereotypes which we see on our television screens quite often. The actions of the leading characters are not dictated by their egos but they have a more logical approach towards everything which is most often the result of emotional attachment. Also, the confident women in Khuda Mera Bhi Hai are quite capable of being kind and sensitive. Another aspect of this play which deserves to be appreciated is that the characters is shown plotting and planning against each other. Arshi is the only such character in the play but she is never shown getting what she wants. On the contrary her husband and her sons do whatever they think is right.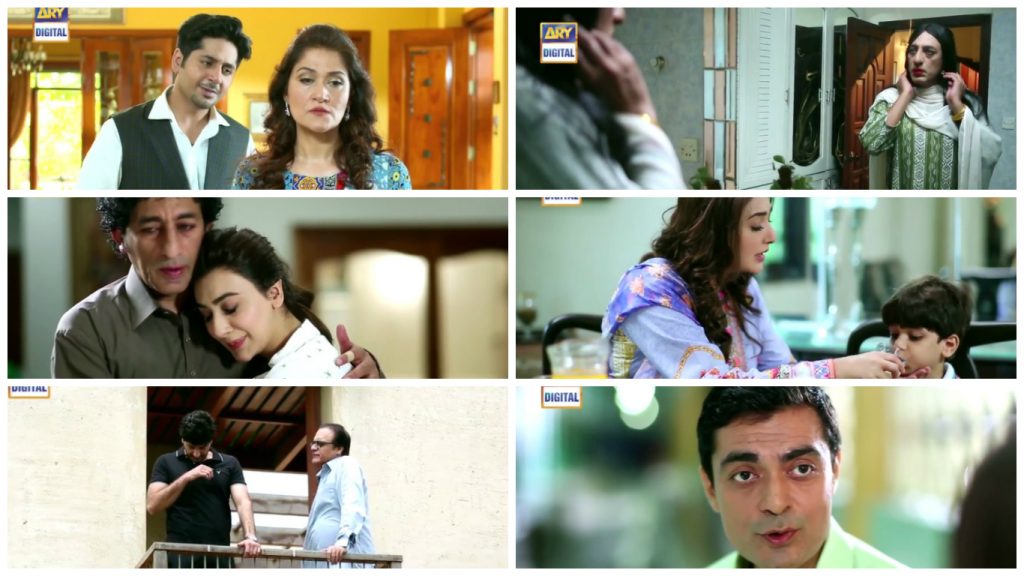 It is good to see Aly Khan playing a different role. He has played the role of a well accomplished millionaire before too but usually he is seen playing a rigid person who does not compromise on his principles. Mikael seemed like a sensitive and caring man who was also down-to-earth. The promos also suggest that there is much more to his character than what we saw in this episode. Everyone's reaction to Bubble Mian was one of the finest scenes of this episode. It was the most emotional scene of this episode because it was executed so well. Everyone's reaction was perfectly timed and a true example of how brilliant performances by everyone involved in a scene can make it a complete success. I cannot praise Adnan Shah Tipu's performance enough. He is translating an extremely difficult role on screen almost effortlessly. It is truly refreshing to watch a drama with so many different kinds of characters especially because these character are well-defined and they have been portrayed brilliantly. Everything that Mahi said to the principles was right on point and it was the kind of scene that givea the viewers tons to think about as well.
Zain's father's character and his relationship with all the other characters in the play was once again shown impeccably. He supported Sanam and Zahir because he knew they did the right thing but at the same time he understood why someone like Arshi would react in this manner and was also there for her. Noor's story was taken forward in this episode with Mahi facing trouble getting Noor enrolled in a school. Right now Noor's struggles are being shown through Mahi and the writer has managed to send a loud and clear message about the attitude of people in general towards such children. At the same time the writer has shown people like Sanam, Mahi's mother and even Bubbly who are willing to go the extra mile for this child. It would have been nice if the viewers would have shown the grandfather (Zain's father) coming to see Noor since he is definitely not the kind of person who would have a tough time accepting his grand child no matter what.
Overall, this episode of Khuda Mera Bhi Hai was touching and engrossing. I am completely hooked to this play and I can't wait to find out how the story unfolds in the upcoming episodes.
How many of you watched this latest installment? Do share your thoughts about it.