I drew a sharp breath. My body tensed in anticipation. The voice in my head begged no, no, oh God, please no. I saw Hamza lying in the hospital bed and I felt sick. Oh because Hamza got shot? Heck, no! Because Mareena's father said Hamza's mum was on her way and I braced myself for her wailing!!

These two episodes finally got the ball rolling for what we had been waiting for. Mehru's mother tells Ameer he should not put up with Mehru anymore and should divorce her. His 'Mehru ji has a right to live her life' is seriously annoying me now. Anyhow, my annoyance did not linger for long for the thoughts Hamza planted in Mehru's mind in the previous episode began to bother her and she asks Ameer for a divorce. She feels she is doing him a favour by asking him to leave her for she does not love him and thinks he should not be suffering because of her and should move on with his life.
Ameer's expression was so spot on when Mehru began her speech, not understanding why she had to wake him at this hour to tell him he has a 'beautiful heart'. I was disappointed with his reaction though. I expected something, a plea, a question, a remark. He just went back to bed. Sorry, bed tau becharay Ameer kay naseeb mein nahin tha ever since he came to the city. So, I will rephrase – he went back to sleep on the floor again. Waisay before Mehru wakes him he did look so bechara lying on the floor sleeping with his mouth open. Ameer. Sigh!
Anyways, come morning and Ameer is nowhere to be found. I could relate to Mehru's worry because she does not hate Ameer – she just feels she can not live with him and is actually being unfair to him by being with him. Whether Mehru is weak and easily swayed by Hamza for believing in that is another story. I almost gasped for a second time when Ameer says to his mother that these 'baray shehr kay laug kay dil pathar kay hotay hain, pyar ko nahin samajhtay' and thought whoa, did he say something negative about precious Mehru ji – finally?! But then his 'miskeen' everything in the name of Mehru ji's happiness got my feathers ruffled again. This guy!
Meanwhile, Mareena's insecurities and possessiveness are growing by leaps and bounds and she shoots Hamza. Haha! Okay, so she did not really intend to but that struggle ended with Hamza getting shot and landing in the hospital. We learn Mareena's mother left her husband and daughter behind to be with another man. To make up for any insecurities, her father pampers her and gives her anything she lays her eyes on. However, Hamza has had enough and does not want to stay with Mareena again and leaves the house after agreeing to not divorce her and to continue working at his father in law's office – am not sure what that deal was about then!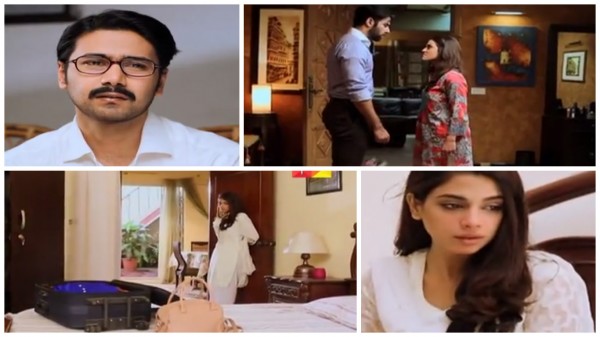 Back to Mehru and Ameer. I do not understand why Ameer sends a letter and divorce deed by courier. Why not just leave them at home when he left? Stick a note to the fridge or by her bedside table? It was interesting though to watch Mehru read the letter because what Ameer writes makes it appear as if the divorce is for the benefit of Mehru and not Ameer as Mehru would have liked to believe. I wonder if that is why she is reluctant to leave suddenly or because she does not want to go back to her father's house. Surely when she asked for a divorce she knew she would need to leave then why the cold feet now? I liked though how her mother put her in her place and took charge.
I am not sure how Mareena will react to her father and Hamza both giving her the cold shoulder. Next week's preview shows her father encouraging her to go bring Hamza back. Hamza's mother seems to have had a change of heart after Hamza's outburst and wants Mehru and Hamza to be together but Mehru seems to be singing a different tune when she tells Hamza she does not feel anything for him anymore. Bhayee, if it is not Hamza and not Ameer, then please announce it from the rooftops so we all know!
Ali Abbas and Soniya Hussain are definitely the stars of this drama. I felt nothing for Noor Hasan (or Hamza? – I can not decide who annoys me more!) . He looked pitiful and the 'mazloom aurat' in the scene when he speaks to his father in law and says 'iss sub mera kia kasoor tha'!.Later, I could not believe how much he was jostling his own (wounded!) arm when he is yelling at his mother!
I am glad things have begun to move forward with the story. I wonder if Mehru signs the divorce paper. I just hope that Mehru's indecisiveness is not dragged out now and they wrap up this drama. The end appears to be predictable which is fine for now, but will not be if the drama stretches.
How do you feel about the way the story is headed now and these episodes? Would love to hear your thoughts!
Kunwal Javid
P.S. My brother is getting married next week insha Allah so will not be able to watch or review anything from Thursday to Sunday. Will try to post a review before the following Thursday otherwise will review all four episodes together :)