Mein Sitara is the only drama right now which truly gives you something thoroughly entertaining to look forward to. It had made Thursday nights special. This episode was totally worth the wait, it had to be one of my most favorite episodes of Mein Sitara so far. Saba Qamar finally got a chance to show her acting and dancing skills to the fullest in this episode since this particular installment was all about Surraya's first big step and she was beyond brilliant in ever single scene. The viewers have been waiting to see Jharna and Surraya to bond in the same way in which they saw them bonding when Surraya was little and this episode showed all that and so much more.
Every scene of this episode was picture perfect. The first big step of Surraya's journey was covered in detail. The episode opened with Jharna convincing Farhad Sethi to give her a few days to groom Surraya. Farhad is very talented but so far we have seen him judging people on the basis of their background until he witnesses these actresses/dancers prove that they really are talented. Even when Jharna suggested that he should cast Naseem in his film, his first reaction was very similar to this one. He instantly rejected the proposal because Naseem was too 'bazari' for the role. In this episode too his sole concern was Surraya's background, he wasn't even willing to give her a chance but Jharna being the strong woman that she is managed to convince him.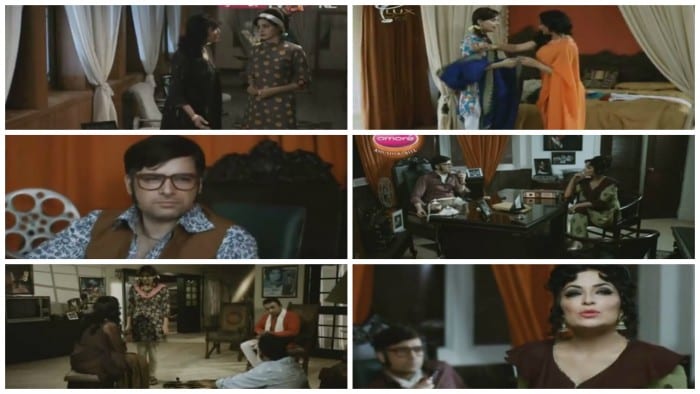 I absolutely love the way Jharna's relationship with Farhad has been shown. She loves him dearly, she will never do anything that would harm his career in any way but she is also practical. We found out today another reason why Farhad cannot completely sideline her; the house, all of the financial assets and even the business is in Jharna's name. Aisha Gul has already proved that she was the perfect choice for playing this role; she has made me fall in love with her character over and over again. The person incharge for make-up and styling also deserves due credit for completely transforming all the actors and Aisha Gul in particular. Her look coupled with the perfect body language and expressions have brought this beautifully written character to life on screen in a superb way, I think she deserves an award for making Jharna a memorable character. The chemistry that was missing between Aisha Gul and Saba Qamar in the past 2 episodes was definitely there in tonight's episode. Their scenes reminded of the scenes which we saw in the beginning few installments. Saba Qamar's expressions when Farhad Sethi shouts at her and the expressions on her face whenever she is with Jharna spoke louder than any words she had to utter in those scenes. Sitara's journey is not off to a smooth start but we all know that she will do anything for her baji. Her love and passion for acting and dancing is sure to take her places. I am waiting for the time when Farhad Sethi will be truly impressed by her. I am also very curious to find out if she will stay this loyal to her baji once she is exposed to the world of film.
Farhad Sethi's adviser/assistant Saleem is another interesting character who might not have a big role to play in the story but the actor playing the role has most certainly made this character stand out. Saleem always gives Farhad honest advice and although he works with Farhad but he has more respect for Jharna. Naseem on the other hand is a bad influence. Although she tried her best to make sure Farhad does not cast Surraya but she obviously does not have the edge which Jharna has. I have said it before and it needs to be said again it is refreshing to watch Mikaal Zulfiqar in this role. His portrayal as Farhad Sethi makes you forget every other (typical) character he has played so far with the exception of Mansoor in Durr-e-Shahwar. He sports a brand new look and is completely into his character.
I thought I will never say this but to be honest Meera has also nailed her character as Naseem Dil Ruba. She is confident and giving the kind of performance which is expected from her character. Not once has she gone overboard or given a weak performance. Hassan Ahmed is another actor who is giving a flawless performance. I am sure his character has a bigger role to play in the story. The credit for all these remarkable performances, the great on screen chemistry between all the actors and episodes which leave you spell-bound goes to the director as well. Seema Taher Khan has brought a very old era but a very new story to life on screen brilliantly only because of her creativity and hard work. Every scene of this episode in particular appeared to be a labour of love. Faiza Iftikhar's script is not just different but very well though out. All the characters and all the events are easy to connect to. Mein Sitara always manages to transport me to another world and Thursday seems too far away. I cannot thanks the whole team of this play enough for putting so much effort into making this serial a complete package.
The preview of the next episode showed Naseem throwing tantrums and eventually wanting to get back at Farhad. Later on the scene between Jharna and Sitara suggested that Naseem probably knows something about Farhad which Jharna does not and that is how she is manipulating him.
Loved loved loved this episode, I cannot praise it enough! Anyone who is not watching this show is missing out on a masterpiece. My favorite dialogue from this episode was…. "pyar tu sirf aik baar hota hai na, us ke baad tu weham hota hai" – beautiful!!
How many of you watched this episode? Did you like it as much as I did? If you missed it do watch it on http://www.dramasonline.com
Fatima Awan