Opening Thoughts – Nothing Special:
Ohkay so, this episode of Koi Chand Rakh wasn't special either but again, it did give me enough bits to laugh over because of the ridiculousness of some situations & certain reactions.
Heart Attack Which Didn't Change Anyone's Heart:
Ibrar uncle now couldn't stop sympathizing with Rabail but then again, even though he admitted that he was at fault too, the fact remains that he didn't do anything to stop this marriage from happening even after he found out on the day of the wedding that Zain was in love with Nishal. No matter what, he is also completely responsible for Rabail's condition as he chose to ignore his son's feelings & assumed that Rabail will make him happy.
The funniest moment for me was when Zain's mother visited the hospital to see her husband who just had a heart attack & all she could think of was Rabail's attire. Not only that, she commanded Rabail to come back zara tayar ho ke as people were going to visit Ibrar at the hospital. It is funny how in this drama so much focus has been made on how a girl should & should not look irrespective of the situation she is faced with. Zain ki Ammi ne Rabail ke tayar hone ki kasar to khud hi nikal li thi to abb Rabail kya tayar hoti. It was funny that Ibrar's heart attack couldn't un-puff the backcombing on his wife's head & un-black the intensity of her kajal, bhai wah!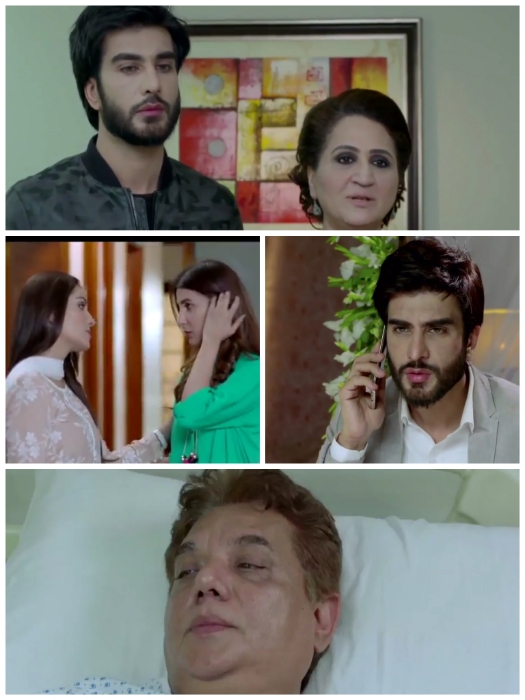 Zain's zehan was about to get maoof when Rabail asked him a basic question of him being happy with this wedding or not but what's funny is that his zehan immediately started to work when he wanted to flirt & get cheesy with Nishal. Also, Zain ko Ibrar uncle ke heart attack ki zara bhi fikar nahi thi because of which he was full fledgedly busy planning his second wedding when his father was still hospitalized!!! Nishal & Zain's conversation was ridiculous again, they both were speaking about courage & being fierce & fearless whereas last time I checked, dono ki jaan sookhi hui thi aik dusre ke liye stand lene ka soch ke hi, lol! Kya courage hai bhai!
As always, Nishal & Co wanted Rabail to guide Umair again which is ridiculous. They got her married so that Umair forgets about her & then there they are calling her again & again to hover around Umair!?! Rabail was right, she was married & she had nothing to do with Umair but Nishal again emotionally blackmailed her. Nafeesa & her rants are repetitive. She is a perfect example of those people who don't throw their naiki in darya, rather put up a billboard of their naiki on their forehead. Nafeesa had the audacity to tell Rabail that she regrets raising her in her home? Wow. I wish Nafeesa was just as focused on her psychotic Nishal as much as she is on Umair, that way she would've known that her daughter wss playing a far more dirty game that she wrongfully accuses Rabail of!!!
Zia bhai also made an appearance only to get friend-zoned by Nishal looool, but don't worry Zia bhai, appko bhai material na man'ne wali aik behan jee material Sobia bhi hai!
Closing Thoughts – Dodgy Previews:
Overall, this episode of Koi Chand Rakh wasn't special at all. Also, the preview last week was dodgy as I was looking forward to the scene where Zain spoke about getting married to Nishal but it wasn't included in this episode. Not sure why they dramatically concealed what Zain was talking to Ibrar about, as if wo koi rocket ka design discuss kar raha tha. Duh! Anyways please share your thoughts about this episode of Koi Chand Rakh.
Keep Supporting,
Cheers,
Zahra Mirza.