Well, I really enjoyed watching these two episodes. Mohsin's attitude – not as much! Probably being the oldest in the house has made him the way he is where he thinks he has the final say and the most authority. Did not help matters much that Nadia never stood up for herself either and he continued to be the bossy one. I was honestly beginning to get a headache with his behaviour where he oscillates from being lovely and almost romantic to his usual screaming self. It is almost as if he has one of those split personality disorders and sadly I can almost begin to identify when he switches from maanoos Mohsin to kharoos Mohsin the way he cocks his head to one side, eyes widen and head wobbling he begins to yell!
Sajal and Faraz finally took their leave and it was actually heartbreaking to see Aina part from her child. What I have always loved about this drama is how easy it is to relate to most of the characters, their thinking, the way their lives unfold. Aina had given her child to Sajal but being physically apart broke her and eventually made her collapse. When Mohsin brought the twins home, I felt for Aina where in her mind she felt that Maaz had left but this child would fill the void in her heart that was created by Maaz leaving.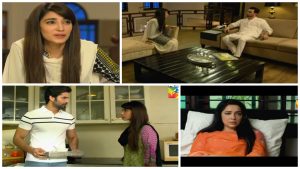 I am also glad to see that bar, the jadoo scene with Sajal, Khala seems to be a positive character who has her heart in the right place. The way she told Mohsin off and helped Aina realize she needed some domestic help showed she meant well and did not show up merely to see how Aina was faring so she could gossip about it. I am a little taken aback by Mohsin's attitude though where he expects Aina to take care of three children all of a sudden and not expect to take any sort of hit in his routine or his duties. He does seem to come round though as he gave in to Aina's demand for a maid but then his extreme anger over her cooking was out of place. I am glad to see Aina finding her tongue again and managing to speak up for herself and that makes me think that this story could go either of two ways. Either this is what Mohsin needs, someone who can love him but also will not take his unrealistic demands lying down or maybe the fact that Aina speaks up for herself and does not say yes to everything Mohsin says will sour relations between them.
I have to say, I love Naveen Waqar's acting. I feel when she cowers in front of Mohsin it seems a bit odd but other than that, her flippant responses and especially the way you could see her glow when she handled the children was so real and I have to hand it to her for portraying Aina so well. I feel bad for Aina where she hit rock bottom thinking that she should accept everything coming her way as a penance for the mistakes she seemingly made but then she manages to connect with herself, the old Aina and says what is on her mind. I was glad to see less of Sajal and more focus on the relationship between Mohsin and Aina and although it is tiresome how Mohsin gets angry at the drop of a hat but then again that is who he has always been so I suppose if he is to change then it needs to be shown eventually for it to seem realistic.
I did not think that the drama would extend to the time when the children grow up but comments from last week have led me to believe that is the case. I can only say that given how the director has managed to keep us engaged even 27 episodes down, bar a couple of episodes here and there, I hope the same can be said moving forward without making a huge khichri of the plot! Next week's preview also reminded me that Mohsin still does not know Aina had married Imran and that Maaz is her child and given how Aina is shown to attach herself to the twin she feels will take Maaz's place in her heart, makes me think there is definitely quite a bit more to come. I am quite curious to see how things develop between Mohsin and Aina, do they meet halfway or will their relation become bitter trying?
What did you all think of these episodes? Would love to hear your thoughts.
Kunwal Javid