I found it quite a struggle to sit through these two episodes, to be honest. I know there are a few out there who really enjoy this drama and so I just want to make it clear that to each their own, we all have different tastes and while I thought this drama was a decent watch initially, the past few episodes have relied too many times on cliffhanger endings which turn out to be only a nightmare, a dream or a daydream of the character and in this latest episode when Mannat is running away she pauses next to the motorbike when the air and Shahmeer are crackling with anxiety and tension and she imagines a whole scene play out where her father shoots them both dead! I mean, really! Too many episodes of this drama have either ended on such a note or the previews of next episodes show such scenes, Bari Sb coming upon Shahzeb and Mannat, Jahanzeb declaring his love for Zainab, Zainab killing herself, to name a few. This has begun to really try my patience, aargh!
Alisha decides to come see for herself what is amiss and seeing the wedding picture hung on the wall, realizes Shahzeb has married Zainab. The only interesting scene was when Bari Sb sees Alisha and Asma Abbas acting is always spot on. I am loving her as Bari Sb and her comments about Alisha make me laugh. It is beyond weird how Zainab consoles Alisha – she is married to Shahzeb now, how about moving on? What is she thinking long term? I get she could not muster the courage to say no to Bari Sb but how is giving her blessing to Shahzeb and Alisha to not let go of their love supposed to help matters? Shehr wali biwi and gaoon wali biwi is the way forward?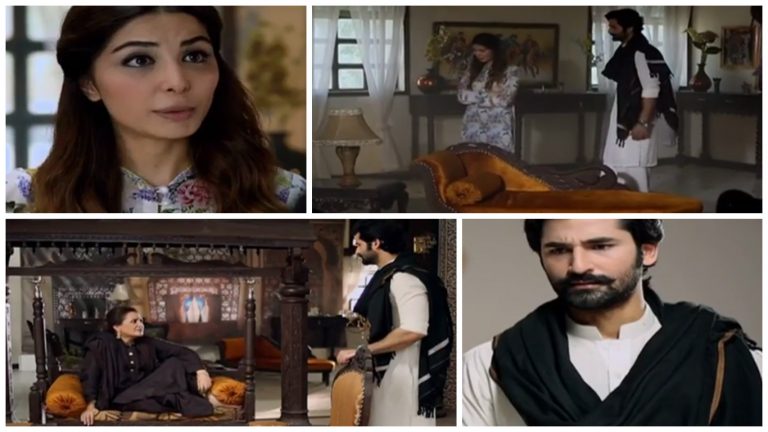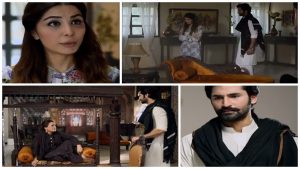 Bari Sb. Ruthless Bari Sb has not forgotten about Mannat's unborn child and has started taking steps to roll her plan into action. Shahmeer overhears her plans (that is another thing that is truly annoying – this eavesdropping on conversations to move the story forward). Anyway, Mannat and Zainab already know of Bari Sb's plans which is why Zainab confronts Shahmeer and sends Mannat off with him in the dead of the night.
I have a feeling the scene played out between Mannat and Shahmeer when his friend's wife locks them in while her husband runs to tell the haveli people Mannat is in his house was meant to be highly emotional but it felt like a poorly executed Indian movie. Mannat threatening to kill herself, kill her baby, Shahmeer announcing he would lay his life down for her, Mannat declaring a life without him is no life. Don't get me wrong, I am all for romantic cheesy dialogues and scenes but this just did not work for me. So the haveli and Sikander and the evil world all ganging up against poor Mannat and Shahmeer. Well, it did not work for me but it worked for the friend's wife for she has a change of heart and lets them escape.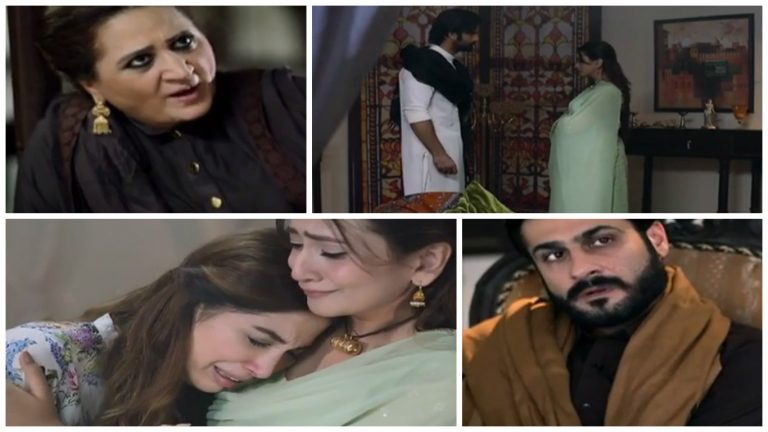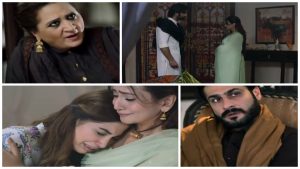 Where are Mannat and Shahmeer headed? To Alisha, of course. All hell will break loose in the haveli in the next episode and Mannat will reach Alisha safely. Will Zainab be found out for her role in this escape and will she be made to pay? Will Sikander/Dilawar search for Mannat themselves since she is the mother of their heir? Will I be counting days until next Saturday? Errm, definitely not.
There are dramas which have a very average, sometimes predictable story but the acting and the direction make them stand out. Then you have a star studded cast and a weak script and direction and the drama is a bore. Laaj is excellent on the production values, the colourful sets (although I can not help notice the backgrounds are sometimes just painted which is saying a lot since I am not a very observant person) but still. Even Shahzeb's colourful shalwar suits with matching waistcoats were interesting – although he has abandoned them and resigned himself to white and black since he has gotten married! Asma Abbas, Kamran Jillani and Zarnish Khan seemed to really fit into their characters and acted well but the endless twists which are such a figment of someone or the other's imagination and the fact that the story lacks direction is making it hard to sit and watch the drama. I would love to hear what you all made of these episodes and how, if anyone feels the same or differently about it.
Kunwal Javid