Let me start by heaving a longg sigh of despair. I should have known better than to expect some "happy" moments from a play that's airing on ARY! Right when our leads are finally enjoying their share of happiness, a dying mother swoops in with her final wish and lo and behold! The smiles turn into frowns and the eyes filled with happiness are now brimming with tears. I have always praised the writer for the realistic portrayals and the poignant dialogues but trust me, I never expected her to rely on such a stupid, mainstream track to continue the story and my question is that what was the need to prolong the drama when it could have ended on a super sweet note, with Bushra and Shayan leading a picture perfect life.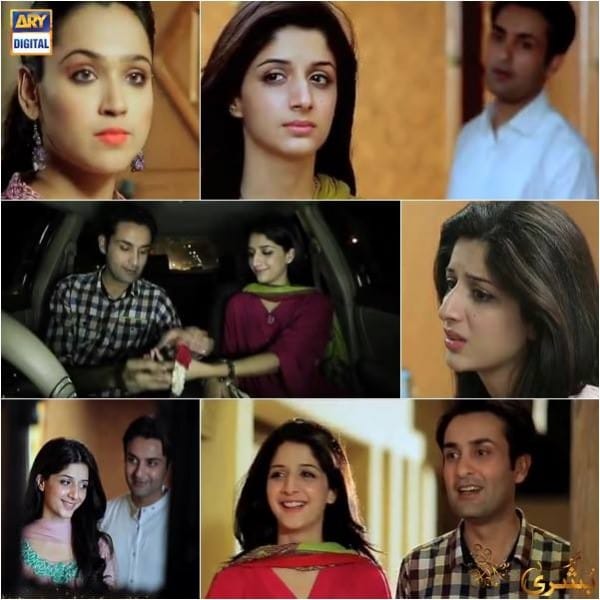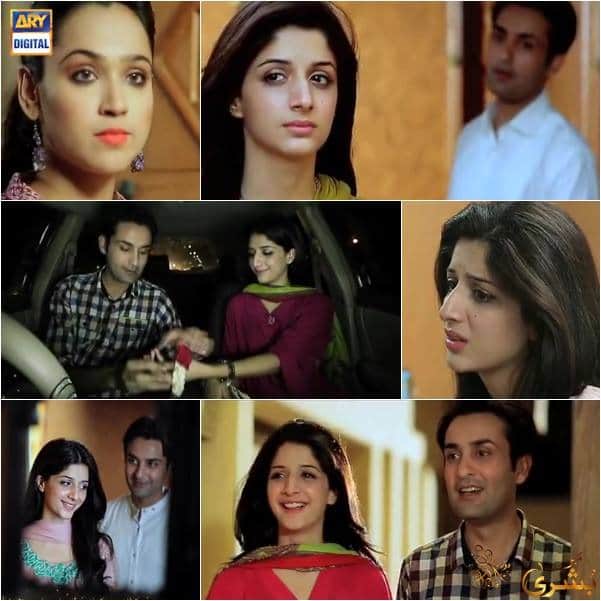 Needless to say, I felt for our titular character this time around too; she has been crying her eyes out since, like, forever! Hayee, since Bushra's swollen eyes are actually a treat for the writer's own eyes, Bushra's miseries aren't coming to an end just like that! It took her quite some time to realize that Shayan's room is actually hers but before she could even move IN properly, she was forced to move OUT. I soo felt for Bushra when she was gathering her stuff and those bittersweet flashbacks were actually fueling up my anger- why doesn't the writer want us to see Bushra SMILING? Bushra's life has always been very unpredictable- in every bad way possible! The moment she gets hold of things, they start slipping through her fingers. I think the writer intended to prove that preconceived notions about luck and fate are wrong but here it's almost as if the writer wants to show that some people are actually very unlucky. As Bushra puts it, "Shayan mein jaanti thi kay mein itni khushnaseeb kabhi ho hi nahe sakti. Ye kaisi aazmayish hai? Kabhi bhi kuch bhi hosakta hai meri zindagi mein." What pinches Bushra the most is actually her guilty conscience because even though she is not the one at fault here, she considers herself a huge obstacle in Sania's way to happiness and now that Sania's mother's days are numbered, Bushra's worries are just not coming to rest. I think Sabiha's delay in revealing the "big" developments actually made matters worse because all this time she was waiting for the most "appropriate" moment to expose this news but you know, this isn't an ordinary news, it doesn't matter WHEN she spills the beans because 'timing' wouldn't make any difference to the reactions of the people attached to Bushra and Shayan. I personally think that this huge mess could've been avoided only if Sabiha had been a bit wiser.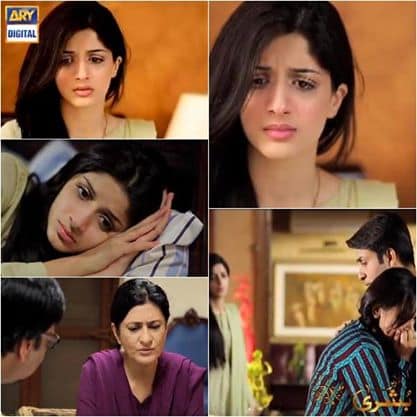 About Sania (Faryal Rajput) , uffff there's a limit to chipku-ness! You guys are free to disagree but I find it pretty unusual how Sania is planning her shadi ka menu, bridal dress, dance numbers, room decorations while her mother's days are numbered. I mean, don't get me wrong, it's nice that we don't have to put up with another forlorn face but her unbelievably happy-go-lucky and relaxed attitude is kind of not going with the 'circumstances'. It's nauseating how a girl is perfectly aware of the fact that the guy she is committed to is not even interested in her let alone in love but she somehow doesn't make a big deal out of it. Up till now, Sania is coming across as a genuine and friendly person but she is thick-headed too; I don't understand why can't she 'sense' something between Bushra & Shayan. I mean, aren't girls supposed to be over-sensitive about the guys they love and plan on getting married to? I guess its Faryal Rajput's debut and honestly speaking, I find her a bit OTT and I hope someone does something about her skin-fit clothing because she isn't carrying it very well.
It's good to see that the writer hasn't forgotten about Sofia and Nasir's side of the story- the change in Sofia's approach towards Bushra is one of the best things about the play. Hum nay tou deal ki, hai na? She does realize her mistakes and admits it over and over again. She clearly smells trouble and it's only a matter of time before she stumbles upon the truth! I am shocked at Nasir's mentality- he is actually relieved that his daughter is choosing not to share her problems and concerns with him or Sofia. Its saddening to see insensitivity reaching new heights.
Share your thoughts on this please.
Maryam Mehdi