And finally, Bushra's journey has come to an end! We have seen this girl crying her eyes, lungs, heart (forgive me for missing out any other organ) out, we have seen her struggling to earn her father's nod of approval, we have seen her offering every kind of support to her loved ones and since we have been a part of her far-from-perfect journey, we know only too well that the play's ending is not exactly the sort of "happy" ending this wonder lady deserved. The last episode was clearly a blend of praiseworthy performances, powerful dialogues and commendable direction and while it's true that Bushra and Shayan finally got their "happy" ending, I must say that this "happy" ending was so heavy-duty that I kind of missed the "happy" touch- if there was any! Alright, we know that Bushra and Shayan are together at last but a few cheery moments or after-happy-ending glimpses could have been shown just to deliver the right message a little more clearly that yes, people who strive to make a difference are always rewarded in the true sense and they end up with all the "happiness" in the world. There's no denying that heartrending and thought-provoking dialogues always hit the mark and all the conversations in this play were written to perfection but the last scene i.e. Bushra & Shayan's conversation could have been a lot more memorable only if it were a little lighthearted, simple & sweet because sometimes you just want to sit back and enjoy watching your favourite duo smile especially after they've made it through a long and painful journey, don't you think? I heaved a hugee sigh of relief when amidst Bushra's incessant tears and hichkiyan, her very rare smile made an appearance :P. People who have watched Ek Tamanna Lahasil Si are well-aware how painful Bushra's hichkiyan can be! I admit this over and over again that Mawra Hocane and Affan Waheed share sizzlingggg chemistry and their scenes, despite being few in number, will stay with us because they both managed to deliver exactly what was required.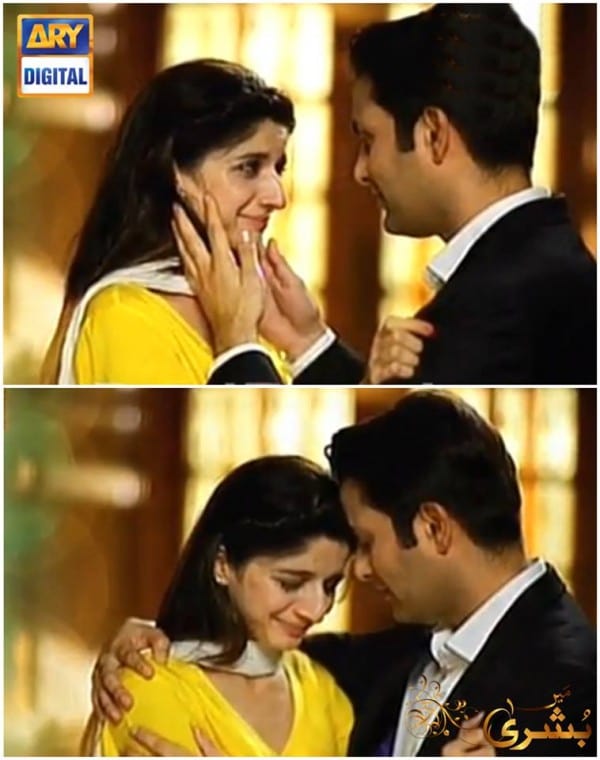 Aapke iss bharam ko apna mazhab samajh lia tha mein nay, Abu! Ab tou beta ban gayi hun na main aapka? This scene was one of the best scenes we've come across in this play. It was overloaded with emotions but its wonderful how Saba Hameed, Waseem Abass and Mawra looked perfectly natural and nothing seemed forced. Although we have seen numerous plays revolving around gender discrimination and I was afraid that I'd lose interest in this play just because of the repetition of this theme, it's safe to say that the unique dialogues and simple execution gave this topic a relatively new, different treatment. It was a touching confrontational scene- Bushra rendered Nasir absolutely speechless; Nasir was filled with remorse for how he used Bushra to handle the 'burden' of his other daughters and I liked how they showed that apart from shedding tears, there's nothing Nasir could say or do to make up for his sheer selfishness.  Bushra- like I mentioned before, the name here holds much significance because the writer had to highlight how this twisted logic behind naming your daughter Bushra still prevails in modern, industrial societies and our protagonist's whole journey revolved around proving this notion wrong and I must say that the writer did succeed in spreading the awareness.
Apni izzat ka bharam rakhnay kay liye ussay issi chat kay neechay rakh kar tortay chale gaye aap loag- the conversation between the two helpless mothers was yet another poignant exchange of words. I think Sabiha did need that reality check because in a way, she did exploit Bushra- she kept her in her house for the sake of her own family's honour and pride. I find Sofia very likeable because the way she acknowledged Bushra's greatness was commendable. I was thinking that after the disclosure of the whole divorce thing, Bushra would tell her parents about her marriage to Shayan but in the end it was Shayan who finally told Sofia the truth. Bushra meri biwi hai, meri pehli aur aakhri muhabbat aur is ski qeemat chukana kissi kay bas ki baat nahe- aap ki bhi nahe- for once we saw Shayan taking charge of the situation so I was very happy with this development.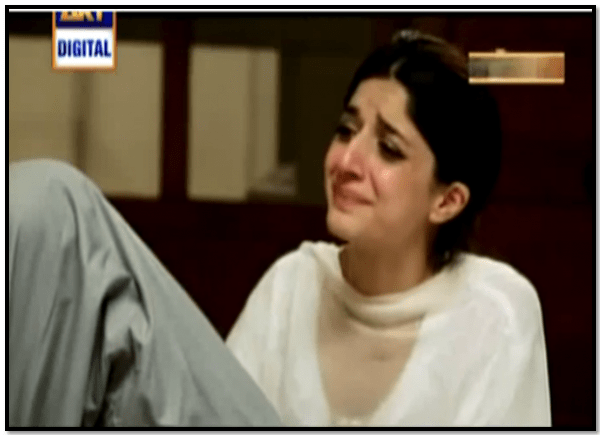 Faraz's death didn't come off as a total surprise- I guess by the final episode, they had to show karma getting back at the people who were unfair to Bushra so Faraz too had to face the consequences of destroying a young girl's life just for the sake of torturing his mother. It is true that what Sabiha did to her son was not justifiable. Zinda logon ko marnay par majboor bhi nahe karte ammi! But then again, what Faraz did to Bushra was even more horrendous.  Saba Faisal is a gifted actress and she nailed the scene in which Shayan told her about Faraz's death and Affan Waheed's performance was also very natural. Oh and by the way, did any of you wonder why was Sania crying so hysterically on Faraz's death? I mean, Sania aur Faraz ka kya gehra connection?
Kuch logon ki tou poori zindagi hisaab kitaab kay nazar hojati hai. Kabhi maheenay ki tankhua gintay hain tou kabhi maheenay kay din. Kabhi bus ka kiraya ginna parta hai tou kabhi tou apnay college semester ki fees. Iss ginnay ginanay mein zindagi kay unginat lamhaat kab guzar jaatay hain, pata hi nahe chalta. I just LOVED this dialogue and it sums up Bushra's life so aptly- she had to go through a great deal of hardships and if there's one word that can describe Bushra's life, it's 'sacrifice'! The conversation between Sania and Bushra was beautifully written. Even though Faryal Rajput's acting has been OTT, I feel that she did justice to the final conversations she had with both Bushra and Shayan. I think Sania and her mother were genuinely very nice people; they meant no harm and despite the fact that Sania had spent all her life dreaming of an ideal life with Shayan, it's a source of relief that unlike the other desperate lovers of our plays, she didn't resort to any sort of cheap or low-life tactics to 'snatch' Shayan away from Bushra. Yes, she was shattered when she first stumbled upon the news of Shayan and Bushra's marriage but like any sensible woman, she took her time to come to terms with the fact that there's no use clinging to a guy who has eyes for someone else.  Mein nay uski aankhon mein uski marzi dekhi hai, woh sirf tum ho Bushra. She also realized that if she doesn't leave Shayan now, there will be yet another series of heartbreaks and grudges. So, Sania walked out of this relationship anddd Bushra and Shayan got their "happy" ending :)
It is true that all the actors in  Main Bushra have appeared in similar roles over and over again but I saw loads of improvement in Mawra Hocane's acting. She has perfected the art of crying but I'd have to admit that there were times when Bushra took a stand for what was right and Mawra pulled it off rather convincingly. I must confess that I'd LOVE to see Mawra Hocane and Affan Waheed in another play because their couple is one of the cutest couples of this season! I knowwwww this picture looks cheesy but it just caught my eye while I was searching for MB pics so mein nay socha kay drama mein zyada khush nahe dekh paye in donon ko tou yahan hi sahe, here you go: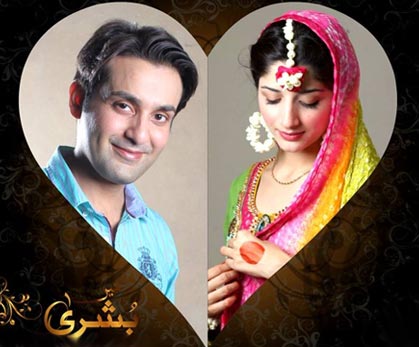 Now that Main Bushra is ending, I'd like to applaud the efforts of the writer, Sanam Mehdi Jarchevi for giving us some absolutely beautiful dialogues. There were numerous quotable dialogues from the last episode and I could only quote a few. She is capable of penning some extremelyy poignant dialogues that offer food for thought and you know, sometimes even some apparently simple dialogues were actually so meaningful that I was hugely impressed and if she continues like this, she can go a long way! It's pleasantly surprising that ARY decided to end a play within 25 episodes so there's a hint of improvement in ARY's dragging trend ;). What I seriously didn't like about this play was the overall depressing and somewhat hopeless aura it had. From the background score to the dialogues- the glimmer of positivity was a little too hard to spot. I don't know if this was something very relate-able that each and every character was so deep- I mean, even Ruqaiyya Aapa nay kuch bari gehri baatain ki so are we really surrounded by so many philosophers around here? Also, I think things could have been a little less heavy duty. It wasn't a flawless play but it was definitely a far cry from the other dusri biwi, oh sorry, teesri biwi plays on air these days and the powerful dialogues, coupled with the simple direction & execution made it worth-watching.
So, what do you guys think of the ending? Are you happy with it? Share your thoughts!
Maryam Mehdi
P.S: Since the whole MB journey is ending here, I'd like to take this moment to thank all my regular readers for taking this experience to a whole new level, especially, Kunwal Javid, Silver Eyes, Matt, Ms. Khan, Mannoo,  Tahira Naveen, Mariam, Eashel, Imrana Khan, AW, A Ayesha, ,Farah Ahmed, Chocoholic and Aaliya Chaudhry. I would like to thank my silent readers too and even if I didn't mention your name, you all have been wonderful! And yes, how can I forget my fellow amazingg team members, Fatima Awan, Areeba Mohsen, Maaz Siddiqui and Rashid Nazir Ali :) Thanks a million!