There were quite a few developments in the story in tonight's episode. Bia finally got married and moved to America – good riddance! Her conversation with Salahuddin yet again revolved around Mannu but it was good to see that she had finally realized that Mannu and Salahuddin were not meant to be – better late than never!! Jeena's character was finally introduced in the drama. The scene that was shown in the preview of this episode last week in which Salahuddin calls Jameel and asks him about Jeena saying 'pagal si lagti hai' was missing from tonight's episode.  Jeena appeared to be 'normal' enough in tonight's episode. She really likes her boss and does whatever she can to get his attention. Her character is typical but not yet annoying. Jeena came out of nowhere and gradually she got really close to Salahuddin, a little bit of background would have made this whole scenario better. That call to Jameel (which was not shown) shouldn't have been edited from the drama since we all wondered why Salahuddin said she appeared to be 'pagal'. Was it the way she looked at him? Or the fact that she stayed back till after midnight without even asking him if she was needed? When exactly did Jeena fall for her boss? A lot of questions that were left unanswered. Salahuddin's parents have gone to stay with Bia therefore I am wondering if at some point Jeena will move in with him.
All this time Salahuddin has been keeping an eye on Mikael and has all the information about what is going on in Mannu's life. He obviously regrets his decision and wants to do whatever he can to help Mannu. I must say that Jameel was the right person for this job since he has the brains to do this and much more. The way Jameel made his way into Mannu's house was an interesting development. I enjoyed his scenes more than any other character in tonight's episode. He has turned into a loyal friend who does not question Salahuddin much before doing something from him.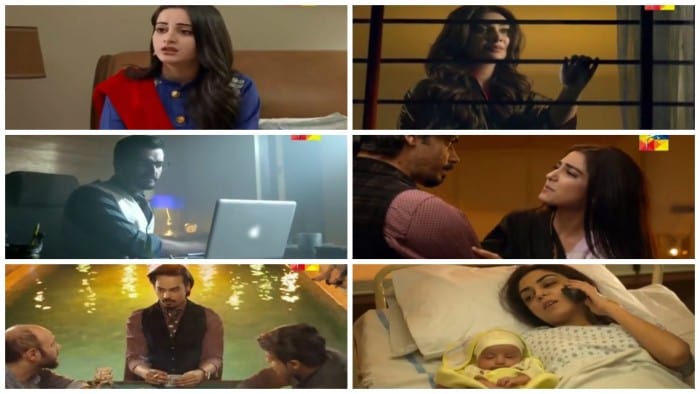 Mikael's attitude towards Mannu did not change and she kept on covering up for him. Mikael wants Mannu and the kids gone, he is out gambling all night and what Mannu said to him suggested that he was using his father's money. I felt for Mannu in tonight's episode, she is a lost soul and it seems like it is too late for her! She has ruined her life and there is very little hope for her now. She is the ultimate bechari now, who will stay with her husband no matter what. Maya Ali is the only reason why Mannu's character still manages to evoke some sympathies otherwise the scenes and incidents between Mikael and Mannu are repetitive. Although Mikael shoved Mannu around but I am glad that all we have seen in this drama so far is all the mental torture Mikael puts Mannu through and he has never been shown hitting her. It goes to show that you can show a worst case scenario without showing the man hitting his wife.
The way Salahuddin helped Mannu was somewhat unbelievable. Doctors do not share information about their patients with people who are not directly related to them but somehow Mannu's doctor was very comfortable sharing all these details with him. Did he 'buy' the doctor too with all the money he has now? Also, Mikael's mother just guessed that her son had paid the bill even though he seems to be least interested in Mannu or the kids and did not even come to the hospital. It would have been better if this part about Salahuddin paying the bill was not added to this latest development because Mannu does not need  Salahuddin's financial help. It also make it look like now that Salahuddin has a lot of money, he is finding ways to spend it on Mannu although she does not want his money.
The preview of the next episode showed Jameel talking to Mannu about Salahuddin without mentioning his name and Mannu asked him for his 'guru's' number. This episode was better than the previous few because things moved forward a little. Other than that things get more complicated with every episode and honestly speaking this drama doesn't really give you much to look forward to.
How many of you watched this latest installment? Please share your thoughts about it. If you missed it, watch it on http://www.dramasonline.com
Fatima Awan