OMG!!! This really is Shuk all over again. Tonight when Jeena insisted that Salahuddin should stay with her, I was reminded of the time when Sehrish (Ayesha's character) pretended to be scared and asked Shaam to stay in her room so that Sania (Sanam's character) would be jealous when she sees him coming out of her bedroom! I guess the whole idea was such a huge hit that the writer decided to do it all over again. After recreating other writers' works by making some changes here and there, this time around Samira Fazal is being more creative by adding some minor changes to her own script which has already gone on air and is still fresh in the minds of the viewers!! The difference here is that Sham was married to Sehrish and Sania both but in this case Salahuddin is not married to any of these women yet he is so "cool" that he had no problem spending the night at Jeena's house.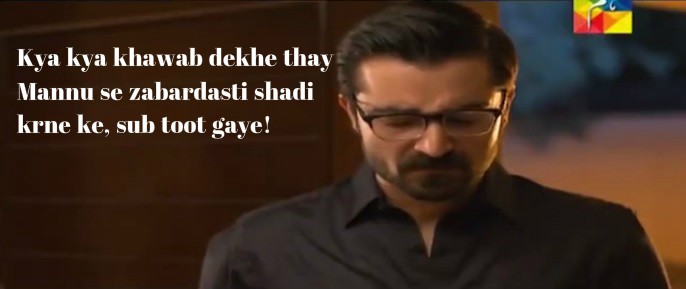 Watching Mannu's son talk to Mikael like he was not scared of him at all was very weird!! Mikael was never a good father and now that he has kidnapped his own kids, the kids have even more of a reason to be intimidated by him. This drama taught another lesson tonight which was that if you feel nothing for your kids, kick you wife out of your house and then kidnap your kids after a few weeks and you will automatically fall in love with your wife and kids! Mikael changed completely in only a few weeks or did he fall in love with his kids after spending a day with them? Howcome that never happened when they spent years with him in the same house?? The abrupt change in Mikael however doesn't come as a surprise at all because showing a gradual change in him would have required effort and we all know by now that writer did not put in a lot of effort into writing this script.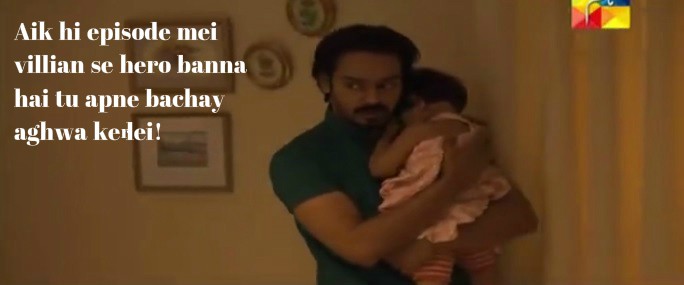 It is funny how Jamil's character is being "used" at this point. Just like Jeena, Jamil cannot do anything right and now he has been turned into a victim. Jeena has fooled everyone in this drama with the exception of Mikael of course. Just like Numair's character in Chup Raho, Jeena has everyone wrapped around her little finger. Salahuddin's character and Hamza Ali Abbasi's acting yet again was unimpressive in tonight's episode. Why does Hamza Ali Abbasi put in so much effort into delivering those dialogues? Also, Salahuddin gets "distracted" too easily – he conveniently slept at Jeena's place even though he knew Mannu was going through hell. He is also extremely selfish because now that he knows Mannu doesn't want to marry him and has other options he is "naraz"!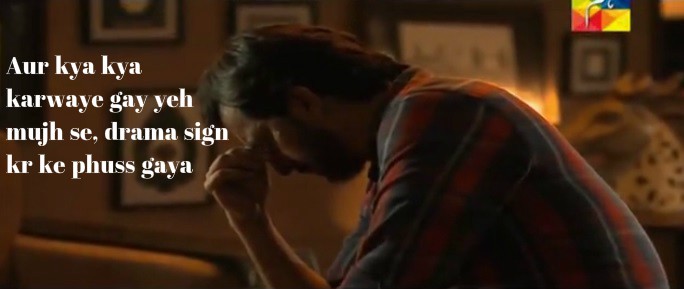 So, now Mikael wants Mannu back – how convenient! What happened to his plans and why is he so interested in the kids he only brought into this world because he wanted his father's money?? The worst news today is that Mann Mayal isn't ending even next week, it definitely did not look like it. Jamil still has to 'redeem' himself and there are also so many worthless matters which need to be taken care of. What happened to Mannu's useless family? Now Mannu has to choose between her kidnapper ex-husband and selfish Salahuddin. We also learned tonight that Mannu is not stupid and that she can make her own decisions, it would be nice if she does take a decision for a change.
How many of you watched this episode??  Do share your thoughts about it.
Fatima Awan