Tonight's episode had its high and low moments. Some of the scenes between Ifty's father and Salahuddin were very heart warming. Salahuddin decided to stay back even after everything that happened because he could not leave a helpless old man with people who did not care about him. Kuki only allowed Salahuddin to stay in the house on her own terms and conditions. She was obviously very sure that Salahuddin won't be able to fulfill the duties assigned to him but Salahuddin's commitment and love towards Ifty's father was something Kuki could not relate to!
Ifty's father and Salahuddin had some heart to heart conversations and some light moments in this episode. Salahuddin could not help but share some of his feelings with Ifty's father after he talked to Bia on the phone. For the first time the viewers saw Salahuddin regretting his decision. Honestly speaking I had a very difficult time relating to the way Salahuddin felt after talking to Bia. Somehow Salahuddin's character is not very convincing when he is being weak and vulnerable, he is definitely more believable as the practical yet caring man. Hamza Ali Abbasi also fits into the practical and caring role better than a man who cannot get over the love of his life. I must say that Hamza Ali Abbasi's laughter once again seemed really fake in tonight's episode. Talat Hussain on the other hand was absolutely brilliant in every scene. (xanax) I loved watching these two people who needed each other for completely different reasons bonding with each other. The conversation that revolved around money might actually lead Ifty's father to give whatever he has right now to Salahuddin although for now we have been given the impression that he does not have much in his name but Ifty's dialogue about Abba's jaidad suggested something entirely different.
This episode yet again showed that Mikael is not just a gambler and drunkard but he is also a liar!! Mikael took money for two plane tickets from his mother but bought only one. Later on too in the scene where he fights with his friends, the viewers got to see how desperate he is for money. Mannu shared some emotional moments with her father and was mostly seen lying to her family in order to convince them that she had a happy life. Mannu's father gave her the option of coming back anytime she felt she could not live with Mikael any more but Mannu made it clear that she was not going to consider that as an option. Through these scenes the viewers were shown how much Mannu had changed, something which Mannu's father noticed as well. Mannu probably knew that Bia will tell Salahuddin everything that is why she even said that she wouldn't have been happier with anyone else. Mannu's conversations with all her family members and the one with her father and Bia in particular would have carried more weight if they were shorter. Salahuddin's reaction to whatever Bia told him went to show that he was still in love with Mannu.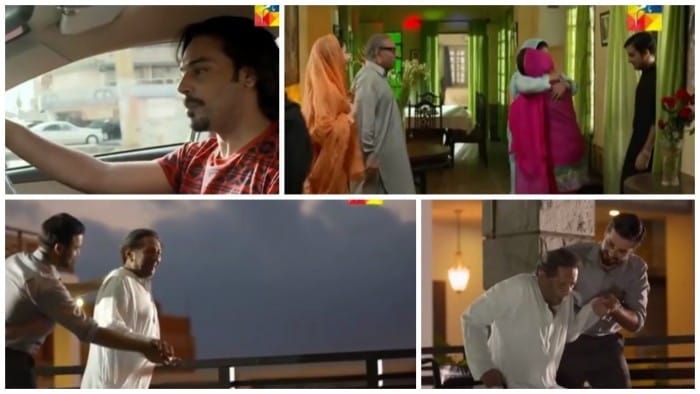 Talat Hussain was the star of the show in tonight's episode. Maya Ali has been brilliant right from the start and even tonight she brought out the best in her character. There were however some scenes that seemed too long. The preview of the next episode showed Salahuddin sharing his story with Ifty's father and their relationship getting even stronger. It remains to be seen whether Ifty's father will be in the picture for long or not. Overall, this episode was much better than the last one but it also had quite a few scenes which could easily be skipped. Right now Salahuddin's track is keeping my interest alive in the show because Mannu's life is not likely to be changed in any way anytime soon. Mikael's character is too flawed for my taste.
How many of you watched this latest installment of Mann Mayal? Do share your thoughts about it and if you missed it watch it on http://www.dramasonline.com
Fatima Awan