This was another superb episode of Mein Sitara which covered Sitara's guilt, the change in Farhad's feelings and Jharna's journey from being doubtful to being quite sure that there was something going on between Sitara and her husband. Like every other episode of Mein Sitara this one too was a must watch because this is one of those very few dramas which should be followed every week. Every episode adds something important to the story and most importantly the way the feelings of different characters are changing especially in these episodes makes them an unmissable treat.
Farhad was already struggling to contain his feelings for Sitara – something which was quite clear from the scene last week in which he shouts at Jamal for getting too close to her. Farhad was angry after that scene, he shouted at Saleem for the first time because it was very hard for him to come into terms with his feelings. Jharna's age or her attitude had very little to do with what had happened but it definitely added to the time which Farhad spent away from home and on the sets. Sitara's confession at the end of the previous episode gave Farhad the license to share his true feelings with Sitara. Sitara expressed her 'interest' in Farhad in a weak moment but she wanted to go back to being the way they were before that night. Farhad however is blinded by his fascination for Sitara (I won't call it love!) and he managed to convince Sitara that she didn't need to hide her feelings. Mikaal Zulfiqar and Saba Qamar both were beyond brilliant in this episode. The acting of both these actors has been top-notch right from the start but the scenes which we saw today were exceptional.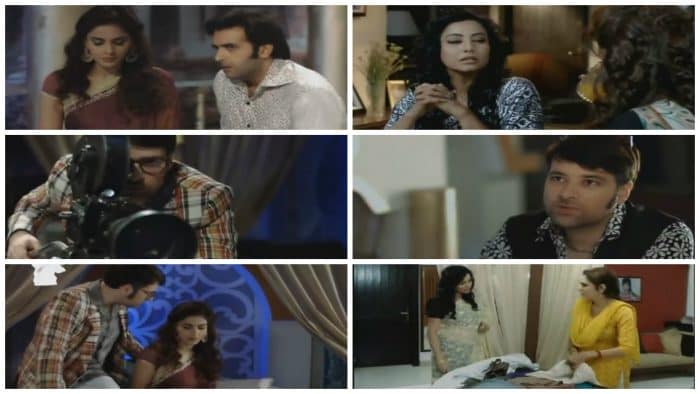 Farhad, like any other man blames his wife although he knows that he is the one cheating on her. He does not want to feel guilty because like he says to Sitara he has the right to be 'happy'! Sitara on the other hand realizes that all of this is wrong. The way Sitara's guilt and confusion was portrayed on screen tonight was absolutely fantastic. The writer and the director both have made sure that they add every little detail which matters. There isn't a single moment in this drama when you question the motives of the characters or wonder what is going on in their mind. Sitara is attracted towards Farhad but at the same time she does not want to betray her baji.
Jharna was doubting Farhad even when he was not having an affair and even when he had not 'changed' therefore I found it really difficult to feel for her! What Farhad is doing is very wrong, no doubt but the fact is that Jharna expected him to do just that! It was almost as if she spent the past few years planning how she would tackle such a situation! She had been planning to fight this battle even when there was absolutely no reason for it therefore I am waiting to see what she does now! Had Jharna trusted her husband blindly and Sitara too, it would have been a completely different story. Jharna's character is very realistic, there is no doubt about that. She is much older than Farhad and she was always insecure because of her age. Now that her husband is busy with his career, she feels left our and unlike before because she is so filled with doubt she doesn't even talk about his work the way she used to. I wasn't however expecting her to leave the city at this point. She has always put her foot down whenever she wanted something and even though she is heartbroken right now, she is still practical enough to do something about the situation.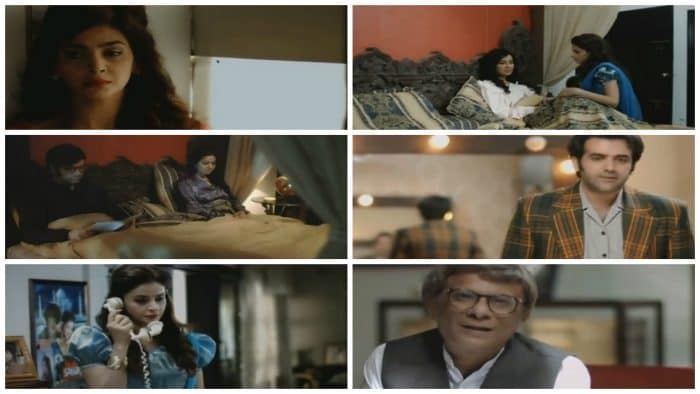 The scene between Jharna and Saleem was the highlight of this episode; it was very convincing. Saleem had just witnessed something 'shocking' and he also wasn't expecting Jharna to ask him this question therefore that was another shock so he was unable to cover up for his boss! The actor playing Saleem is doing a commendable job, love his get up and acting both. It was also good to see Sitara finally confronting her mother even if it was on the phone. First time around she thought her parents were majbur but this time she knew they were greedy too therefore she said what she had felt all these years but at the same time she knows she cannot back out of this commitment.
The preview of the next episode was dhamakedar. Saying that I am looking forward to the next episode would be an understatement, I will literally be counting days!
Mein Sitara has been very exciting and engaging so far. Like every other play penned down by Faiza Iftikhar this one too is spot on! The writer has covered every little detail and she has etched -out some very interesting characters. The director Seema Taher Khan has put in her best effort which is why she has succeeded to breath life into every scene. Saba Qamar and Mikaal Zulfiqar were the stars of the show tonight. There are very few dramas in which every actor suits the role they are playing and this is definitely one of them.
How many of you watched this latest installment? Don't forget to share your thoughts about it.
Fatima Awan