Mein Sitara is one of those very few dramas on air right now which keep you hooked right from the get-go. Time flies really fast while you're watching an episode of Mein Sitara because every scene adds something to the story and every character in the play is intriguing. There has hardly been an episode which could be missed unlike many other dramas which have plenty of filler episodes which can easily be missed! Mein Sitara is the most underrated and under appreciated play of this season in terms of TRPs but it is definitely on top of my must-watch list!! Mein Sitara promises quality entertainment, anyone who hasn't watched this drama yet should definitely catch up because Sitara's journey is fascinating right from the first episode!
The first scene of this episode was remarkable; this was the scene which changed Jharna's mindset and Sitara got another chance to regain her trust. In the beginning of this episode Sitara wasn't sure what she should do, she didn't want to do anything to let Jharna down and at the same time she did not want to hurt Farhad's feelings, also she could not resist the temptation of meeting him. Meeting Jharna in the studio changed everything for Sitara, this was a really close call, she knew that had Jharna come at a time when she was there with Farhad she would have lost her 'Baji' forever. Sitara has her mind made up now but Farhad is convinced that his 'ishq' for Sitara will never die. He knows that he shouldn't be cheating on his wife who has always been by his side but at the same time he cannot live without Sitara now. The 'fascination' with Sitara tripled when she made it clear that she could not go on meeting him like this. Had Sitara been willing to go along with these secret meetings Farhad might not have proposed to her. The logic Farhad gave Sitara was spot on – a man who is as desperate as he is right now would do exactly what he is doing.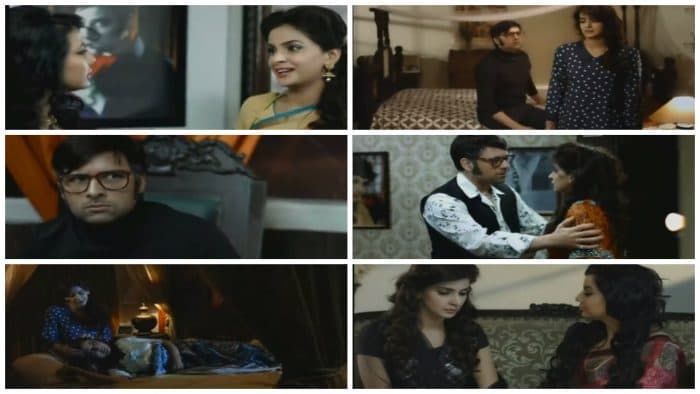 After a long time I felt for Jharna while watching this episode. She felt guilty and after a long time it seemed like she had faith in Sitara and her husband yet again therefore this time around it really did look like she deserved better from both these people. She has invested a lot in both these relationships. Sitara's attempts to prove to Farhad that she is not interested in him are likely to make him more interested in her. The whole situation has become very interesting. Farhad is not willing to back out at any cost and it remains to be seen if Sitara really is strong enough to deal with this situation. She genuinely feels bad and has proven that she does not want to betray Jharna, but is this situation reversible? Will she use Jamal to get out of this situation? I can't wait to find out.
My most favorite part of this episode had to be Farhad and his junooni ishq, the way he justified it and the manner in which Mikaal Zulfiqar has translated this character on screen is beyond brilliant! Yes!  I am dead against extra-marital affairs but I am all for showing raw emotions on screen in such a way that the viewers are convinced that the characters are unable to control these emotions. Saba Qamar is faultless as Sitara; she was especially amazing in the first scene of this episode. It was great to see a glimpse of the old Jharna in this episode and the relationship which Jharna and Sitara once shared. Sitara's conversation with Jharna after her brother left went to show that she was not going to let anyone exploit her. Although Sitara was the first one to show how she felt about Farhad but right now Farhad is the one who is pressurizing her to something she does not want to do.
Mein Sitara is beautifully written and brilliantly directed, all those people who are not watching this play are missing out on something truly amazing! Every episode of this drama is spell-binding and I can't thank the whole team of this drama enough especially the producers for taking a chance and giving the viewers something different to watch.
The preview of the next episode promises a lot more drama, some brilliant performances and even more of the raw emotions we all love!
How many of you watched this latest installment? Please feel free to share your thoughts.
Fatima Awan