This latest episode of Mein Sitara focused on Sitara's attempts to persuade Farhad that she did not love him. There was also an obvious change in Jharna's attitude and Farhad's growing madness got ample screen time too. Just like all the previous episodes of this drama, in this episode too the intentions and feelings of the characters were crystal clear. Although the situations and the characters in Mein Sitara are anything but simple; they are complex characters which are changing with time and so are the situations in the drama. Translating such characters on screen in such a manner that the viewers have absolutely no problem connecting to their feelings and circumstances is not an easy job but the writer, director and the actors have done their work with utmost honesty therefore it is always very easy to understand the characters or the happenings.
This episode clearly showed that Jharna has started trusting both Farhad and Sitara once again. Even when Farhad was shouting outside Sitara's door in the middle of the night she did not suspect that this was something she should be concerned about. She thought it was something related to work and her only problem was Farhad's drinking. Jharna is the same person now who she was before Nasim Dil Ruba came into the picture. This change in character is believable and it once again makes her character more likeable. It is easier to feel for her because she isn't constantly looking for excuses to prove that her husband is cheating on her. Aisha Gul has always been faultless as Jharna and it is good to see Jharna being the confident woman she once was once again.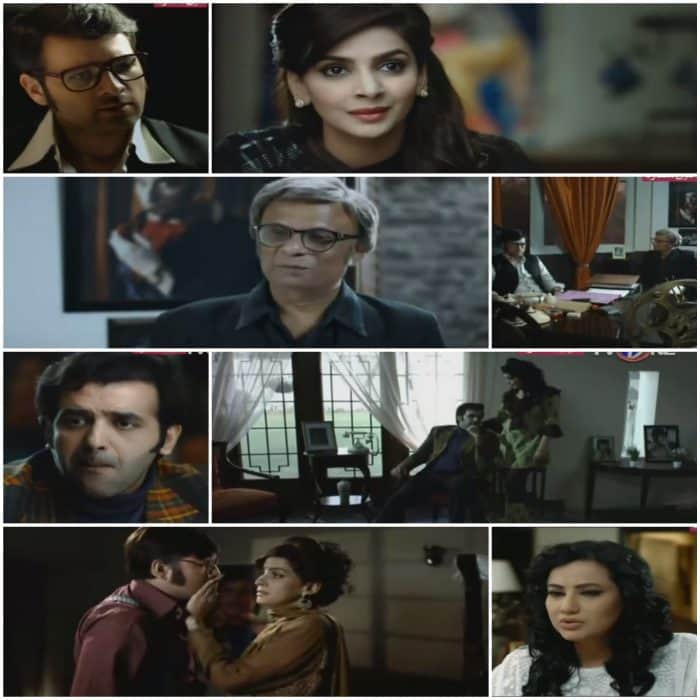 It is Sitara's bad luck that she turned to Jamal for help. If she had made up a story and turned to Jharna for help, she would have been in a far better position today. Jamal cannot even help himself, he relies on Naseem Dil Ruba entirely and is working for her but Sitara thinks she can trust him. This episode laid down the foundation for the climax which will be a part of the next episode. In her desperation Sitara keeps on doing one silly mistake after another which might cost her more than she bargained for. Just like I guessed undoing what has been done seems impossible now unless Sitara takes a big step which too will do more harm than good. Some of the scenes in tonight's episode clearly suggested that Sitara still has feelings for Farhad and it is very difficult for her to hurt him like this over and over again but she is doing all this only for Jharna – she might have revealed her true feelings for Farhad in a weak moment but she has realized what is at stake here and she is not wiling to put her relationship with Jharna at stake for the sake of her own happiness. Sitara has set her priorities straight and unlike some other heroines of our dramas she is not giving the hero mixed signals! Saba Qamar is a brilliant actress who knows exactly what is expected from her as Sitara. Playing this character is difficult because there are so many concealed emotions involved in every other scene but Saba Qamar does it all so effortlessly.
Farhad does not have the courage to tell Jharna how he feels about Sitara therefore the only way for him to make this relationship 'legal' is to enter into a nikkah with Sitara. Another reason for this also is that he wants to make sure Sitara stays with him for the rest of his life. Farhad knows very well that what he is doing is wrong but he claims to be helpless. Farhad's feelings were portrayed brilliantly on screen by Mikaal Zulfiqar and the character has been written very well too. We have seen many married men falling for younger women in many dramas but never has such a scenario been so 'enticing' ! I am certain that there is very good reason why Naseem Dil Ruba is still getting plenty of screen time. She will have an important role to play in the story at some point.
The preview of the next episode suggested that Sitara will probably enter into a nikkah with Jamal to stop things from getting worse. I could be wrong of course but that is what I gathered from the promo. If Sitara does that I will truly feel for her because at this point she is completely helpless – if she tells Jharna, her marriage will be over and she will be very hurt and there is no way that Farhad will back off now!
This episode was rather slow, I was expecting a little more action but overall the convincing changes in the characters, powerful conversations, the great direction and the mind blowing performances always manage to make every episode of Mein Sitara a must watch. The slap however was highly uncalled for and not needed, the way Farhad shouted at Sitara and kept on pushing her was enough to get the message across.
How many of you watched this latest installment? Do share your thoughts about it.
Fatima Awan