Wow!!! What an episode! Simply mind blowing! This was an extremely intense episode and the kind of effect such an episode has on you, can only be felt and not explained in words! I will nevertheless try my best to do justice to this amazing episode. This episode was all about the desperation of two people who are in love. Farhad and Sitara both are equally desperate, the only difference is that Farhad desperately wants Sitara to admit that she loves him and that she will eventually get married to him, while Sitara is equally desperate to convince him that she feels absolutely nothing for him. Sitara's impulsive decision to get married to Jamal went to show just how desperate she was to get out of this situation and rightly so too. Unfortunately, she chose a man who will never be able to do anything to help her, a reality which hit her soon after the news of the nikkah was made public.
This episode belonged to Farhad – Mikaal Zulfiqar. Farhad has absolutely no control over his feelings, his reaction to the news was shown superbly, it was a mixture of disbelief and helplessness. The way Farhad pleaded his case in front of Sitara and the manner in which Sitara kept on telling him lies was the best part of this episode. Jharna stood in the door way and listened in disbelief, everything must have made more sense to her now!! It was truly refreshing to watch Sitara sticking to her plans, although she did not take the best decision but she did the best she could in order to make sure that Farhad is not in a position to pressurize her into getting married to him. Sitara proved that she was a strong person who knew what she needed to do and even though she truly was attracted to Farhad but it was her relationship with Jharna which mattered the most to her. The sizzling chemistry between Saba Qamar and Mikaal Zulfiqar makes everything about their track even more intense. Saba Qamar has owned her role as Sitara in every single episode. She manages to convey Sitara's helplessness and her real feelings which are hiding behind those lies flawlessly.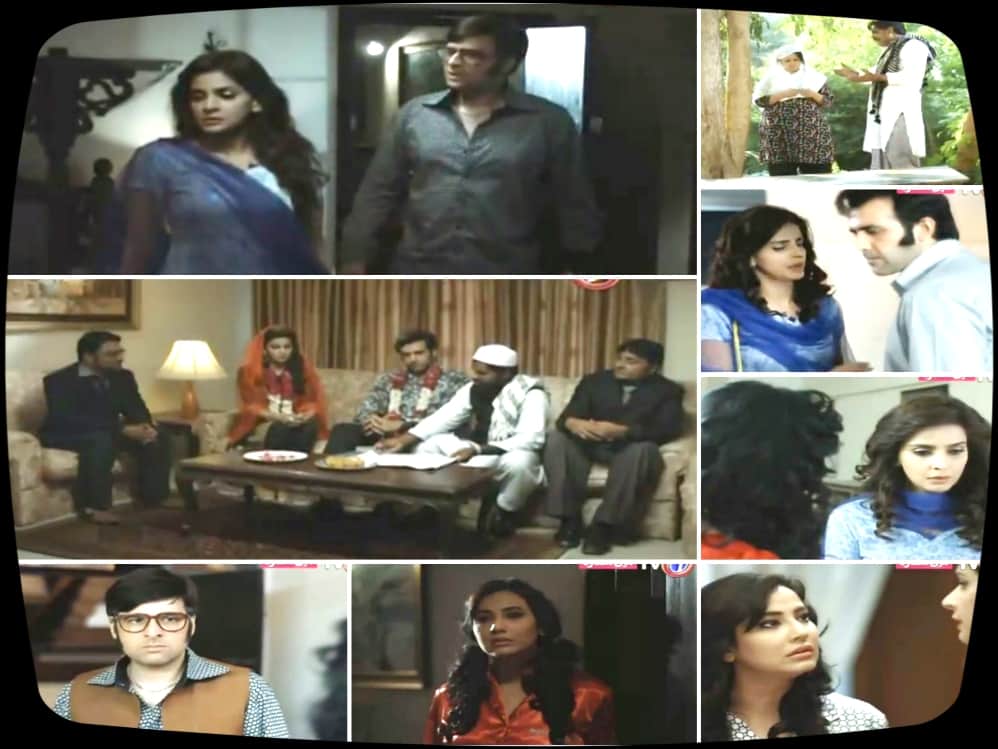 Another thing about this drama which I absolutely love is the strong relationship between two women which is bound to stand the test of time. Very often we see bromance on screen, there are also times (rarely) when mother and daughter or sisters have a strong bond but it isn't very often that we see a drama which is largely based on the relationship which two women who are not even blood relatives have with each other. There was a time when it seemed like Sitara was going to betray Jharna but she has proved that she was not going to let anyone destroy their relationship and the trust Jharna has on Sitara. Aisha Gul is another actress who has been faultless as Jharna. She is standing out in this role more than she has ever before in any other character.
Jamal and Naseem Dil Ruba's track is the reason why Jamal agreed to Sitara's proposal but even then this track was completely relegated to the background tonight because of everything that happened in Sitara, Jharna and Farhad's life in this episode.
The preview of the next episode suggested that there might be an even bigger surprise in store for the viewers! Will Jharna ask Sitara to marry Farhad? Farhad once said that if Jharna ever found out how much he loved Sitara, she was bound to support him…was he right? I hope no one gets killed! That would be really ugly.
Mein Sitara has given its viewers 15 amazing weeks of wholesome entertainment. It has it all – a script which keeps you at the edge of your seat, characters which you can fall in and out of love with but you cannot detach yourself from them, riveting performances and superb direction. The best aspect of Mein Sitara's script is that the viewers are not tempted to 'judge' the characters very often. Every character's story and feelings have been translated so well on screen that you understand their characters and actions without even trying. Mein Sitara's success is the result of team effort, this script is very different and if the director lacked creativity or did not have vision this drama could have been a train wreck but fortunately the writer and the director were on the same page therefore the end product is outstanding. I have recommended this drama to many people but once more I would like to ask anyone who is not watching this show to give it a go, you won't be disappointed especially if you are tired of watching the same old stories.
How many of you watched this latest installment? Do share your thoughts about it.
Fatima Awan