This episode marked the end of Season 1 of Mein Sitara and what an amazing end it was to this phase of Sitara's life. So much happened in these 16 episodes and the way it was all wrapped up was beyond brilliant. Yet again the story took a turn which was completely unexpected and extreme but just like always very convincing. There couldn't have been a better ending to Farhad's 'love story'; only something of this magnitude could have jolted him enough to rethink his priorities. The treatment Farida gave Sitara tonight reminded me of the way her mother used to treat her when she was little. After all these years Sitara has once again landed in the same place she started from. The only big difference is that when she was little her spirits were high and she was fortunate enough to have Jharna's support and love. Sitara's life wouldn't have taken the turn it took tonight had she kept her feelings to herself. Farhad always had feelings for her but he only started owning her and pursuing her even more when he found out that she had feelings for him as well. The opening scene of this episode was yet again brilliant. No one knows Farhad more than his wife therefore it wasn't surprising when she could predict what Farhad was capable of doing under such circumstances. Everything that happened afterwards was an eye-opener for Farhad in particular.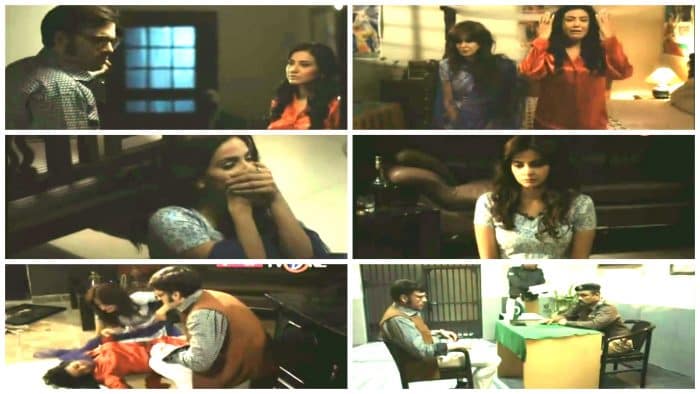 Naseem Dil Ruba, Jamal and Sitara's parents have a lot in common – they can't think past their own selfish interests. Sitara's father might be a complete nikama but the fact is that he is a smart man who knows that he can cash in on his daughter's popularity. Although Sitara never completed her film but she is now a well known name in the industry and this latest controversy will give her even more 'fame'!!! Jamal also ended his 'relationship' with Sitara, which was also an apt end to this particular track. Jamal and Sitara's nikkah  played an important part in taking the story to its culmination, there was nothing more to it. It was a decision made in haste and out of desperation that was bound to have severe repercussions. In the end Sitara was the one who suffered the most unbearable loss. She lost the person who she loved the most, Jharna, her confidence has been shattered and is once again with parents who never loved her. Both her parents don't feel any remorse or regret, in fact they only took her back so that she could earn for them.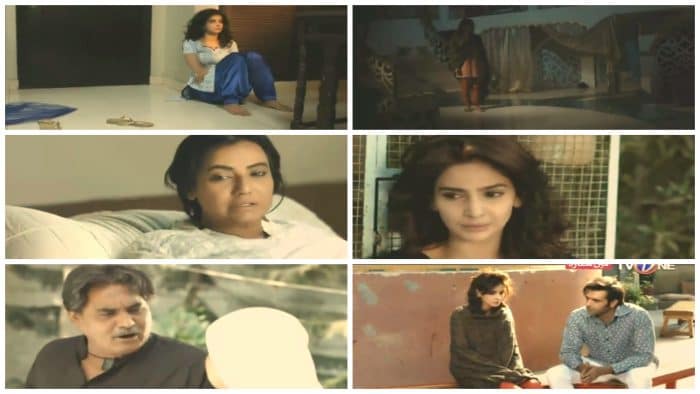 Tonight's episode was brilliantly executed as usual. There wasn't a single scene which was out of place or which failed to have the impact it was supposed to have. The way the director showed Sitara's frame of mind in particular, the duppata and her chappal on the floor while she recalled all the terrible things that finally led to this incident was one of the best scenes of this episode.  Sitara tried really hard to save her Baji from getting hurt but in the end she herself became the biggest victim. In the end Jharna's love for her husband stayed intact and Farhad learned his lesson the hard way. The detail with which Sitara's visit to the studio was covered went to show that this was the final goodbye. Jharna's dialogues when she begged Sitara to save her husband were superb; she knew that Farhad didn't fall for Sitara just because she was beautiful but there was more to this story.
Season1 of this drama has set the bar really high; it had some amazing characters, which I am not certain will be part of the second season and the story and direction was top-notch throughout this season. Also, it has been truly refreshing watching Mikaal Zulfiqar shine in a very different role. Aisha Gul has been phenomenal as Jharna but I did feel that the make-up artist failed to do justice to her in this particular episode. Saba Qamar was the star of the show tonight; she knew exactly what was expected from her. Watching Meera act in a serious drama for the first time was an altogether new experience and her acting came as a pleasant surprise. The credit for this also goes to the person who was in incharge of choosing the cast. I am eagerly looking forward to the next season, next episode. Nauman Ijaz will most likely play an important role in the second season. Right from the start the story has taken unpredictable turns therefore it is impossible to guess what will happen next. Mein Sitara has it all, a strong cast, an intense storyline, well etched-out characters and a director who believes in being creative!
Do share your thoughts about tonight's dhamakedaar episode!
Fatima Awan