There were many new developments in this latest episode but I must confess that for the first time while watching this show I felt rushed. Also, there were some scenes like the dance shown in the party and Jharna Begum practicing music which took a lot of screen time. If that time was given to Jharna and Surraya's relationship or Surraya alone then it would have been a more fulfilling experience. I understand that the director showed all these scenes to build an atmosphere but Surraya grew up too fast! Surraya's character is one of the most appealing characters I have seen on screen in a long time therefore I wanted to see more of her in tonight's episode too. The story of course is not just about Surraya therefore other aspects of Jharna and Farhad's life had to be covered as well. I admit that this  was more of a 'personal' issue which I had with this episode but overall a great deal was covered in this episode in a very intelligent way.
The first and the most important aspect of these recent developments was that Jharna and Farhad finally managed to bridge the differences between them. The phase in which Farhad felt like his wife was neglecting him has passed and we saw Jharna taking a very active part in Farhad's work life. Jharna also paid more attention to her music. It was good to see the problems between Jharna and Farhad being resolved. Jharna once again showed that she is a very wise and confident woman who does not get offended when her husband shares his concerns with her but she tried her best to overcome the problems between them. Right now apart from many other things about this drama, I am absolutely relishing the fact that we are finally getting to see a very normal married couple in a drama. So far the issues between these people who belong to a world very different from ours are very easy to relate to. The credit for that goes to the entire team; the writer, director and the actors. The conversations between Jhankar and Farhad are always very meaningful and the actors playing these roles are doing a remarkable job. I cannot praise Aisha Gul enough for nailing every single scene; it isn't just her dialogue delivery which is beyond impressive but more than that her expressions and body language conveys more than anything she has to say. She has an undeniable screen presence and she has brought out the best in her character. The way Jharna looks at Farhad practically says everything she feels for him.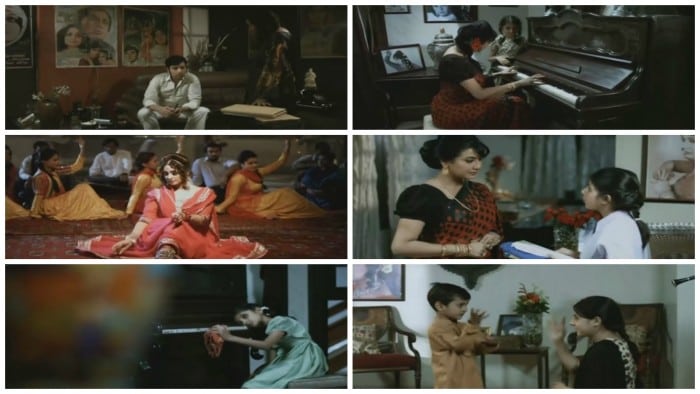 Jharna's relationship with Surraya was shown in different stages in tonight's episode. Jharna's association with Surraya has grown stronger with time. Like I said before, young Surraya will be sorely missed and I hope that the older Surraya gives us a reason to forget all about her. Surraya cried for her family, wasn't very keen to study and when she grew up she was still the same old person she was as a child. The viewers did not get to see a lot of older Surraya in this episode and I am really looking forward to seeing more of her in the upcoming episodes.
This episode focused more on Farhad and Jharna. It covered a span of 7 years and in these 7 years Farhad has established himself in the film industry. He is just as big a name in the film industry as he was in the television industry. People still respect and admire Jharna, something that was quite obvious from her meeting with Naseem Dil Ruba. I haven't seen Meera performing in any drama ever therefore watching her play a serious character for the first time was a brand new experience! Meera was very convincing in the scene and so far it seems like this role was meant for her. Hassan Ahmed's character was also introduced in tonight's episode. He plays the character of Jamal; a relatively new actor who has a few television dramas to his credit and wants to work in films now. Both these characters were introduced just as well as all the other characters. This is one thing which I absolutely love about this show – clarity! You understand all the characters because of the way they have been introduced right from the start. This of course helps the viewers relate to the characters and the viewers are not left wondering about the motives of the characters. Jharna's character is multi-dimensional; she is not just a star, she is a mother, she is a mentor, she is a wife who will not give up on her marriage and most importantly she is a very strong, honest and dedicated woman.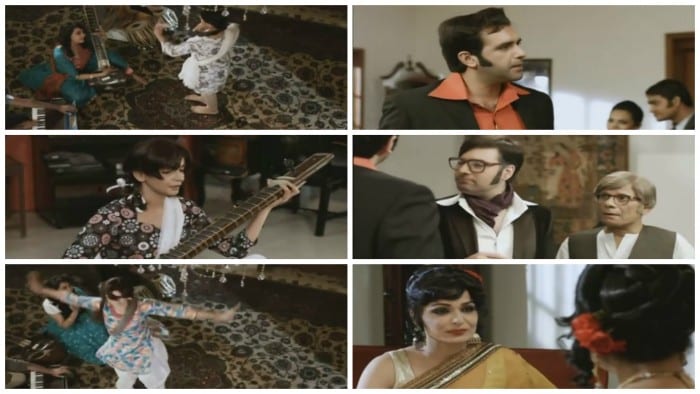 The young actress who played Surraya's childhood won my heart with her splendid acting. She has given Surraya's character an amazing start and even though we will not see her again in the upcoming episodes, she has made little Surraya unforgettable. Kudos to this little girl who gave a really big performance and kudos to the director for bringing out the best in her. A big thanks to Faiza Iftikhar for etching-out a character that is fascinating. The actress who covered few minutes of Surraya's life after a few years was equally brilliant in the few scenes that covered those years. In these years we see Surraya getting even closer to Jharna, loved the scene in which she kisses her photo but she still seems scared and distant when she looks at Farhad's picture. It is refreshing to see Mikaal Zulfiqar play a different role; although his character does not stand out the way Surraya and Jharna's characters do but the viewers can relate to his struggles, ambitions and know exactly what his priorities in life are.
Overall, this was yet another episode of Mein Sitara which made me look forward to more. It would have been perfect if the dance performance in the beginning and Jharna's music classes were cut short. This time around the viewers were not shown the preview of the next episode therefore there is no way of knowing what turn the story will take next. I am waiting to see more of Surraya and hope that the older Surraya will be just as fascinating as the young one. I recommend this drama to all the viewers out there who want to watch something different and entertaining.
How many of you watched this latest installment of Mein Sitara? Don't forget to share your thoughts about it. If you missed this episode, watch it on http://www.dramasonline.com
Fatima Awan