This was yet another episode of Mein Sitara which kept me glued to my television screen right from the very first scene. There are rarely any stories or characters in dramas nowadays which give you very little to complain about. Most often there are times when the writers and directors rely on convenient ways to take the story forward which don't always make sense. That is when the viewers start questioning the developments in the story and the intentions of the characters are also questioned. Well, I can safely say that after watching this drama for 7 weeks now I am very convinced that Mein Sitara will continue to have a solid story. The logical developments in the story and characters which are brilliantly etched-out make this drama not only entertaining but it makes all the characters and tracks easy to connect to. Tonight's episode of Mein Sitara did not have a single unnecessary scene to its credit. Mein Sitara is also 'unique' because it is one of those few dramas which you must watch every week in order to grasp the story because every episode adds something tangible to the storyline.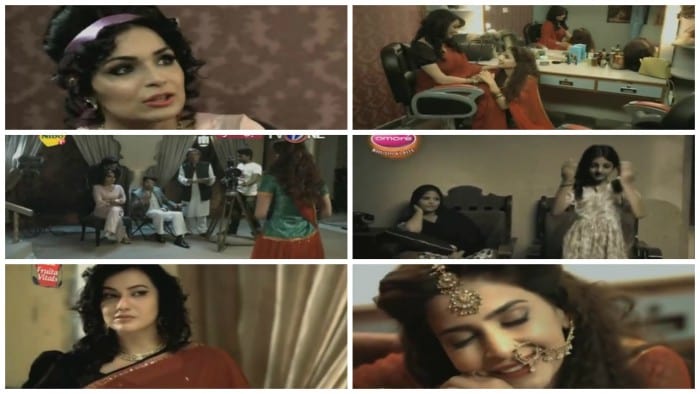 This episode focused on Sitara's first few days in the film industry and on the sets of her first film. The first scene was perfect; Sitara managed to regain her lost confidence only when she saw Jharna on the set, it would have been highly unbelievable if she gave an excellent performance without Jharna's presence on the set since she was surrounded by people who were very eager to bring her down. Naseem only came to the set to make things more difficult for Sitara and to make sure that she was there to brainwash Farhad but Jharna's presence there changed everything at least for Sitara. Unfortunately, the way Sitara conveyed everything to Jharna suggested that something was going on between Farhad and Naseem. Sitara is naive and she has no idea what repercussions the kind of feedback she gives can have for Jharna and Farhad's married life. It was refreshing to watch Farhad Sethi's 'contained' reaction because had he been blown away by Sitara instantly it would have not been the same. The scene in which Sitara remembers her childhood was another part of this episode which basically went to show that the director has done complete justice to this script. That scene one again showed the girl we all loved as Surraya when she was little and it also went to show how far she had come! Aisha Gul and Saba Qamar's on screen chemistry coupled with the brilliant acting by both these actresses makes their scenes really special. Although Jharna keeps on reminding Surraya why she helped her become Sitara but it never seems like she is trying to belittle her or to make her more indebted to her.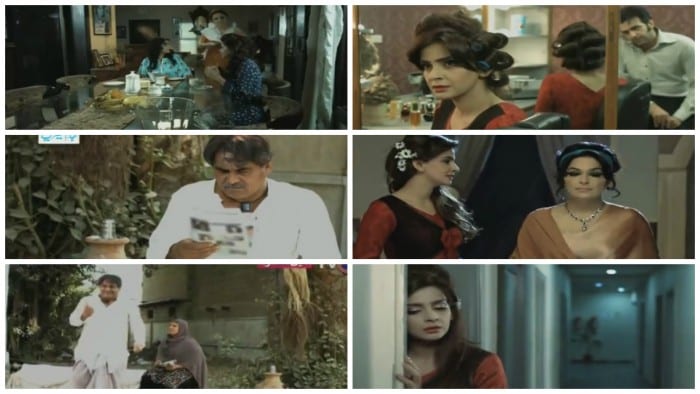 Unlike many other dramas all the characters are given enough screen time in Mein Sitara and they are not 'forgotten'! The fact that Sitara's parents were shown yet again in this episode indicated that the writer and the director have a lot of surprises in store for us in the future too. In this particular case there was a very solid reason for not showing her parents again but watching them in the context in which they were shown suggested that at some point Sitara might have a confrontation with the parents who deserted her for money. This latest development definitely added something new and interesting to the story.
Naseem's insecurities were highlighted in this episode but there was no mention of a secret which was another pleasant surprise. The only reason it seems Farhad is putting up with Naseem's tantrums is that he believes that she is the only heroine who can make his films stand out. Mikaal Zulfiqar owns his character as Farhad. It is great to see him playing a different role and excelling in it. Naseem was given a lot of screen time in tonight's episode probably because these latest developments will be the determining factor for Sitara's future in the film industry. Meera has surprised me with her acting. She was the perfect choice for playing this role, she has done complete justice to her role. I am certain having her on the sets must have proved to be an interesting experience for her co stars as well:)  Jamal's character is turning out to be an interesting one as well. As it turns out he isn't very 'loyal' to Naseem and he is not going to help her create problems for Sitara. On the other hand we saw him giving Sitara advices which might in his opinion help her.
This episode ended with Farhad finding out that Sitara was eavesdropping while he and Naseem were talking in the make-up room. Although Farhad was terribly upset with Sitara by the end of the episode but the preview of the next episode suggests that things will work out between them.
Seema Taher Khan deserves tons of appreciation for not only directing this play  brilliantly but also for being bold enough to cast Meera in this drama since this is the first time that she is playing such an important role in a drama. And also because the viewers are not used to watching her on screen therefore there was no way to be sure how the viewers will react. I must thank the director, producer and the writer for not playing it safe, for not sticking to the 'formula' which is being widely used by everyone in the business to earn money. The fact that there are still some people in our drama industry who are not afraid of taking risks gives us hope that the viewers will always get to see some quality dramas even if they air every now and then!
Loved this episode of Mein Sitara and can't wait to hear everyone's views about it. Don't forget to comment. If you missed this episode, watch it on http://www.dramasonline.com
Fatima Awan