This episode belonged to Saba Qamar. She translated Sitara's feelings brilliantly on screen. Sitara's character has always been very powerful, the little girl with a big personality has grown into a young woman who believes in dreaming big.  Although there are many other important and primary characters in the story but right from the start the way Surraya (now Sitara) has grabbed the attention of the viewers goes to show that Mein Sitara has been written and directed brilliantly. Jharna's character is very strong indeed and Aisha Gul has done complete justice to her role but gradually the focus of the story has shifted from Jharna and Farhad to Sitara. The developments in tonight's episode were predictable mainly because the past 2 episodes focused on building up what was going to happen tonight.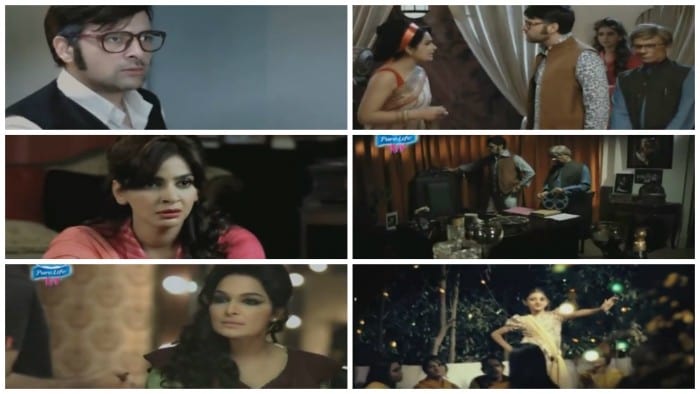 Farhad chose Sitara as the heroine for his film chiefly because he wants to prove a point. Naseem Dil Ruba thought that she could bully Farhad into having her own way because she could never have guessed that Farhad would take such an extreme step. Her over confidence got the best of her and everything she did worked in favour of Sitara. Sitara went into shock when Farhad chose her as the heroine of his film. This scene was shot brilliantly; Sitara's expressions, her body language and most importantly the flashback scenes went to show that she never ever even dared to dream this big. There was a time when she was rejected completely not by strangers but by her own family and now fate has put her in a situation where she can earn a big name for herself based on the same talent which was rejected and criticized over and over again.
Until the last episode Jharna and Farhad were on the opposite sides of the pole; Jharna wanted to prove that Sitara really was capable and Farhad did whatever he could to prove her wrong. Even though he realized Sitara had potential but he was bent on giving her a hard time. After tonight's episode he will do whatever it takes to make her a star which will change everything for Sitara and perhaps for Jharna too. I must admit that I miss watching Jharna and Farhad's scene in which they were shown sharing things with each other as husband and wife and not just business partners. It seems like Jharna and Farhad's relationship has gone stale. There was a time when Jharna used to share her feelings with Farhad and he used to assure her that he loved her just as much as he did before but now things are different. Farhad is completely focusing on his film and till now Jharna was investing all her time and energy into finding out what was going on between Farhad and Naseem. Now that Naseem is out of the picture and Farhad is focusing on Sitara alone, I want to see how these dynamics change.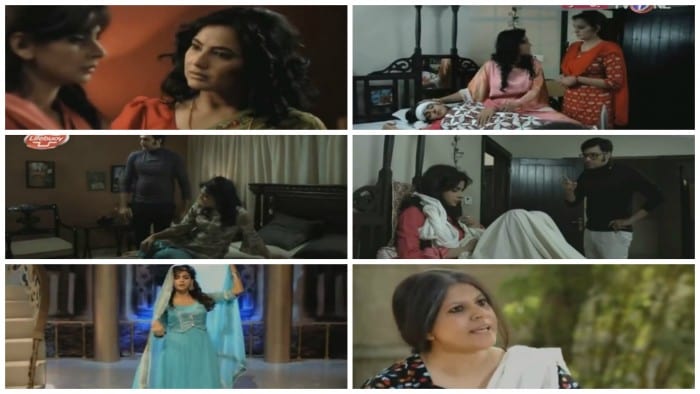 Sitara's father's reaction was not very surprising but his decision to go to Karachi definitely was not expected. I did not expect him to be this gutsy since he stole from these people but now that Sitara is the main heroine of Farhad's film, his hands are tied therefore he might have to entertain these people.
There was a lot of shouting in tonight's episode and rightly so too. Farhad shouted almost all through this episode which was justified. Mikaal Zulfiqar's acting was effortless throughout. Saba Qamar acted brilliantly, she is a really good dancer too but Sitara's loud make-up even when she was unwell and the missing duppata did not go well with the character since in the last episode we saw her making it clear that she was not going to compromise on her values. There is obviously going to be big change in her dressing and lifestyle now that she is one her way to stardom but in that particular scene in which she goes to give Farhad lunch the missing duppata did not make sense. This was obviously a minor glitch which can easily be ignored. Meera once again did complete justice to her role. Mein Sitara continues to be exciting and gives you something to look forward to.
The preview of the next episode showed Sitara's parents turning up at Farhad's door step. I am definitely looking forward to their meeting with Sitara. The preview also suggested that Farhad might start getting jealous of Sitara's hero which means that he feels possessive about her! The next episode of Mein Sitara promises a lot of drama.
How many of you watched this latest episode? Don't forget to share your thoughts about it. If you missed it, watch it on http://www.dramasonline.com
Fatima Awan