It is usually said and many of us believe it too that a woman makes or breaks a house but while watching tonight's episode of Mera Naam Yousuf Hai I couldn't help but think that in a household like that of Noor Mohammad there is very little that a woman can do to 'make a house'! Noor Mohammad could not stop blaming the women of his house for everything that went wrong in his life and not to mention for being 'kamzad' because they could not live their lives according to 'shariah'! And he did all that judging while he made plans to run away with Bushra if that is what was needed for him to be with her. It is ironic that someone like Noor Mohammad who believes in going all out to get the woman he loves from making plans to elope to taking help from police would think that a man much younger and more 'qualified' to be in love deserves to be punished in the worst way possible. Everything that Noor Mohammad does in some way has God's writ – something that he uses to justify all his actions. People like Noor Mohammad must think that they can fool God too!
We saw Noor Mohammad literally pleading Bushra and Tehmina's case because he understood so well why they would have to resort to extreme measures but he fails to understand the women in his house because understanding them would require going against his wishes. The fact that Noor Mohammad gives Bushra and his phupo so much respect and has absolutely no problem kneeling down to their demands goes to show that he is perfectly capable of letting women take the lead but that is a rule that does not apply in his own house. It was gratifying to see Afia taking a stand for her daughter in a way that will actually help make a difference in her life. Zulekha taking refuge in Yousuf's house wasn't exactly the best course of action since the police was bound to look there before any other place but since she wanted to buy herself some time therefore the seemed like the only place she could go to. The scene when Hajra is leaving with the police and she asks her mother to give her her blessings was heart wrenching. Afia cried because Hajra needed her blessing not for a happy life but to face what was coming ahead.
Everyone in Yousuf's house wants to see him spending the rest of his life with Madiha and for the first time we saw someone talking about it directly with him. On the other hand Daa Ji's question from Madiha about how she was treated in Yousuf's house also went to show that he might be thinking on those lines too. Madiha has let her brother down once and she does not want to do it again therefore she wants Yousuf to stay away from them. Madiha and Daa Ji's conversation like always was short, sweet and touching. The honesty with which these two share their feelings with each other is what makes their conversations and their relationship so special. Madiha's dialogue "tum is tarah pooch thaaj krte ho na tu lgta hai k mei achi lrki nahi hu, baar baar tumhara itemad tootta hai tu lgta hai mei achi behan bhi nahi hu" was exceptional. Only a very sensitive writer could write something like this because you wouldn't expect a man to understand how a girl feels when she is questioned the way Daa Ji questioned Madiha and later on his reaction must have made her feel even more guilty.
Noor Mohammad's conversation with the policeman was one of the many interesting conversations in tonight's episode. The way the policeman interrogated him because he found it hard to believe that someone would want to do all that he was doing to his daughter and the manner in which Noor Mohammad answered him made for a conversation that said a lot about both these characters. Noor Mohammad obviously thinks that he and his "pakka Musalman" beta are out to wage jihaad against the "kamzad aurtei" who did not have any respect for the rules set by Shariah! That would be height od being misguided!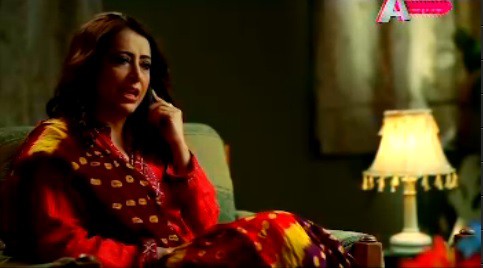 I would give full marks to Imran Abbas especially for those expressions which he gave when his step mother showed her support for Zulekha. Maya Ali's expressions when she unveils her face in front of Yousuf's house were priceless too. Hina Bayat's acting has been flawless throughout the play but her expressions in the scene when Hajra is leaving with the police were spot on. The music in the background just added to the intensity of that scene. All the actors have done a commendable job which makes everything look so real.
The preview for the next episode made me sad except for the part of course when Zulekha hits Imran Mugheez and Yousuf's father shows Noor Mohammad what a father should do for his children!
I don't see Mera Naam Yousuf Hai's story as a love story any more but it is more of a battle between good and evil. It is most certainly the good people – their honesty and their relationships with each other that keep me hooked to this show. A special thanks to Khalil-ur-Rehman Qamar for a beautiful script, Mehreen Jabbar for the brilliant direction and all the actors for giving their best performances in this drama.
Do share your thoughts about tonight's episode.
Fatima Awan