I have only one complaint with this latest episode – it ended too quickly! Mera Naam Yousuf Hai always proves to be very engaging and it always leaves you wanting more of the beautiful characters and their stories every time it ends. Zulekha has finally fallen for Yousuf. In the last episode most of us felt like Zulekha was being selfish but in this episode when Zulekha thinks of Yousuf right from their first meeting to the last one I was pretty sure that Yousuf was the person she had been waiting and looking for all her life. Zulekha told Hajra in one of the previous episodes that whenever she got married she would like it to be a love marriage, it was just a matter of finding the right person. The fact that Zulekha tried her best to stop this marriage but decided to leave things to fate when the marriage was inevitable made it easy for me to connect to her character. Zulekha is strong but she also knows when to surrender. That is probably the only difference between Zulekha and Afia Begum, both of them like to have their own way but unlike Afia Zulekha is not willing to put everything at stake.
Yousuf and Daa Ji's plan was pure genius, I am sure many viewers like me did not see that coming at all. Ultimately what they did will land them in trouble but they managed to stop the marriage for now and the preview of the next episode showed that what Yousuf did will finally prove to Zulekha that everything that he said about loving Zulekha was true. Zulekha's conversation with Hajra showed that she needed reassurance. She wants to be loved the way Yousuf loves her but she also had a difficult time accepting that his feelings for her were genuine. Yousuf's conversations with Madiha went to show how different their views about love were. Yousuf believes that everything is fair in love and war but Madiha feels that putting someone's life in danger is never justified which was the primary reason why she never told Yousuf about Zulekha's nikkah. Madiha is a very sensible girl she tried to stop her brother from telling Yousuf what was going on but when it was inevitable she decided to tell him herself which I thought was a very wise move.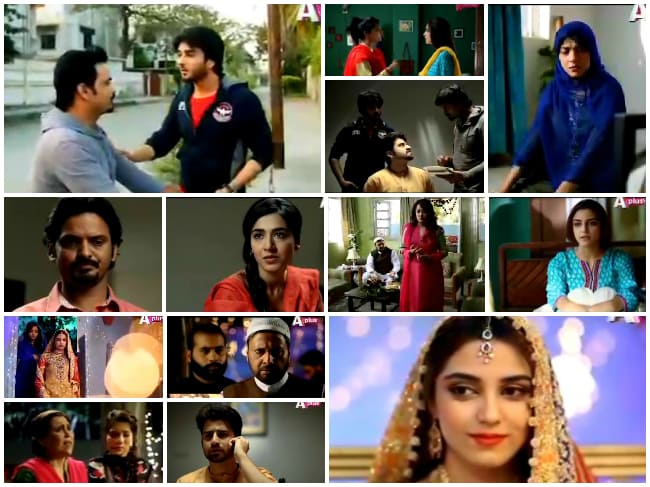 The scenes with Madiha and Daa Ji in them were touching as usual. The " tumhei ami aba yaad aa rahey thay" was the perfect way to start a conversation which was not an easy one to initiate. Daa Ji understands what Madiha is going through and he feels helpless but at the same time he is also very convinced that Yousuf should be with Zulekha. Noor Mohammad's " kitne kaam adhure reh gaye" dialogue went to prove that he was looking forward to his nikkah with Bushra more than Zulekha's wedding. Zulekha's wedding was only important to him because that was the only way he was going to get married to Bushra.
The best thing about this play are the beautiful characters, apt portrayals and the perfect direction. I love the attention to detail; the samosas, the hot tea and the beautifully shot scenes kya baat hai! All the actors including Maya Ali acted exceptionally well in tonight's episode. I missed Yousuf's parents in tonight's episode.
The preview of the next episode suggested that Yousuf is going to get into trouble once again but this time Zulekha will feel very differently about the situation. MNYH is the perfect play to watch on a Friday night when you want to relax, unwind and be entertained.
Do share your thoughts about tonight's episode.
Fatima Awan