So, what happened in this episode? Yeh janna kissi kay leeyay zaroori nahin hai! Haha, how many times did Mushq use that line on Dabbu. Sometimes Mushq is this strong headed, proactive, go getter sort of girl who knows what she wants and took a stand for Fahd against her father. And then there are moments when she resigns herself to fate (?), goes into a trance and agrees to marry old men! I am about to write this girl off as being schizophrenic. Seriously, where do I send the bills for all these diagnoses?!
Anyways, Mushq decides to attend her new friend's wedding and appears just in time for the rukhsati. Dabbu and Striker are already there. I found it really odd how Mushq recognized Dabbu's voice and when she turns she and Dabbu instantly recognize each other. Maybe they had crossed paths earlier then but I seriously do not remember when and how. Or maybe since he was the mohalla's renowned gunda, sorry, social worker, she had been aware of who he is. Oh well. Whatever and however, they do instantly recognize each other and it did seem natural that Dabbu would instantly look around for Fahd upon seeing Mushq there.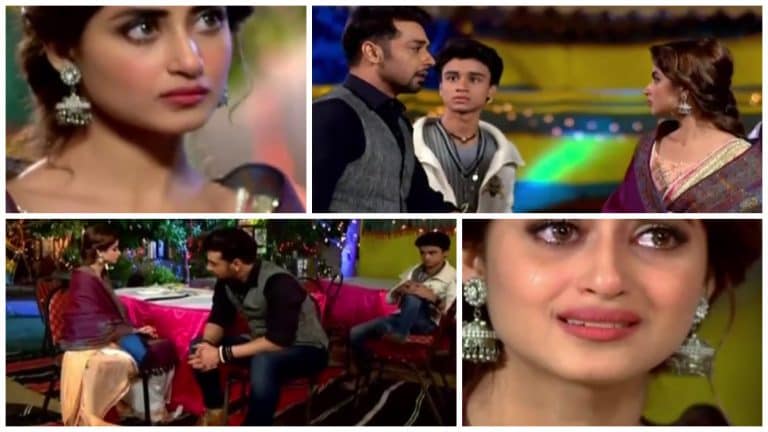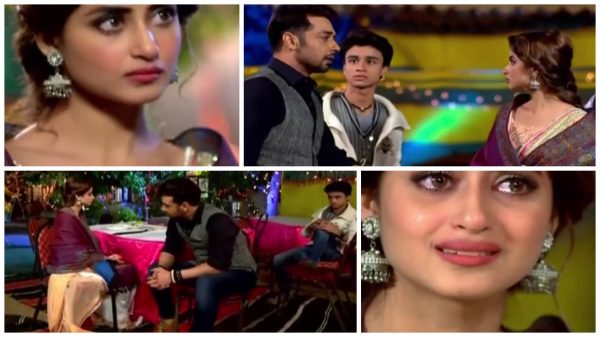 Following all the 'I saw this in his eyes' and ' you look in your heart and you will see this' – I mean, really what are words for. The only expressions I recognize are a glare and a smile! Mushq is back in her trance like 'Bebo ma'am has done a lot for me so I shall lay my neck down for her' state. I have said it before and will repeat myself here when I say if there was to be no eavesdropping in our dramas, half the stories would never progress. Mushq very conveniently overhears Bebo talking to baray saeen (man, what a character he is!) and realizes her true intentions. Switch over to her 'other personality' and Mushq dashes out of the house. Where? No idea. With Orya and Bebo out in search for her and our own desi Sherlock Holmes and Dr Watson also looking for her, thankfully Mushq comes across them. And then switch back to the 'first' personality and she refuses to go with Dabbu! I mean, hello! She is 'escaping' from Bebo, in a village unknown to her, in the middle of the night – but refuses to leave with Dabbu. So glad he manages to talk sense into her and she gets in to their car.
So, Mushq is brought back to her father's home who minces no words in making it clear he wants nothing to do with her. Seems like Mushq will end up being with Dabbu now. Mushq wanders off to Zeba's house. To do what, really? Zeba's life, we see is the same. Baji full of venom and bitterness and Niyaz being ultra sweet and Zeba's emotions ping-ponging between reactions to Baji and Niyaz's attitudes. Uff!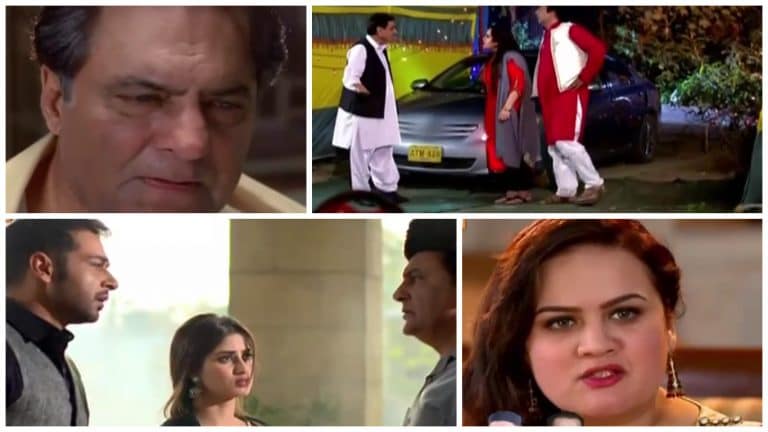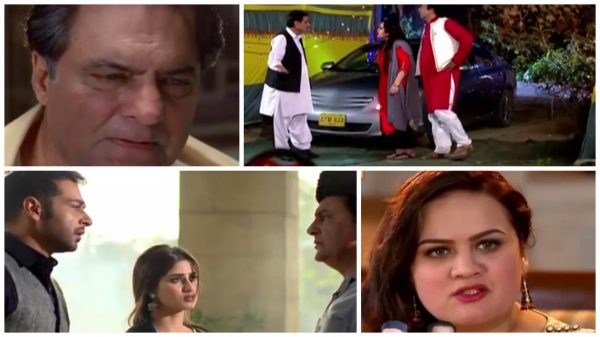 Today's episode was much better than the previous ones. Fast paced and I liked Sajal Ali and Faysal Qureshi's acting. Sajal Ali looked very pretty in this episode. I could have done without Master Sb's scenes though. Next week's promo seemed a bit misleading to me where Mushq seems to have accepted happily that she is to live with Dabbu and is smiling in a couple of scenes. Maybe that will come later or maybe her split personality has taken over – who knows! If I am not mistaken, Aslam Bhai gives Dabbu one day to either throw Mushq out of his house or leave the mohalla (with Mushq I assume). So, this was the moment we all had been waiting for – Mushq and Dabbu's story to begin and I will say I am not disappointed in how it all began in this episode and from the looks of the upcoming one. Filmy, dramatic, far fetched – but looking forward to it!
How many of you are glad to see the turn this story has taken? Duhh, I know all of us are! I do wonder if this is the last of Bebo and Orya? Would love to hear your thoughts!
Kunwal Javid