Well, well, well! Quite a few developments in the past few episodes that seem to have moved the story forward except they have not really done so – save the last scene of the 10th episode.
Mushq – her track in these past few episodes seems like a Ludo game. Gets a six and hops out happily from behind her locked bedroom door, plays a bit, dodges a bit and then Master Sb catches her out and she is sent promptly back home – locked up in her bedroom again! I could totally understand Mushq's frustration with Fahd when he kept saying 'bharosa karo, blah blah' but was not actually doing anything for 'them'. Master Sb happens to come upon them during one of these unproductive meetings and is furious. Fahd is beaten up by the mohalla walay (extremely 'vaila' mohalla I have to say) and ends up spending a night in jail.
Mehru Ji – she has had me confused from the first couple of episodes. She flits around Dabbu but there seems to be more to the story. We did begin to realize that she has her sights set on Fahd now but I do not understand her hesitation to help Aslam Bhai then against Dabbu or her conversations with her mother regarding Dabbu. Her 'mehman nawazi' at Dabbu's house when she took care of Fahd made me laugh and cringe at the same time. I half expected her to not deliver Fahd's letter to Mushq but she surprised me when she did – and then confused me when she did not give Fahd Mushq's letter. Why give Mushq the letter in the first place? Her whole game is confusing me for if it is Fahd she wants how does she plan to do that with Dabbu in the picture? The whole Aslam-Dabbu showdown was not meant to end in murder then for Aslam had the chance to shoot Dabbu again but did not. She does 'express' (read: shriek) her feelings to Fahd which ends with him pushing her away and Dabbu walking in. That's the end of Fahd it would appear.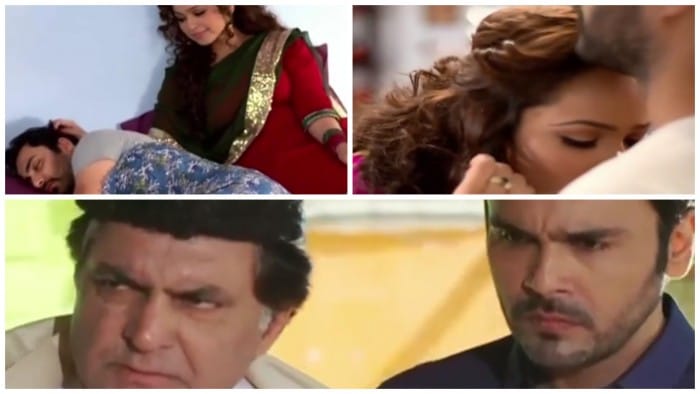 Nayaaz and Master Sb – These episodes introduced a new character Nayaaz (Kunwar Nafees) who is an old student of Master Sb's and has returned to the mohalla now. Master Sb thinks he is the answer to his Mushq problem and Nayaaz is more than willing to marry Mushq. Kudos to Master Sb for finding a 'hum – constipated expression-ed son in law'.
Zeba – bleat, bleat, bleat. And – bleat, bleat, bleat.