This episode of Meray Pass Tum Ho was mind-blowing. Khalil-ur-Rehman's script has taken off for sure, Humayun Saeed and Ayeza Khan's performances tonight were outstanding and tonight's episode was brilliantly directed as well. The evolution of the characters has been the best part of this drama. Mehwish's defiance, Danish's helplessness and Shahwar's manipulation was covered perfectly in tonight's episode. Few weeks back, it was difficult to even imagine that a drama with literally three characters would end up being so engaging.
The first few episodes of Meray Pass Tum Ho were repetitive and confusing but it seems like it will turn out to be an interesting play after all. Even tonight, I couldn't help but wonder what Danish's background was but I must say that the way his present situation has been translated on screen, I am more than willing to ignore the lack of a proper background. The writer definitely has something solid to offer and Nadeem Baig deserves all the praise for directing every single episode so well.
This was the kind of episode in which every single dialogue, situation and even expression counted – the actors made sure that everything which was penned down on paper came alive on screen. It was another episode which kept me completely hooked. There wasn't a single scene which was out of place or unnecessary. The way the mystery surrounding Shahwar and Mehwish's meeting was revealed was also terrific. This was a really smart move by the writer since this meeting piqued the viewers' curiosity after watching last week's episode.
Meray Pass Tum Ho definitely has my undivided attention and this drama proves that an old story too can be told from a fresh perspective. Very often we see women fighting to keep their marriages intact in dramas but rarely do we see men doing the same. Danish's attempts to make Mehwish stay and blaming Shahwar more than Mehwish is definitely something brand new. He is the one who wants to save this marriage while Shahwar is doing everything in his power to break it.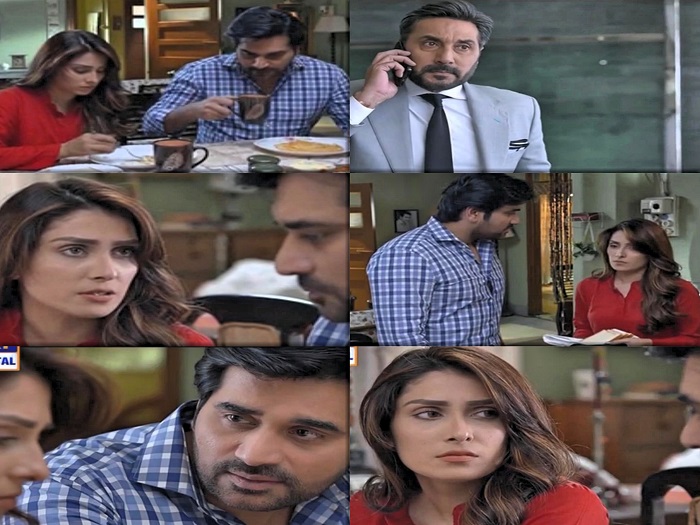 Poor Danish
Tonight's episode focused completely on Danish's desperate attempts to make Mehwish understand that he was more than willing to forgive her, while the defiance in Mehwish's eyes clearly indicated that she no longer loved this man with whom she had spent so many years of her life. Danish's reassurances throughout this episode and his attempts to give Mehwish everything she once wished for had absolutely no affect on Mehwish. Those scenes covering how desperately Danish wanted life to return to normal were superbly done. While Danish tried hard to please Mehwish, he couldn't help but mention 'last night'.
Danish's behavior when they went to the beach and the dialogues showed that he was more than willing to change himself even though whatever happened was not his fault! Danish's character has been etched-out wonderfully and Humayun Saeed's acting tonight was beyond impressive. Humayun Saeed nailed every single expression tonight – his expressions on the dinner table when Roomi made those remarks were priceless. Danish is fighting a losing battle, he picks himself up every time and fights harder than ever and even now he has faith that Mehwish will eventually go back to being her old self. Danish is in denial because he cannot bear the thought of losing Mehwish. At the same time Danish's fears and his anxiety was translated impeccably through various scenes. It was also good to see Danish making a decision for a change despite of Mehwish's narazgi and zid. He knows what is at stake and what the consequences can be if he allows Mehwish to work for Shahwar, he made that mistake once and does not want to make it again.
The phone call from the desk in the office was too cute, this was another scene in which Humayun Saeed's expressions were right on point. Danish made the viewers feel for him every step of the way and this time around Humayun Saeed did not overdo the becharapan at all. Danish's interactions with Rumi were also the highlight of this episode.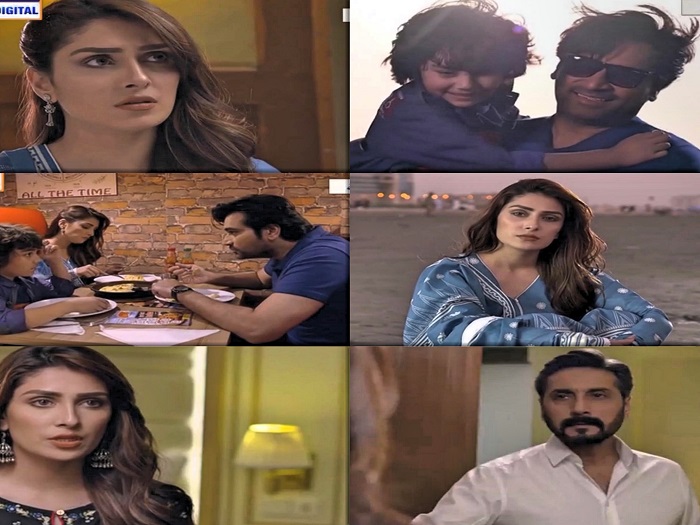 Mehwish Has Made Up Her Mind
The 'meeting' in Islamabad was Shahwar's way of 'tempting' Mehwish even more. He gave her a choice and it didn't take Mehwish too long to decide what she wanted. It was sad watching Mehwish give in to the temptation so easily. Mehwish referred to Danish as 'wo' in this episode while talking to Shahwar – like he was the 'other man'! The disconnect Mehwish felt after finding out how much Shahwar 'valued' her was quite obvious past two weeks too but tonight more than ever it was apparent that Mehwish felt nothing but 'sorry' for Danish. Right from the start it seemed like Danish loved Mehwish and Mehwish perhaps married him in the hope that he will give her a 'good' life. Mehwish has seen what it is like to be a rich man's girlfriend therefore being Danish's wife is just not appealing enough. Mehwish is so sure she deserves better thanks to two men who compliment her on regular basis. Mehwish's 'confidence' in her good looks makes her believe every single lie Shahwar tells her.
Shahwar is a manipulative and clever man who knows how to play his cards right. He realized early on that Mehwish is attracted to his status and wealth. Shahwar also comes across as a shady person, perhaps someone who derives pleasure out of  breaking marriages. Shahwar could conveniently have an affair with Mehwish but he has control issues, he wants Mehwish all to himself. I find it hard to believe that he 'loves' Mehwish because the way he talked to his wife tonight showed that he is showing Mehwish a different side of his personality. The writer has kept the curiosity alive by not revealing this character entirely. We have seen Shahwar interacting with Mehwish more than anyone else and we have never seen a side of his personality when no one is around. Mehwish trusts him blindly because the only man she has been close to is Danish – someone who never lies and is honest. Mehwish's friend is suddenly out of the picture. She used to share every little thing with her but now she is nowhere to be seen.
The scene at the beach was one of the best tonight. Ayeza Khan's expressions in this scene and her thoughts conveyed the message so well. Mehwish is not happy in this marriage any more – she has planned a future without Danish therefore no matter what he does now, it seems, she is going to leave him. Mehwish's logic clearly is that she deserves better than Danish.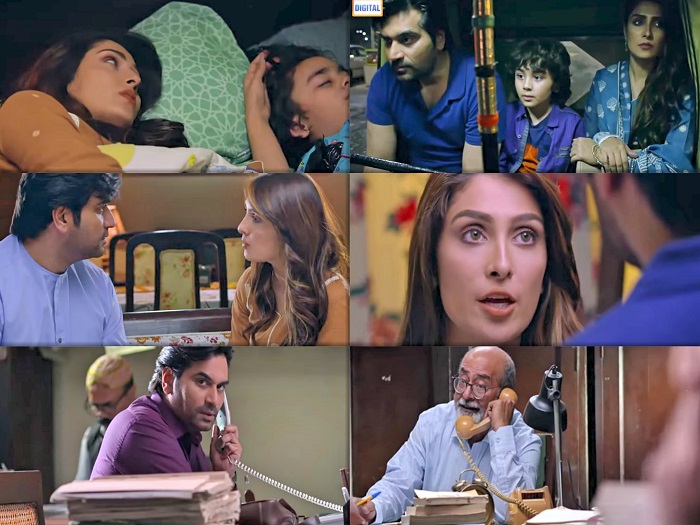 Final Remarks
Tonight's episode had so many meaningful scenes which made this episode engaging as well as emotional. This episode also had the most brilliant performances by all the actors involved. Adnan Siddiqui has not only nailed the expressions but the look he sports in this drama goes so well with his character. Ayeza Khan and Humayun Saeed deserve a standing ovation for their flawless performances. Nadeem Baig's direction definitely gives this drama an edge.
Eagerly looking forward to the next episode. Do share your thoughts about this latest episode of Meray Pass Tum Ho.