Tonight's episode of Meray Pass Tum Ho introduced another major character in the story and it also revealed a little bit more about the other characters. So far, the focus has been entirely on the leading characters and what seems somewhat odd is that so far we don't know much about the background of these characters. Apart from everything which Danish has shared about his father, the writer has not revealed much about the families of these characters which makes it difficult to relate to their situations at times.
We found out in this episode that Danish and Mehwish were madly in love even before they got married and Mehwish was expecting more from Danish. Mostly, when leading characters are introduced, their families are also shown but this second episode of Meray Pass Tum Ho was a lot like the first one which left a lot of room for speculations. The only surprising aspect of this episode was everything which was revealed about Anoushey's character, other than that everything else went as expected.
The Trade-off
Danish decided to make a really difficult trade-off in the previous episode when he chose to go against everything his father had taught him to please his wife. The trade-off he made turned out to be quite lucrative since the department he was in (like most of the government departments) entertained officers who chose to 'cooperate' with the bigwigs more than an honest person. Danish's attitude clearly showed that he 'loved' his wife enough to do something which was clearly against everything he had ever believed in, 'abba ko laat marna' dialogue pretty much summed up what this trade-off meant to him. Danish however was quite happy with this decision since this was the only way to please his wife. Danish's becharapan and his bholapan was further elaborated by showing how Mehwish was not home when he came with the gift. From this episode and the promo of the next one, it was quite evident that Danish will be the 'victim' in this story and Mehwish is going to be the one who will be responsible for everything he does wrong.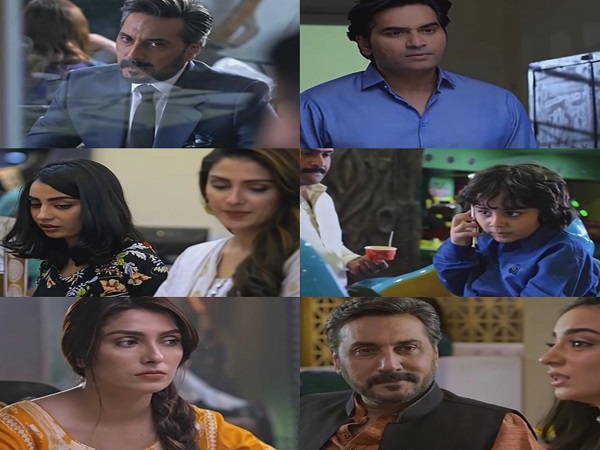 Mehwish's character comes across as more immature than anything else since she isn't entirely careless but then she went away for the entire day and did not even message her husband. She is greedy and materialistic enough to 'compromise' on values and principles. She is more 'flexible' and 'open-minded' than her husband. At the mehndi, she was okay with drinking and she gave Shahwar an inquisitive glance when Anoushey was telling her all about him. Shahwar was attracted to Mehwish right away and the way Danish sensed that was the most interesting and relatable aspect of this episode.
The Modern Friend
Anoushey, it seems is going to be a 'bad influence' on Mehwish. Anoushey is rich but definitely not classy. The way she looked at Mehwish when she wanted to keep her jewelry bag with her was condescending. This made me wonder why Danish didn't know just how modern she was or that she was divorced. Although Danish and Mehwish have been married for a few years but conversations like the ones they had on the mehndi make it look like, they are just getting to know each other and the people associated with them.
Final Remarks
Tonight's episode didn't have anything grand to offer, the story so far is pretty simple and there is nothing new about it. Nadeem Baig's direction in this episode was more impressive than Khalil-ur-Rehman's script. Ayeza Khan gave a solid performance and Adnan Siddiqui's acting was also effortless in this episode. Ayeza Khan and Humayun Saeed share great on-screen chemistry because of which even though the script leaves you confused at times, these two are convincing in their respective roles. I absolutely love the child star playing their son's role.
Mehwish is a very attractive woman and her husband knows that. Danish's dialogues about not wanting to use things which have been in someone's use already showed how possessive he was about his wife. This was his way of telling the neighbor off who was clearly more interested in Mehwish. This episode also ended too quickly and it basically covered one more day in Danish and Mehwish's life. When Hira Mani said that Danish was the actual 'heroine' of this drama, I didn't quite get what she meant but after watching these two episodes I am pretty sure now that Danish is going to be the male version of the bechari aurat who doesn't get the love and respect she deserves from her spouse. The story is predictable but I am waiting to see how it's covered.
Do share your thoughts about tonight's episode of Mere Pass Tum Ho.