Beauty and The Bonga 
With Meray Pass Tum Ho ARY has started a new trend of not interrupting the drama with any commercial breaks which is definitely a good thing. The duration of each episode however remains the same and therefore these episodes end relatively earlier than the usual time. In this episode the writer yet again focused entirely on the main characters and I must say that Danish's innocence (bholapan or bongapan?) was established even more in this episode. After watching this episode, I am convinced that Humayun Saeed has given this character the right treatment but I am having a really difficult time feeling for Danish. On the contrary, I find his bholapan/bongapan quite funny. The fact that everyone keeps on telling Mehwish that she could have done better makes Danish's personality traits more relatable but it is difficult to believe that these two have been married for 7 years. How did someone like Mehwish stay with a man like him especially considering the fact that she had a really difficult time holding herself back when she was with Shahwar on the dance floor? Humayun Saeed's dance moves were right on point – weird and incoherent – but his reaction, fears and insecurities were so exaggerated that I had to go back and watch those scenes again since I got the feeling that perhaps he had a 'drink' or two unknowingly!
The Insecurities
Danish decided he needed to go show his dance moves when Mehwish told him about the excuse she made for not dancing. What followed was extremely funny, while Danish was okay with dancing with his 'behan' – who he was judging for dancing with a na mehram – he completely lost it when he saw Mehwish dancing with Shahwar. We all know that ultimately Mehwish will somehow end up with Shahwar therefore this could be Danish's intuition telling him to keep his wife away from this man. While it was completely understandable why a conservative man like Danish would not allow his wife to do something like that, the way he completely lost track of everything the next morning didn't make any sense. That is when I started wondering if he was drunk the previous night but apparently not – thankfully! The early morning conversation on the breakfast table did not work for me at all, it was too filmy and not easy to connect to.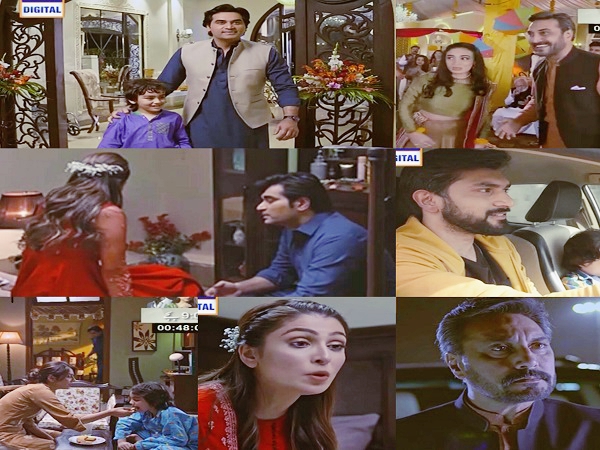 The fact that Danish was not comfortable going to the wedding the next day and told Mehwish not to wear that blouse made perfect sense. Every scene tonight, just like the previous episode, showed how incompatible Danish and Mehwish were. Danish loves Mehwish madly and can do anything to make sure that she stays happy and also that she stays with him but Mehwish is clearly not happy. Mehwish also didn't think she did anything wrong which once again showed her 'open-mindedness'. Also, when men flirt with Mehwish, she tells them off in a certain manner but at the same time she recollects what these men say to her. The scene in which Mehwish decided to take a ride in Monty's car was yet another one which made me wonder why there was such a communication gap between Mehwish and Danish. Danish clearly dislikes this man but somehow Mehwish thought they are really good friends! These two have been married for 7 years yet they know so little about each other. Danish wants to be rich quickly, he wants a car and anything else which makes Mehwish happy – he has gone from being responsible and honest to completely reckless and fearless. Ayeza Khan so far has translated her character on screen in such a manner that she keeps you wondering – you do wonder how she will ultimately fall for Shahwar.
The Necklace
Mehwish finally found the necklace and even though Danish is making easy money, the way both of them were okay with such an expensive necklace just lying around didn't make a lot of sense. It all started with the necklace and now even though Danish's boss warned him of the dangers, he has decided that he needs to get everything Mehwish wishes for and he wants to do it fast. The preview of the next episode showed Mehwish complaining about her son not being in school – sell the necklace please ;)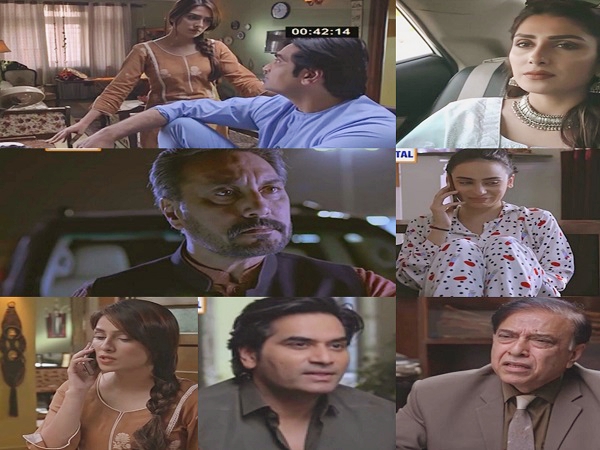 Final Remarks
Danish's innocence, his simplicity and his love for Mehwish hasn't had the kind of impact yet which I was hoping it would have. He comes across as a foolish man who has made a lot of  irrational and impulsive decisions lately. This makes you wonder how he managed to stay this honest for all these years. Ayeza Khan has underplayed her character which is why Mehwish's negative traits do not overshadow her overall personality. In my opinion, watching Mehwish's journey will be interesting. The director Nadeem Baig has left no stone unturned to add variation and detail but the ads on the screen were extremely bothersome and distracting.
How many of you watched tonight's episode? Do share your thoughts about it.