Meray Pass Tum Ho is turning out to be a slow-paced drama which is already getting repetitive. The characters have no background, no relatives and their present-day story too is moving forward at a snail's pace. While it was good to see a few unexpected scenarios in this episode but overall this was another 'confusing' episode of Meray Pass Tum Ho which yet again made me wonder if I had missed out on something. Some of the conversations tonight didn't work for me at all since the heavy duty dialogues did not fit into these simple situations. There is always a way to tell a done-to-death story in a different manner but so far there is nothing 'refreshing' about this drama.
Danish's New 'Friend'
Tonight's episode opened with a detailed recap of the last scene of the previous episode followed by another question answer session between Danish and Mehwish. Some of Danish's dialogues about Mehwish's character made me cringe and they didn't go well with his character at all. After the nap, Danish woke up with a different frame of mind and allowed Mehwish to go to the wedding. This was one of those unexpected scenarios which made this episode bearable. Later on, Danish's decision to be more 'open-minded' and him being 'friends' with Shahwar was yet another surprise especially considering the fact that Danish does not believe in making friends. Shahwar too was much more contained and in the mood to impress since this time around he was sober. Mehwish's fixation with Shahwar and the grand wedding once again reflected her interest in material things. While Danish did not think twice about what he was going to wear, Mehwish wanted to look good – probably because she liked all the attention she got.
The Confusions
Danish's 'Khuda ki kasam' was just as difficult to connect to as Mehwish convincing him yet again that Aba was dead and he could go on with his life whichever way he deemed fit. Didn't he take bribe already? Also, he was more than willing and eager to follow this path until last week. While his confusion is understandable but this entire scenario didn't make sense. First Danish told Shahwar that he had never taken bribe and then he was shocked that someone was offering him bribe!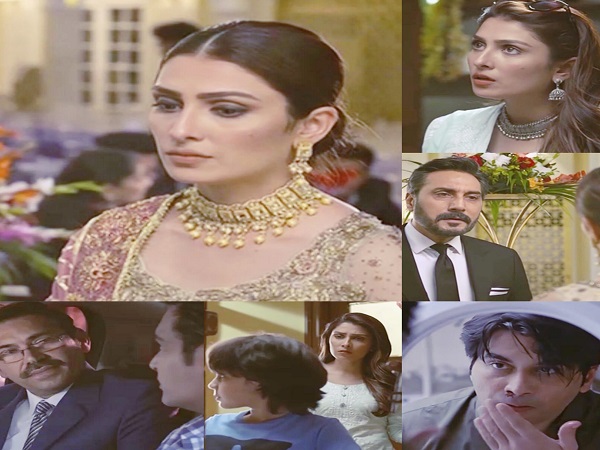 Although Mehwish's character isn't likable but it makes much more sense than Danish's character. The fact that Danish is too simple has been well established in these 4 episodes but I am still waiting to know more about Mehwish's background, I was hoping that she will say something about her family when she talked about Anoushey's brother's wedding but I guess her family will always stay a mystery. Once again, Danish forgot the key and Mehwish forgot to tell him that she was going out – a scenario which is being shown repeatedly! Humayun Saeed's body language in the scene covering Danish's confusion and fear when he came home with all the money was right on point but Danish's masoomiyat is more annoying than likable. This masoomiyat is basically there to show that he is not doing any of this out of his own free will but Mehwish is making him take bribe and change everything he has been taught. There is nothing likable about watching a grown man act like a child just like there is nothing fascinating about watching women play the victim in every other drama.
Final Remarks
Danish's character made me cringe and laugh at the same time. There is nothing new about Mehwish and Shahwar's track but the way this part of the story is being taken forward is slightly more interesting than Danish and Mehwish's track. In other plays which followed the same storyline, the men were simple but their masoomiyat was never highlighted in the way it has been in this play. Nadeem Baig has done everything in his power to make every scene look as realistic on screen as possible and the camera work has been superb too but other than that Meray Pass Tum Ho doesn't have much to offer so far.
Do share your thoughts about this episode of Meray Pass Tum Ho.