This was a powerful, satisfying and emotional episode of Mere Pass Tum Ho, perfectly put together by the entire team. It had the sweetest (Rumi and Danish) and the most gratifying (Shahwar and Danish) scenes to its credit. The dialogue 'Samjo tu yahan se ghr torne ke jurm ki saza shru hoti hei' was the most meaningful dialogue tonight. Tonight's episode of Mere Pass Tum Ho also showed that Danish's weakness turned into his strength when Rumi made him realize that he was banking on him! No more Mr. nice guy would be the best way to explain the change in Danish's personality tonight. His reactions, the dialogues and that one conversation with Rumi on the phone basically summed up everything Danish was till date and what he wanted to be now. The child star playing Rumi is absolutely adorable and the director Nadeem Baig deserves due credit for capturing his beautiful expressions. Even though some of the things Danish said to Rumi, made me wonder why he was sharing such details with such a young kid but Rumi's innocence outshone everything else.
Rumi Makes a Decision
Tonight's episode opened with a confident Mehwish asking the headmistress to see her son. She obviously did not expect such a reaction from Rumi. Rumi's conversation with Hania was penned down so well since it showed that although he missed his mother, he was not willing to forgive her. Rumi's anger was the perfect way of showing what this child must have gone through when his mother disappeared all of a sudden. All the scenes tonight covering Rumi's state of mind were the highlight of this episode. Watching him cry at night but acting like he was really strong during the day basically showed this child had so much to deal with at such a young age. While he made up his mind that he was not going to forgive his mother, he was willing to go along with his father's wishes as well. The smile on Rumi's face when Danish told him he was going to fight for him was priceless.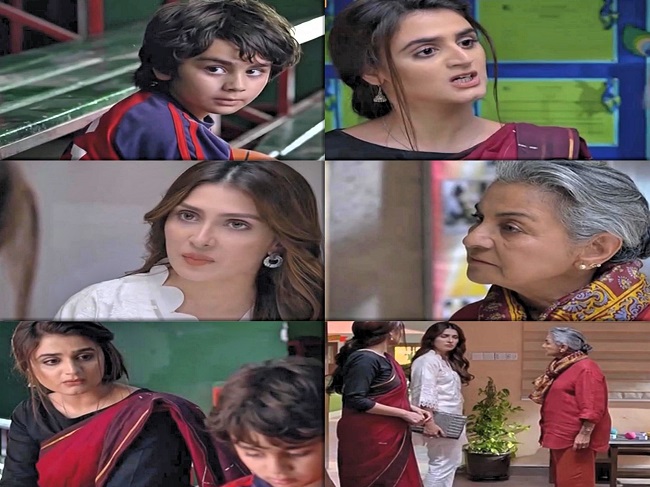 Mehwish and Hania's confrontation was interesting. Mehwish's shock and shaken confidence was translated well on screen by Ayeza Khan. Hania isn't that bold or fearless after all, she was clearly confused and slightly scared when Mehwish told her off. This side of her personality was actually interesting to watch. The headmistress stepping in, made this scene so realistic. Later on, Hania too in a way urged Danish to take a stand for his son.
Danish Is No Longer Scared
The most important question 'why did Danish treat Shahwar with so much respect' was answered in the most apt manner tonight. All this time, he was 'scared' of Shahwar because he was rich and powerful. For the longest time, the viewers watched Danish call Shahwar 'sahab' and he never told him off and the viewers wondered why. Well, we found out today that he was always terrified of the repercussions and he always thought about the consequences. While he was quick to give Monty a piece of his mind, he never had a similar confrontation with Shahwar until today. Danish has always been shown as the 'nice guy' – a man who would try his best to avoid conflict. The conversation at the place he usually has his food definitely added to the change in him. Was it that listening to people talk about his personal life like that made him see things differently? Was it because he got the hint that Shahwar never got married to Mehwish? Did it make him realize what a coward he had been? Or was it the fact that no longer 'feared' Shahwar after listening to his own employees talk about him in that manner? Or maybe it was just anger. Even though he already had that conversation with Rumi but the way he told the guard about the divorce and called Rumi immediately clearly showed that the scene at the restaurant was the turning point for him.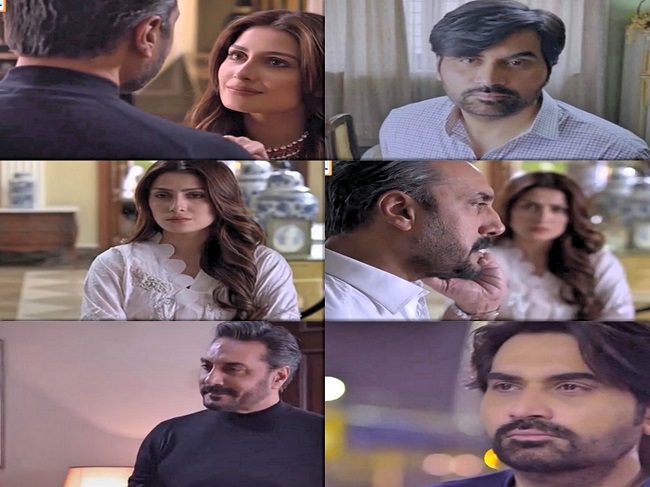 Instead of playing it cool and thinking about things long before taking any action, Danish instantly decided to take things in his own hands after that. The thappar even then came as a complete surprise – definitely a pleasant one and Shahwar's shocking expressions were extremely gratifying to watch. He deserved the slap and everything else. This scene obviously reminded me of their first meeting, when Shahwar made him wait and later on made him listen to that conversation! This time Danish was in no mood to wait or listen to what Shahwar had to say. It remains to be seen now how Shehwar will react. Everything happened so quickly and Danish's entire body language was so confrontational that no one really got a chance to do anything. It was however strange that Shahwar did not even lift a finger, why? So far, we have seen a side of his personality which clearly showed that he does not take no for an answer and he knows how to get what he wants but why wouldn't he hit Danish back in such a situation? Danish is no longer the heart broken and dejected lover but he is now a father who will do anything it takes to protect his son. This is going to be really interesting! Humayun Saeed and Adnan Siddiqui both gave outstanding performances once again tonight.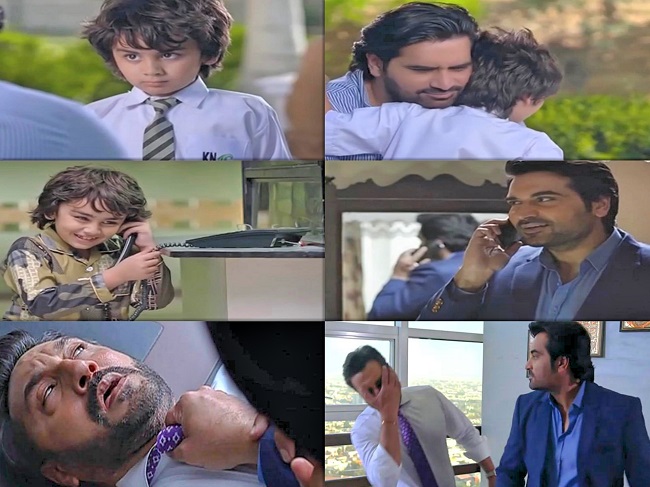 Final Remarks
Well, team Mere Pass Tum Ho sure knows how to keep the viewers completely hooked. Beautiful dialogues, superb performances coupled with Nadeem Baig's phenomenal direction make every episode of Mere Pass Tum Ho a must watch. Although the change in Danish was the most important development tonight but little Rumi was the star of the show. His scenes were an absolute delight to watch. The preview of the next episode seemed interesting. Is Shahwar losing his grip? Will we see another side of his personality? What is next for Mehwish? Mehwish had so much faith that Shahwar will win this fight for him but it seems like he will probably not be too eager to pursue it. Is he scared of a scandal? Waiting to find out.
This episode had so many interesting conversations, many of which I mentioned in the review. Another one which definitely deserves a mention here was the one between Hania and her sister, the balaa dialogue was remarkable.
Did you watch this latest episode of Mere Pass Tum Ho? Do share your thoughts about it.