Meri Guriya Episode 23 & 24 Story Review – This second last episode of Meri Guriya covered how difficult it was for Shehnaz and Safina to get justice. Yawar stood by their side every step of the way and it has been pleasant watching this positive male character in a drama in which most men are just plain evil! The situations that were shown tonight had tons of potential but not all of them had the impact which they could have had. The performances like every other week were mind-blowing but some of the dialogues were not as powerful as they should have been. Also, even after Dabeer confessed to his crime somehow his confession was not taken into account in the court. The leading characters especially that of Safina and Shehnaz are the best thing about this play right now and the performances never falter.
Vested Interests Stand In The Way Of Justice
These episodes of Meri Guriya showed how people's vested interests, arrogance and a mother's blind love for her son stood in the way of justice. For Sheikh Sahab saving Dabeer was always a matter of his pride and "reputation" but now he also has added interest because Dabeer's parents are willing to marry off their daughter with him. Similarly, the SHO who lost his job because of this case now is more determined than ever to teach Safina a lesson since she slapped him. Dabeer's mother thinks her son is her "savior" and Abida's daadi will side with anyone who is against Shehnaz! She cannot bear to see two women taking the lead therefore she considers it her duty to put them down every chance she gets. All these people aided Dabeer in every way possible tonight and that is how once again even with all the proof and the confession Shehnaz could not get a verdict.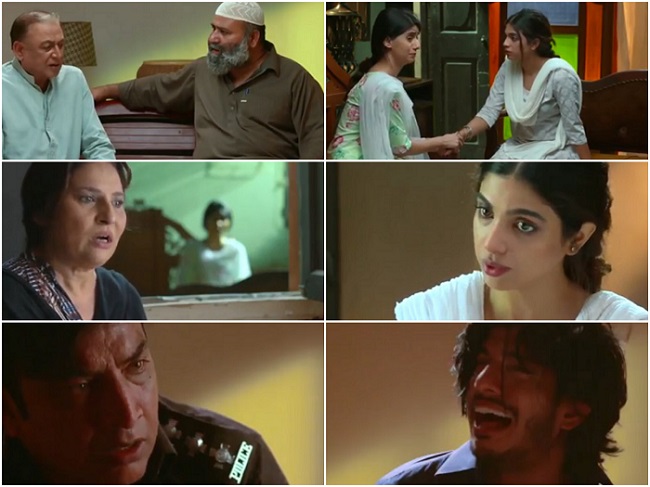 Strengths and Weaknesses of The Characters
Some of the characters in this play have some major strengths which are truly inspiring but then there are other characters which have not been etched-out properly and a great deal is left to the viewer's imagination. When Dabeer's father went along with everything tonight so willingly, it was not easy to relate to. Also, Shahmir's "support" for his wife keeps you guessing. His character is a little too weak. The writer perhaps did this to accentuate Shehnaz's strength but it would have been so much better if he was given a proper role in this entire situation. He turned Dabeer's father back and also told his mother off but that was not enough. It would have made more sense if he accompanied Shehnaz to the court.
Performances and Direction
Even though, there were quite a few scenes tonight which could easily have been chopped down but overall, these episode were directed brilliantly. The director kept everything realistic and except for the confession scene, none of the scenes were over-dramatic. Sania Saeed's performance is always the highlight of every episode. She brings out the best in her character. Sonya Hussyn once again did complete justice to her character tonight. Mohsin Abbas Haider is amazing! His expressions tonight when Sheikh Sahab comes to get the divorce papers signed were priceless! Faris Shafi is extremely likable in this role. His on-screen chemistry with all his co-stars and his natural acting make his scenes more impactful. All the supporting actors have acted brilliantly too. There are very few dramas in which every actor gives such a superb performance.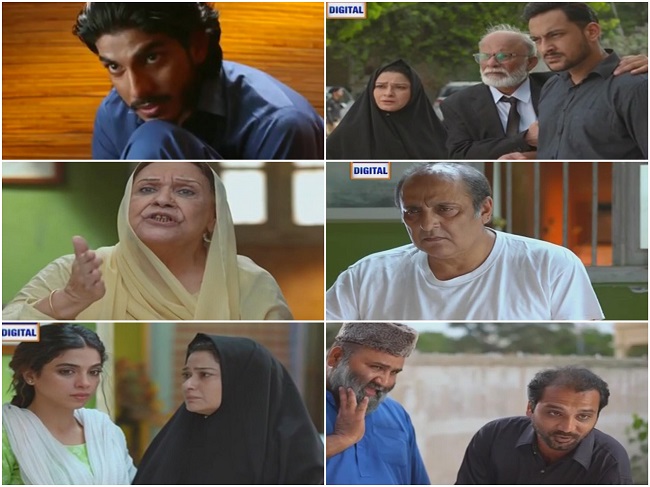 Overall Impression
These two episodes did not have the best script, we have seen much better episodes of Meri Guriya. The direction and the performances however were on point as usual. I was expecting Dabeer to get more screen time tonight since the viewers want to know his background and history – the reasons why he turned into a monster. I am looking forward to a last episode which will in some way cover that and also give this character the ending it deserves. So many characters need a reality check, I hope the ending is as good as the drama was overall.