As the story is progressing, Dabeer's darker side is being shown more in depth through different scenes. Mohsin Abbas Haider has yet again outdone himself in another difficult character which isn't only negative but truly horrific as well. The director also covered Dabeer's scenes brilliantly, the camera angles and the duration of these scenes was perfect. Shehnaz and Safeena's relationship is turning out to be one of those positive aspects of this drama because of which even with a theme like this one and an evil character like Dabeer, the overall feel of these two episodes wasn't too depressing. I do still feel however that the writer has taken a lot of inspiration from Mubarak Ho Beti Hui Hei when it comes Shehnaz and Shahmir's track. Also, the fact that Abida has already "disappeared" once and tonight she almost got kidnapped isn't the best part of this track so far. I feel that the writer is trying too hard to keep the viewers at the edge of their seats. In every second episode, the viewers are led to believe that this might be the time when she gets kidnapped and eventually perhaps murdered. The preview of the next episode showed just that, yet again!!
The scenes covering Dabeer and Abida's interactions are scary enough to make the viewers dread the moment when Dabeer will kidnap the poor girl. The child actress playing Abida's character is adorable and she is performing really well. Also, apart from these incidents, Abida gets a lot of screen time in which the viewers got to see different sides of her personality and also her relationship with the people around her. I absolutely love the relationship Shehnaz has with her daughters and I also appreciate the fact that these characters are realistic. Although Shehnaz is practical and intelligent but there are times when she too has to give in to her husband's absurd demands and she cannot help being beaten by her husband. Also, although Shehnaz told Abida repeatedly that she should never trust anyone, it didn't take her long to trust Dabeer.
Shehnaz and Safeena's relationship is beautiful! In these two episodes, they developed a special bond and helped each other out. Sonya Hussyn and Sania Saeed also share amazing on-screen chemistry. Shehnaz and Safeena's honesty and trust on each other is the best part of their relationship. Since Safeena has been shown as someone who won't walk away from a difficult situation therefore it seems like Safeena has taken up Dabeer as a challenge. Also, like any other mashraqi lrki, she seems to have fallen in love with her flawed husband and now she wants to give this marriage a chance. Dabeer on the other hand is just plain evil! I am glad that the writer has portrayed him this way and hasn't shown a sensitive or vulnerable side of his personality.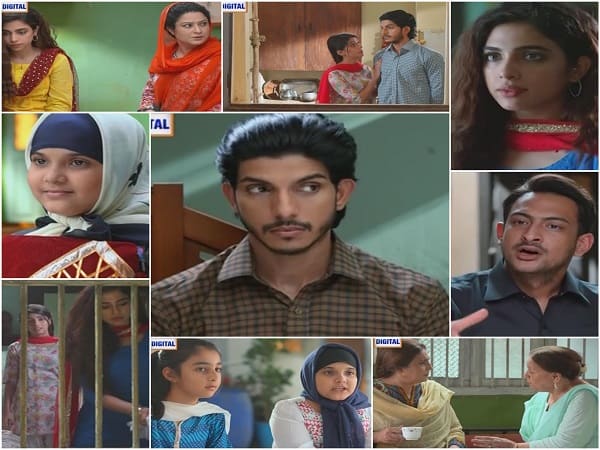 Tonight, when Dabeer felt that Safeena was being too "nosy" first he tried to turn his mother against her and when that did not work, he went added rat poison to her food! Dabeer is a cold-blooded murderer who is continuously planning his next move. His real intentions and personality is so ugly that he cannot reveal even a tiny bit of it in front of anyone. This is the reason why he is always so withdrawn and quiet. It is good to see Sonya Hussyn playing a role which is positive and powerful. Safeena's character has been etched-out brilliantly and it is becoming more likeable with every passing episode. It is always good to see women who share a healthy relationship with each other in dramas especially because we are shown women plotting and planning against each other all the time!
These two episodes were not faultless but I have to say that this drama is getting more interesting with every passing episode. It serves a bigger purpose which also gives it an edge. All the developments in these two episodes were shown realistically except for the scene in which Dabeer slips the rat poison's empty bottle in Safeena's bag. A criminal like him should know that he cannot leave his finger prints and expect to get away with it. These two episodes had some brilliant performances to its credit. Sania Saeed and Sonya Hussyn acted superbly but Mohsin Haider completely stole the show! Special thanks to the director for not overdramatizing events and scenarios and keeping everything real.
How many of you watched these episodes of Meri Gurya? Do share your thoughts about them.